When my mom came back from India this year, along with all the clothes, jewelry and spices, she brought back a jar of gulkand, rose petal jam, for me. It just sat in my refrigerator for a couple months. I couldn't think of anything interesting to do with it for a long time.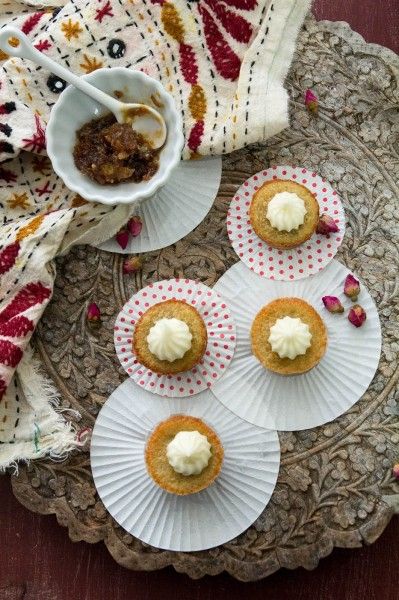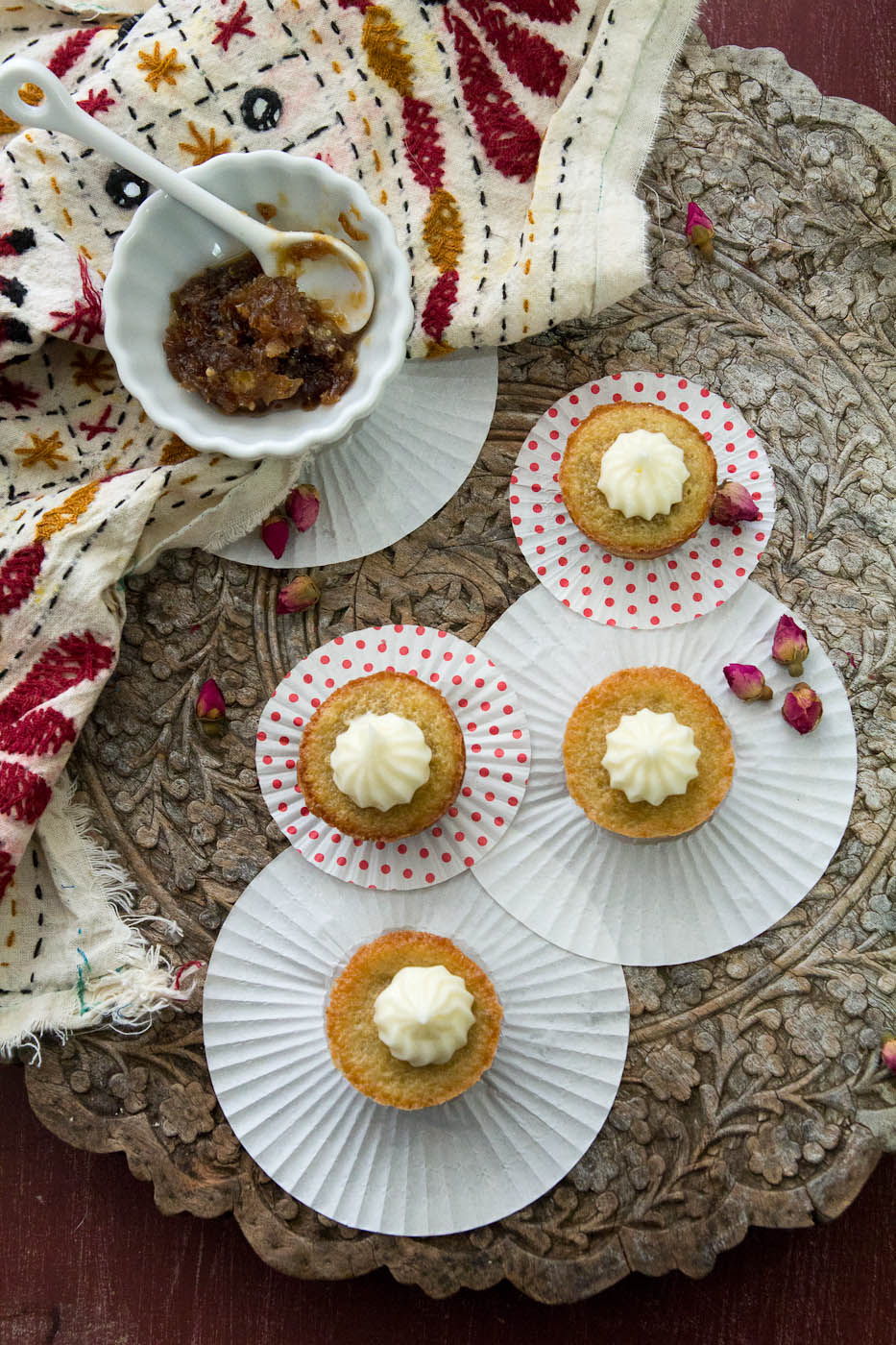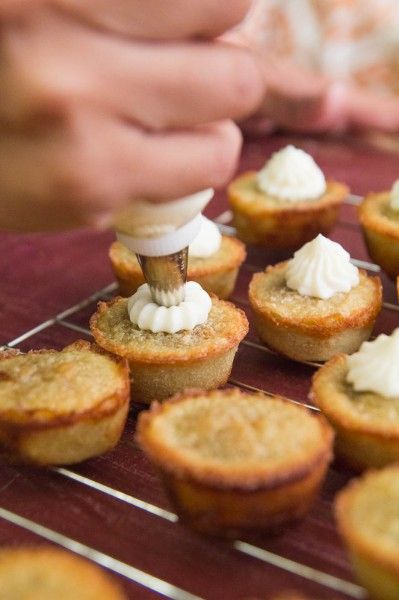 One day we were having a couple of friends over for dinner. I planned a whole meal with a roast chicken with a spicy tomato gravy, sweet potato curry, dal, rice and naan. Dessert just escaped my mind until about 45 minutes before my friends were to arrive.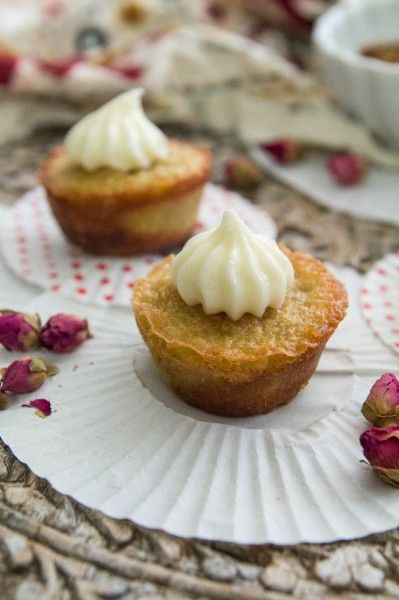 I ran a mental checklist of the quickest and easiest desserts. I remembered how easy it was to make these fig tea cakes. The whole batter is made in the food processor and only takes 10 minutes at most and the baking time is quick too.
So I quickly whipped up the batter and dug through my fridge for something to add to top. I almost pulled out my jar of strawberry preserves but saw the gulkand at the last second. I thought I'd try it.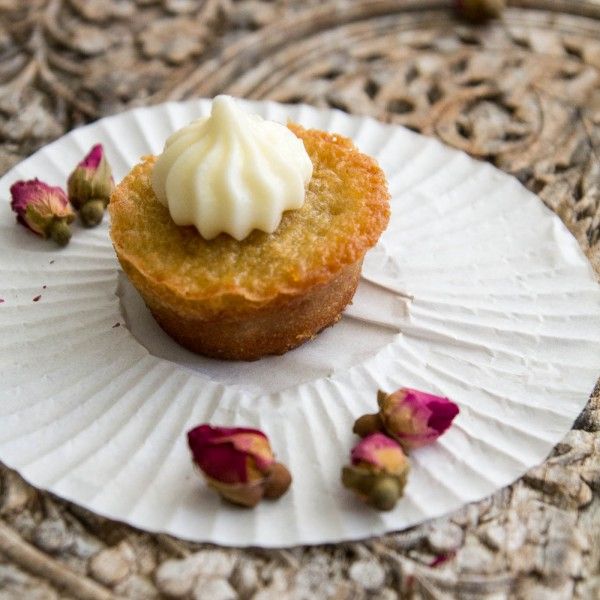 It worked out really well. My friends loved the rose cakes. I made them again soon after to take them to a potluck. They were a hit. I thought my parents would love them too since they are big fans of roses. So I decided to make them for my dad's birthday but added a frosting to make them more festive.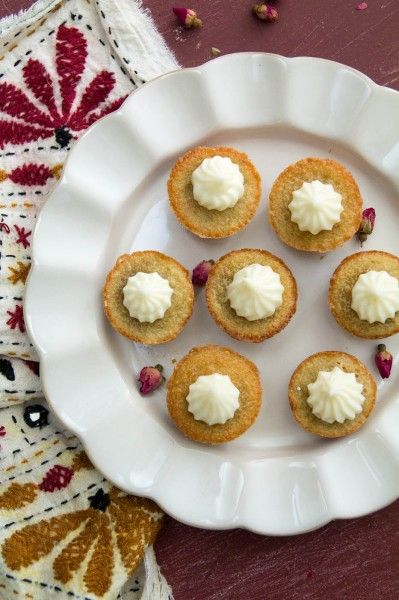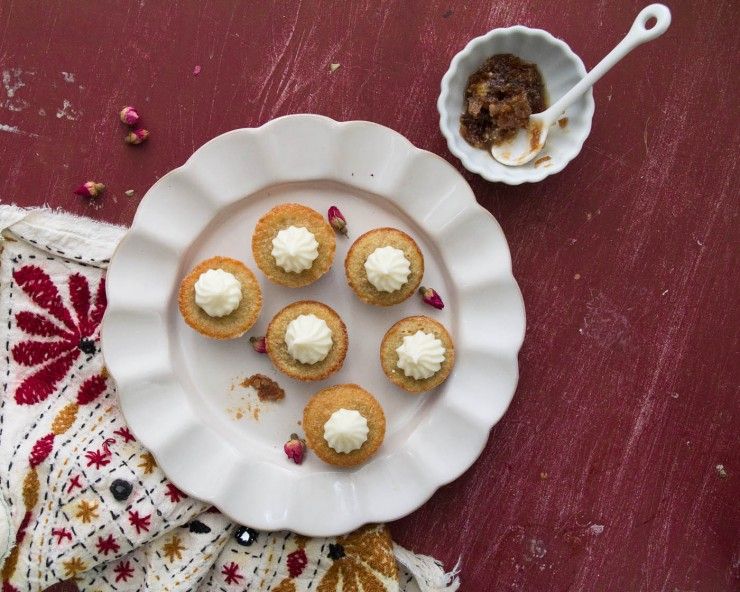 Gluten-Free Rose Mini Cakes with White Chocolate Cream Cheese Frosting
Gluten-free mini-cakes are made with rose jelly, or gulkand, and have a white chocolate cream cheese frosting
Ingredients
For the Rose Mini Cakes
½

cup

ground almonds

1

cup

powdered sugar

2

tbsp

rice flour

2

tbsp

millet flour

⅛

tsp

salt

2

tsp

vanilla extract

2

egg whites

1

egg

1

stick butter

1/2 cup melted and cooled plus a little extra to grease the mini muffin pan

about 2 tbsp gulkand
For the White Chocolate Cream Cheese Frosting
2

oz

white chocolate

chopped

4

oz

cream cheese

2

tbsp

butter

¼

tsp

vanilla extract

½

cup

powdered sugar
Instructions
Instructions For the Rose Mini Cakes
Preheat oven to 375 degrees Fahrenheit (190 C). Grease a 24 cup mini muffin pan, set aside.

In a food processor, combine the ground almonds, powdered sugar, rice flour, millet flour and salt. Pulse until well combined.

Add the vanilla, egg whites, and whole egg and pulse a few times until blended (about 3 pulses).

Add the melted butter and pulse a few more times until the mixture is well blended and smooth (about 5 pulses this time).

Using a tablespoon measure, pour a heaping tablespoon into each mini muffin cup. Making sure the batter is divided as evenly as possible.

Top each cup with a 1/4 teaspoon of gulkand.

Bake for 10 to 12 minutes until the edges are golden brown.

Remove from oven, let cool for 5 minutes in the muffin pan. Remove and cool on a cooling rack.
Instructions For the White Chocolate Cream Cheese Frosting
Melt the white chocolate using a double boiler. Find a heat safe bowl that fits into a saucepan without touching the bottom. Add some water to the saucepan, making sure that it doesn't not touch the water. Heat the saucepan until the water comes to a simmer. Lower the heat to the lowest possible and place the bowl over the saucepan. Add the white chocolate and let melt. Stir until the white chocolate is melted and smooth. Remove the white chocolate bowl from the saucepan and let cool.

In a medium bowl, using an electric beater, beat together the cream cheese and butter until smooth. Add the butter, vanilla and cooled white chocolate. Mix well.

Add the powdered sugar and beat until well mixed and fluffy.

Frost the mini cakes with a dollop of frosting.
Notes
These are delicious with or without the frosting.
Gulkand can be a little hard to find, it's available at Indian grocery stores and online.
I've tried several variations on the eggs in this recipe. I think the best results were when I used 2 egg whites and 1 whole egg. But, you can make this with 4 egg whites or with 2 whole eggs instead if you prefer.
Substitute 2 extra tablespoons of rice flour if you don't have millet flour on hand.
Nutrition
Serving:
3
g
Calories:
269
kcal
Carbohydrates:
32
g
Protein:
5
g
Fat:
14
g
Saturated Fat:
6
g
Polyunsaturated Fat:
1
g
Monounsaturated Fat:
3
g
Trans Fat:
1
g
Cholesterol:
45
mg
Sodium:
135
mg
Potassium:
68
mg
Fiber:
1
g
Sugar:
27
g
Vitamin A:
310
IU
Vitamin C:
1
mg
Calcium:
48
mg
Iron:
1
mg