A couple of months ago I was doing dishes and staring at the little curry leaf plant that grows next to my kitchen sink. It suddenly occurred to me that curry leaves might go well with peaches. I love finding new ways to combine herbs and fruit. Herbs can add a wonderful surprise to the flavors of fruits.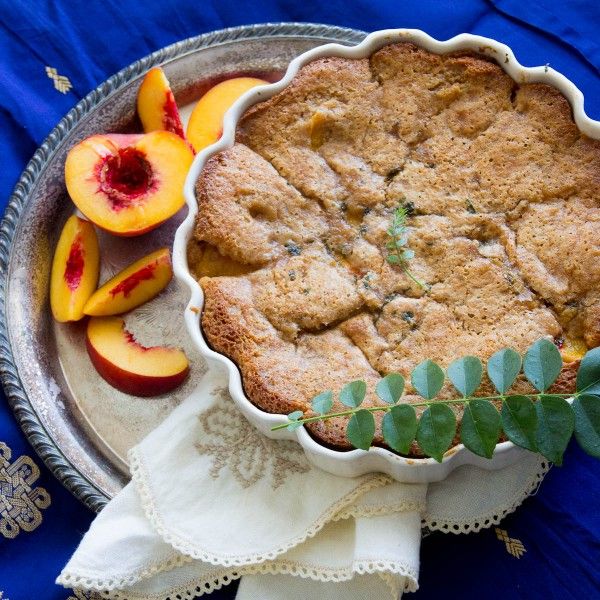 I often add lavender, thyme, rosemary and basil to lemon bars, fruit pies and fruity cocktails. But I'd never had a combination of curry leaves and peaches before and never heard of anyone else trying it but I thought it would work. So we headed out to the farmer's market to get some peaches to test my theory.
We actually ended up with nectarines that day because they were so delicious. I adapted the nectarine cobbler recipe by Joy the Baker by adding some spices and curry leaves.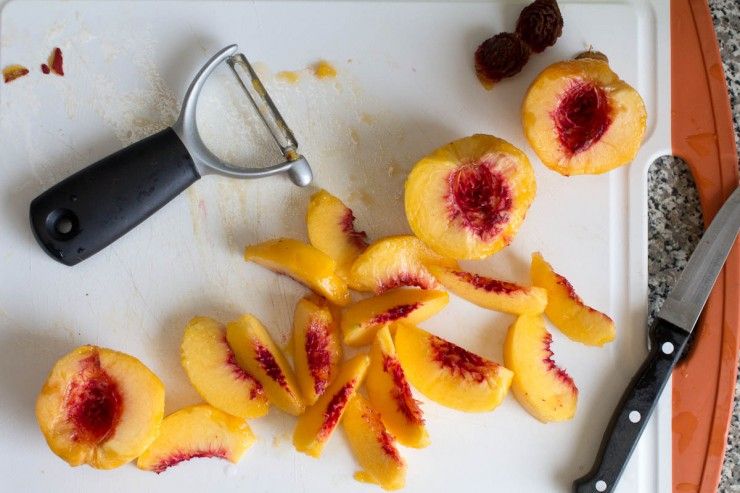 I was really excited to share it on the blog but it turned out that the center was way undercooked. It still tasted amazing… as long as you avoided the center, which under a beautiful exterior was just gooey batter. We were able to save it somewhat by microwave-baking the individual slices. But that was certainly not blog ready. So I resolved to redo the recipe.
I used peaches this time and reduced the amount of fruit. It worked out great! I am so happy to say that I think this is my new all time favorite dessert!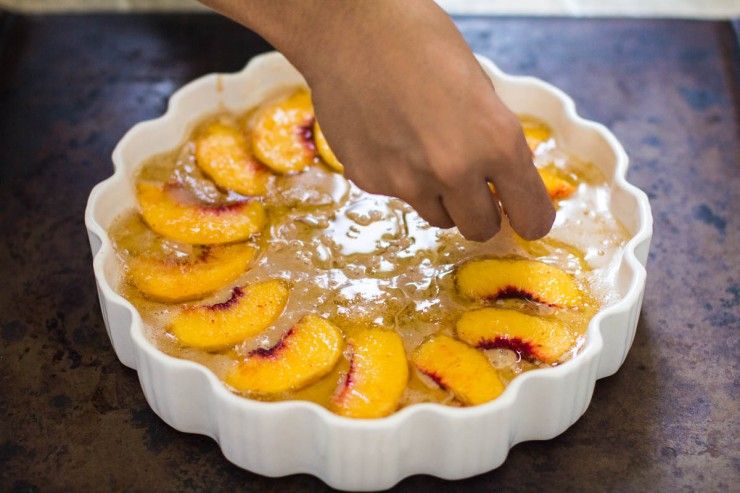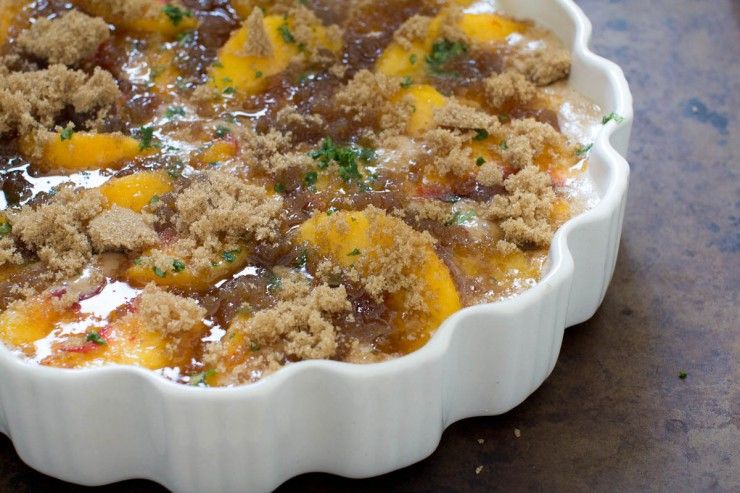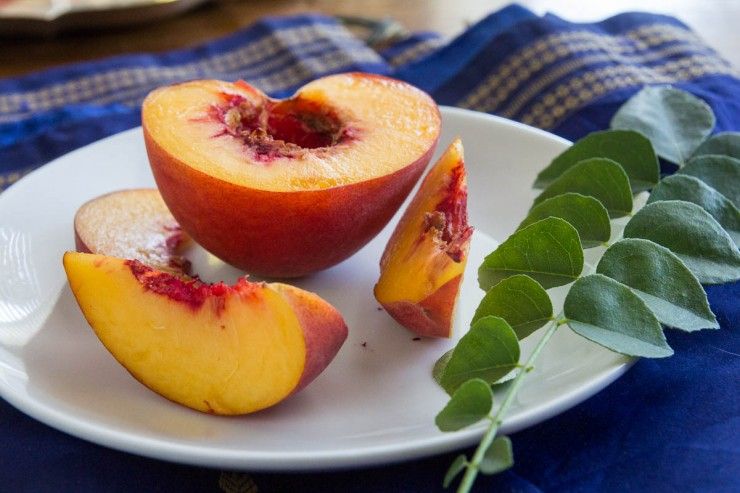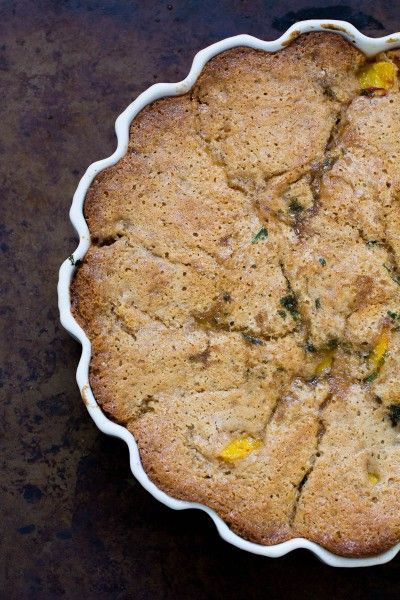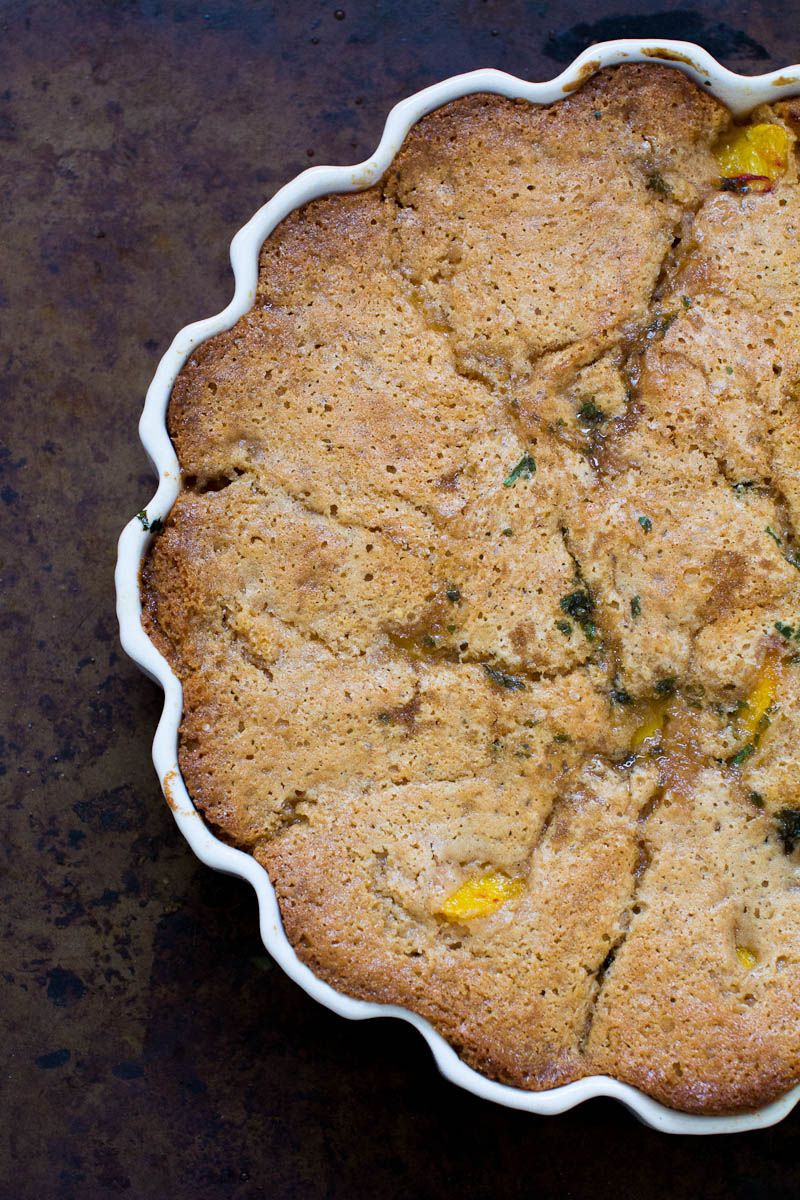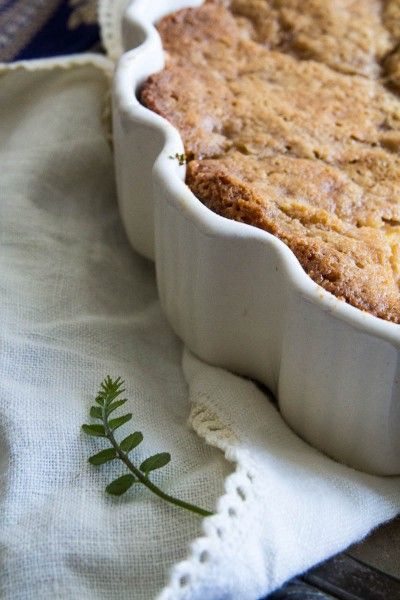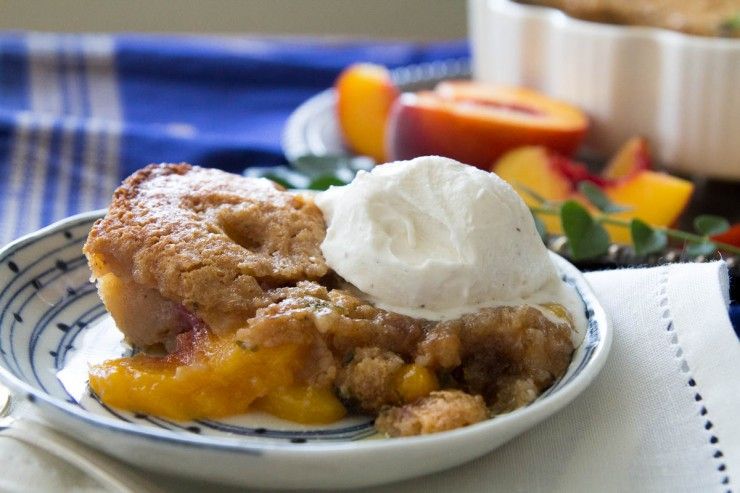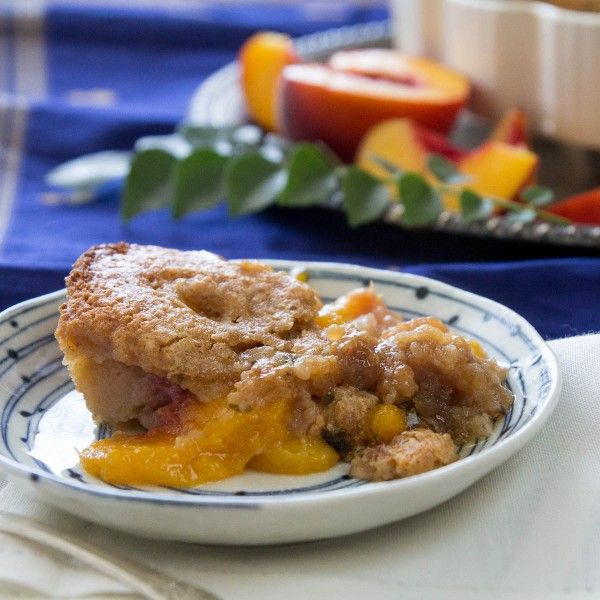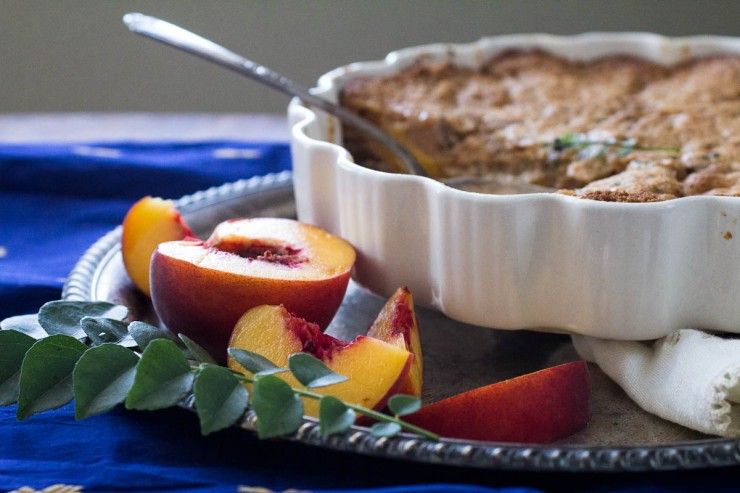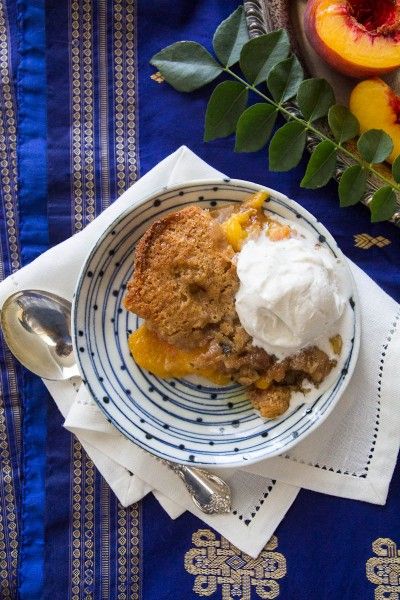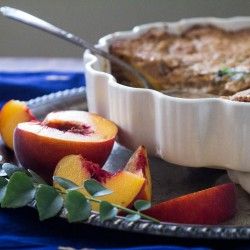 Peach and Curry Leaf Cobbler
A traditional peach cobbler with a twist — the aromatics of the distinctive curry leaf
Ingredients
½

cup

butter

1 stick

1

cup

sugar

1

cup

all-purpose flour

1

tbsp

baking powder

½

tsp

cinnamon

½

tsp

ground cardamom

1

tsp

freshly grated ginger

⅛

tsp

freshly grated nutmeg

1

tsp

curry leaves

finely minced

¾

cup

evaporated milk

any other kind of milk will work too

2

cups

peaches

sliced and peeled (about 3 medium peaches)

⅓

cup

brown sugar
Instructions
Preheat oven to 350 degrees Fahrenheit.

Melt butter in a saute pan until it is bubbly and starts to turn light brown.

Pour the browned butter into a cake pan or baking dish (make sure it's at least 8 or 9 inches wide and deep enough to hold all the batter and have a little extra room to puff up) and set aside.

In a medium bowl, whisk the sugar, flour, baking powder, and spices until well blended.

Stir in the evaporated milk and grated ginger until just mixed well. (You can also stir in the minced curry leaves at this point if you want. I wait till later so that you can see the curry leaves on top)

Pour the batter over the browned butter. Do not stir. Just layer the batter over the melted butter. Don't worry about some of the butter drifting to the top as you pour.

Arrange the peaches on top of the batter. Try to disturb the batter as little as possible.

Sprinkle the minced curry leaves on top. Then sprinkle the brown sugar.

Bake for 45 to 50 minutes until the batter has risen to the top and turned golden brown.
Notes
Nectarines are a great substitute for the peaches and if you use nectarines, you don't have to peel them!
If you can't find fresh curry leaves, you can order dried curry leaves online. Use 1/2 teaspoon if using dried and mix it into the flour mixture before adding the milk.
Fresh thyme would probably also work well instead of the curry leaves.
Serve the cobbler warm with vanilla ice cream.
Adapted from the Nectarine and Cream Cobbler recipe by Joy the Baker
Nutrition
Calories:
340
kcal
Carbohydrates:
53
g
Protein:
4
g
Fat:
14
g
Saturated Fat:
8
g
Polyunsaturated Fat:
1
g
Monounsaturated Fat:
4
g
Trans Fat:
1
g
Cholesterol:
37
mg
Sodium:
131
mg
Potassium:
332
mg
Fiber:
1
g
Sugar:
40
g
Vitamin A:
584
IU
Vitamin C:
28
mg
Calcium:
150
mg
Iron:
1
mg