Egg curry, or anda masala, is a a curry eaten all across India. It is a Dhaba food, that is, inexpensive food commonly found in roadside stalls — India's version of takeout. There is something amazing that happens when you mix a spicy tomato gravy with a simple boiled egg. The yolk adds a creamy texture and a silkiness to the dish that is just delicious.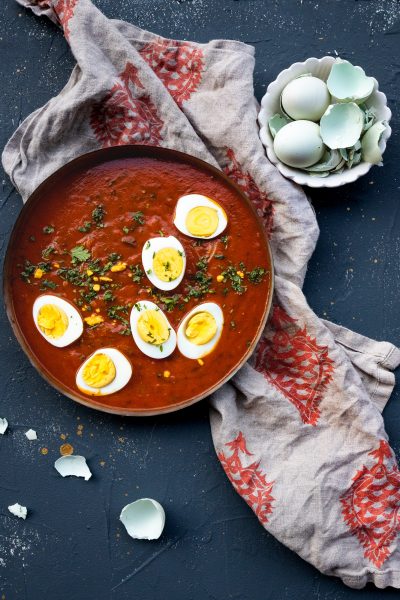 Egg curry uses the familiar tomato-onion gravy found in tikka masalas, although I go pretty easy on the cream when I make it. Like most Dhaba foods, egg curry is served with a flatbread. In my family we usually eat it with a whole-wheat roti, but it also goes well with naan or paratha.
I've been making this a lot recently, party because we have egg-laying chickens now. But also because I am trying to get more protein into my diet while also sticking to a mostly vegetarian diet.
The unusual combination of tomato gravy and eggs together create an unexpected elevation in flavor. Outside of Indian food, the combination of Eggs and tomato is found in shakshuka. The difference is that we use Indian spices and boiled egg, although cooking the egg in the sauce the way shakshuka is made makes for a delicious variation.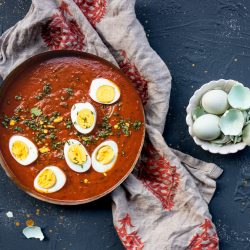 Anda Curry (Egg Curry)
A boiled egg curry with tomato gravy
Ingredients
6

eggs

1

medium onion

finely chopped

2

tsp

oil

1

tsp

cumin seeds

1

green chili

or less if you don't like spicy food

2

cups

chopped tomatoes or 1 15oz can if fresh tomatoes are out of season

1

tbsp

tomato paste

½

tsp

chili powder

¼

tsp

turmeric powder

1

tsp

garam masala

1

tbsp

cumin powder

1

tsp

sugar

½

tsp

salt

1

tbsp

dried fenugreek leaves

optional
Instructions
Eggs:
Put eggs in a pot and cover with cold water.

Bring the water to a boil on high heat.

Cover the pot, turn off heat and let eggs cook for 15 minutes.

Once the 15 minutes are up, pull them out of the hot water, rinse with cold water to stop cooking, and set aside to cool.

Peel and cut into half once cooled.
Gravy:
Heat 2 tsp of oil in a frying pan until hot. Add in the cumin seeds. They should sizzle when you toss them in.

Add the onions and green chilies. Saute until soft and translucent. About 7 minutes.

Stir in the tomato paste and spices. Saute for about a minute.

Add the tomatoes and salt. Cook for about 5 minutes and add 1 cup of water (you may need a little more).

Simmer for about 10 minutes.

Taste and adjust seasoning.

Top with egg halves and serve with rice or flat bread.
Nutrition
Calories:
211
kcal
Carbohydrates:
13
g
Protein:
13
g
Fat:
12
g
Saturated Fat:
3
g
Polyunsaturated Fat:
3
g
Monounsaturated Fat:
5
g
Trans Fat:
1
g
Cholesterol:
327
mg
Sodium:
621
mg
Potassium:
523
mg
Fiber:
3
g
Sugar:
7
g
Vitamin A:
1517
IU
Vitamin C:
20
mg
Calcium:
96
mg
Iron:
4
mg
What other foods go well with Anda Curry?
A dry vegetable shaak or dry chicken like tandoori chicken. In India, many people who don't eat meat also won't eat eggs. So when eggs are served, meat is often included.
What common mistakes might someone make while preparing Anda Curry? How should they counter them?
A proper hard-boiled egg makes all the difference any time you eat hard-boiled eggs. If you boil them for too long the yolk becomes tough and dry. This dish is more forgiving than others, but cook time is important.

Try to use as fresh of eggs as possible. As eggs age, two problems are created. 1. the yolk starts to dissolve into the white, 2. The whites start to stick to the shell.

As with any curry, make sure to cook the onions enough. Nothing ruins a curry like undercooked onions.
How might ingredients be altered to suit the reader's tastes?
Spice level: add extra chili powder or fresh chillies to up the heat 
You can make this into a shakshuka and not used a boiled egg, just crack the egg straight into the hot gravy and let it cook to your liking before serving.
Not a flavor enhancement, but you can use store-bought boiled eggs to save yourself time