Spicy Scrambled Eggs with Tomatoes (Bhurji)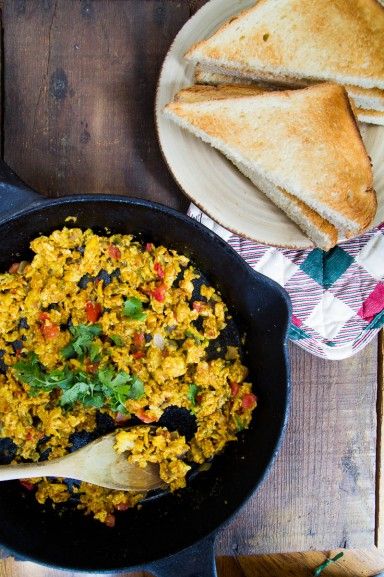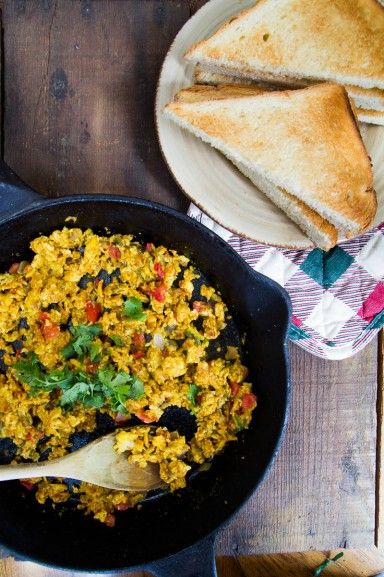 One of my favorite things about food is how closely it's attached to memories. Egg burjhi is one of those special dishes that transports me back in time. The second I see or taste the simple flavors of it memories of boarding school come flooding at me.
When I was in 9th grade, my boarding school class went on a camping trip. We got to live in a small cabin in the Sahyadhri mountains and go hiking, mountain climbing and rappelling. We did trust exercises to promote bonding, ate a bunch of delicious food and enjoyed the clean mountain air.
One afternoon, my friends and I were hungry before dinner time. We sneaked into the kitchen to look for food. There wasn't much there that we could just pull off the shelf and snack on. All we found were some eggs and bread.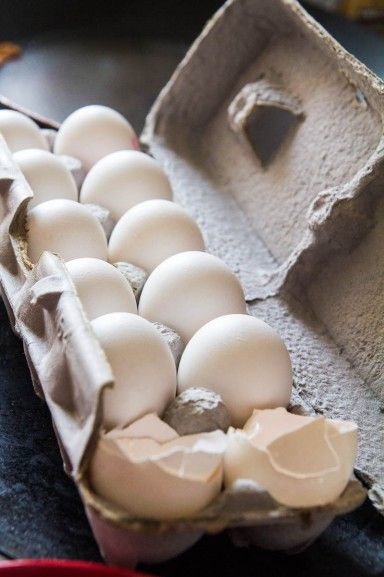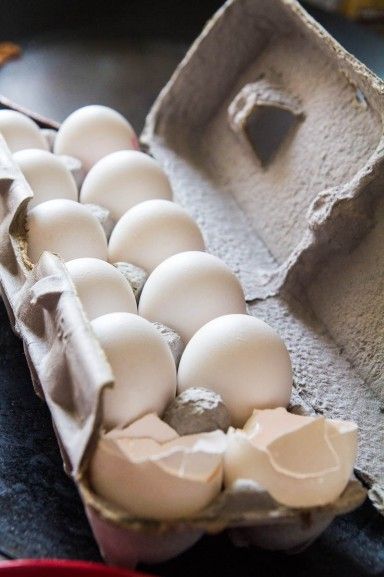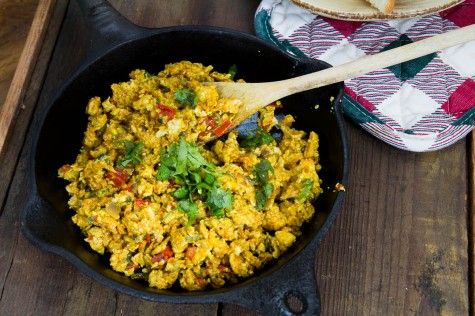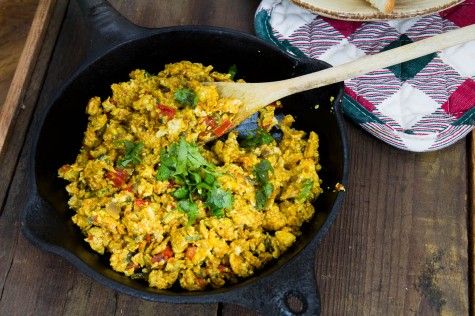 Somehow we managed to get the single flame camping stove to work. We found some fresh green chilies, tomatoes and onions along with some spices. I got to work. Even at 14, I was the designated cook among my group of friends. I quickly sauteed the onions, chilies, tomatoes and eggs with what spices were around.
I remember not even looking around for plates. We just grabbed the bread and ate directly from the pan. It was one of the most delicious meals I've ever had. There was an element of danger involved because we weren't supposed to be in the kitchen, let alone cooking ourselves a meal. It was so much fun!
I don't remember if I had ever made egg bhurji before that day. But I have made it often since. Every time I make it, I think of my boarding school friends and all the trouble we got into together. It's one of those dishes that is great not only because it's delicious but also because of the memories attached with it. In fact, to this day I still prefer to eat it directly from the pan.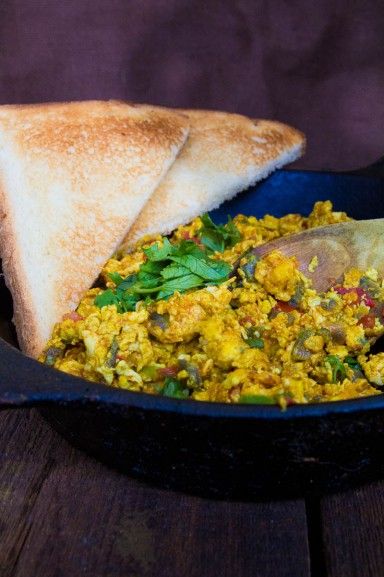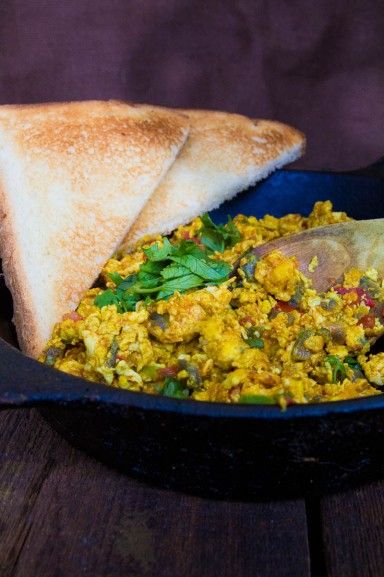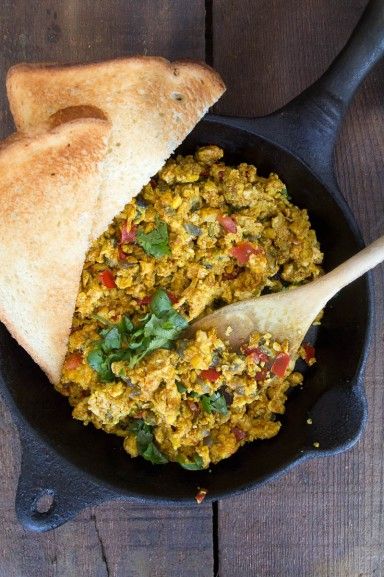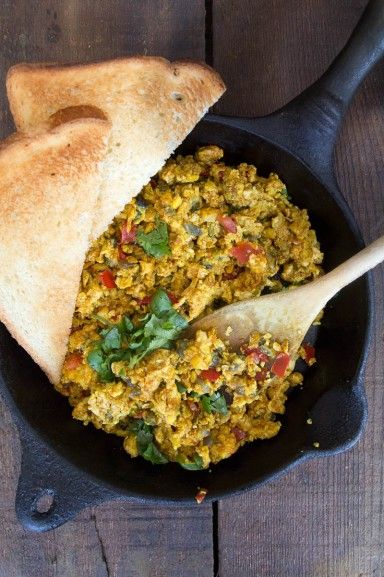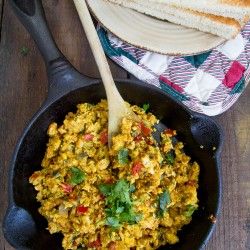 Ingredients
8

eggs

1/2

onion

finely chopped

1

green chili

chopped (I usually use Serrano or jalapeno but anything works)

1

medium sized tomato

finely chopped

1/2

tsp

fresh ginger

grated

1/2

tsp

turmeric

1/2

tsp

red chili powder

or to taste

1/2

tsp

salt

or to taste

1

tbsp

oil

a little pad of butter

handful of chopped cilantro
Instructions
Heat the oil and butter in a large skillet (either cast iron or nonstick will work) over medium heat. Add the onions and green chilies. Saute until the onions are soft and translucent.

Add the ginger and tomato. Stir and cook for about a minute or two.

Add the eggs. Break up the yolks and stir. Let the eggs cook making sure to stir often (just like regular scrambled eggs).

When the eggs no longer have gooey wet spots, add the spices and salt. Stir well.

Top with cilantro.

Serve warm.
Notes
Feel free to add bell peppers, potatoes or carrots to the mix if you like. These are all pretty commonly added to bhurji in India.
I usually only make half the recipe for two people. This recipe serves 4.
These eggs are great for breakfast with toast or for lunch with flat bread. I also often use them to make breakfast burritos. They taste great with a little cheddar cheese and salsa added.
Nutrition
Calories:
173
kcal
|
Carbohydrates:
4
g
|
Protein:
12
g
|
Fat:
12
g
|
Saturated Fat:
3
g
|
Polyunsaturated Fat:
3
g
|
Monounsaturated Fat:
5
g
|
Trans Fat:
1
g
|
Cholesterol:
327
mg
|
Sodium:
459
mg
|
Potassium:
227
mg
|
Fiber:
1
g
|
Sugar:
2
g
|
Vitamin A:
806
IU
|
Vitamin C:
7
mg
|
Calcium:
57
mg
|
Iron:
2
mg