When we went to the farmer's market last Thursday, I was looking through the produce stand and saw one last bunch of beige radishes left. I wondered what color they'd be on the inside. So I asked the guy working the table and he said they were red and white striped on the inside. I got super excited because I've been looking for those.
As soon as I went to check out, the other guy working at the booth said they weren't striped but actually red on the inside. The two of them proceeded to have a disagreement about the color of the radish while I watched.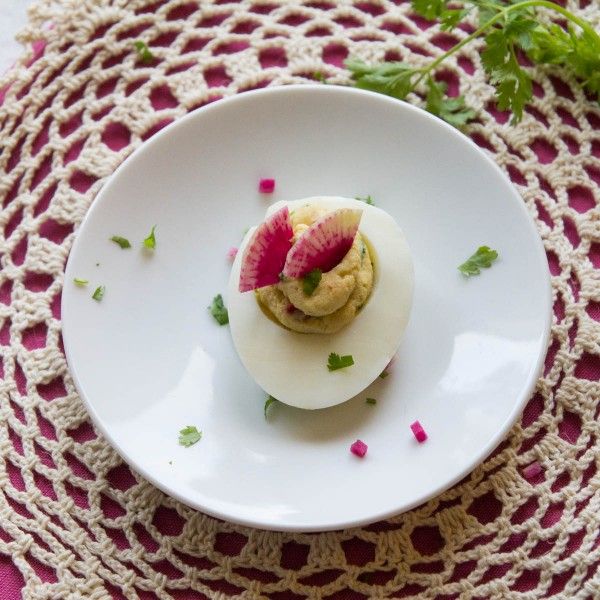 They finally decided they'd cut one open to settle the argument. They looked for another bunch to cut one open, but I had the last one. They wanted me to give them one of my radishes. Nope, not happening! This one was mine.
I decided to see for myself what color they'd be on the inside…screw the arguing farmers!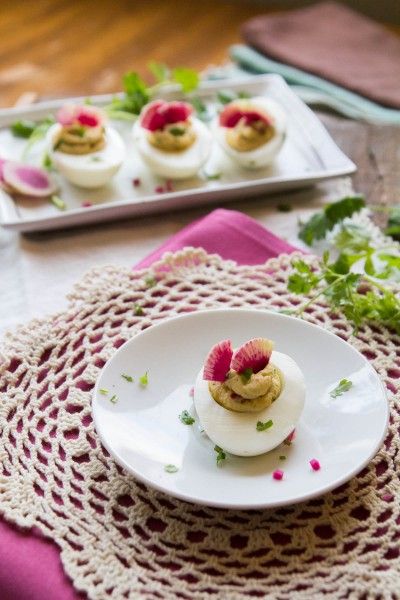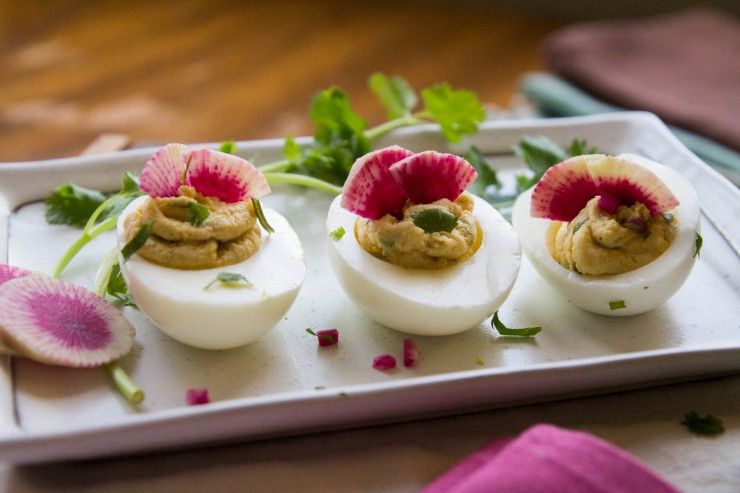 The radishes turned out to not be striped after all. They're like an explosion of magenta on the inside. I love how vivid the color is!
They had these beautiful greens attached to them too. Unfortunately we did not get pictures. I stuck the bunch in the fridge and when I pulled them out the next day, the greens had already wilted to an irreparable condition.
I made my favorite radish dish with them. Garam Masala Deviled Eggs. I had actually been looking for the striped radishes to make this dish with for the blog because I thought it would be a pretty visual. But I love magenta burst radishes.
I also love these deviled eggs. I often make them for parties and they're always a hit.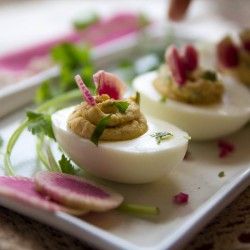 Garam Masala Deviled Eggs
Deviled eggs made with Indian spices
Ingredients
9

hard boiled eggs

5

tbsp

mayonnaise

1

tbsp

radishes

finely chopped

2

tsp

mango chutney

chopped finely with a knife so that it's not too chunky (mine is from Trader Joe's)

½

tsp

onion powder

½

tsp

garam masala

1

tbsp

cilantro

chopped

1 ½

tsp

lemon juice

⅛

tsp

cayenne

or to taste

½

tsp

salt

or to taste

1 to 2

sliced radishes for garnish
Instructions
Cut the hard boiled eggs into half lengthwise and remove the yolks. Line up the whites with the cut side facing up.

In a medium bowl, mash up the yolks using a fork.

Add the rest of the ingredients and stir well.

Transfer the yolk filling to a small ziplock bag. Cut off a corner of the bag and pipe filling into egg whites.

Garnish with sliced radishes and cilantro.
Notes
I like to sprinkle some sea salt over the deviled eggs just before I serve. If you sprinkle the salt too soon, it will start to extract liquid from the radishes and create little puddles. So wait until the very end if you sprinkle salt on top.
Feel free to add a little more mayonnaise if the filling is too dry for you.
The product known as mango chutney in the West is not something I ever saw sold in stores in India. The closest thing to it would be what we call morabbo in Gujarati, which is a like a jam made with mangoes and spices..
This recipe is adapted from Epicurious.com
Nutrition
Calories:
136
kcal
Carbohydrates:
2
g
Protein:
6
g
Fat:
11
g
Saturated Fat:
3
g
Polyunsaturated Fat:
4
g
Monounsaturated Fat:
3
g
Trans Fat:
1
g
Cholesterol:
190
mg
Sodium:
242
mg
Potassium:
72
mg
Fiber:
1
g
Sugar:
2
g
Vitamin A:
280
IU
Vitamin C:
1
mg
Calcium:
27
mg
Iron:
1
mg