Dal and lentils are the comfort foods of Indian cuisine, offering a myriad of preparation methods. The many regions of India offer unique variations, imparting distinct flavors to these dishes. Gujarat's dal showcases a delightful blend of sweetness and sourness, while Goa offers a coconut-infused version, and South India serves the beloved Sambar.
Indian cuisine is rooted in agriculture and vegetarianism and relies heavily on beans, pulses, and lentils as primary protein sources. Dals come in diverse textures, ranging from hearty stews to the more broth-style ossaman.
This compilation features a wide array of dal options, from split beans and lentils, considered true dals, to whole beans and sprouted varieties commonly known as dal. Consult the guide to Indian Lentils, Dals, and Pulses for more information.
Grandma's Gujarati Dal
This is my Grandma's version of the quintessential Gujarati sweet and sour dal. It features toor dal and is flavored with kokum, peanuts, methi (fenugreek), mustard, cumin and chilies.
Slow Cooker Whole Masoor Dal
This is my favorite dal to make in the slow cooker. It features whole masoor (red) lentils that can be tossed into a slow cooker along with turmeric, cinnamon, and garam masala, and left to cook for a few hours. The result is a rich, earthy and smoky dal.
Slow Cooker Whole Masoor Dal recipe
Dal Makhani
Dal Makhani is a popular restaurant-style dal. It is hearty and rich, made with lots of ghee and cream. This recipe shows you how to make it in the Instant Pot or stovetop depending on which is more convenient for you.
Tomato Pappu (Tomato Dal)
Tomato Pappu features the tangy combination of tomatoes and tamarind. This is a signature flavor combination of Andhra Pradesh, where this dal comes from. Tomato pappu is traditionally served very spicy, but you can make it milder if you prefer.
Sprouted Moong Dal
Sprouting beans is a long-standing ayurvedic method for bringing out their full nutrients and making them more easily digestable. This recipe is inspired by the Maharashtrian dak, moong usal.
Dal Tadka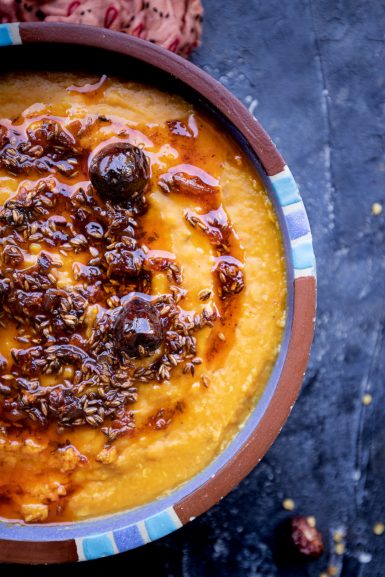 Often called "Yellow Dal Tadka" because of its color, Dal Tadka is a rich, creamy dal made with a mix of lentils. Dal Tadka is a much-loved dhaba food and having a nice hearty bowl of Dal Tadka always reminds me of the road trips I took with my family as a kid. 
Dal Fry
Dal Fry is very similar to Dal Tadka with the main difference being the amount of ghee cooked in. Ghee gives dal fry a richer mouthfeel and has a great warming effect in the wintertime.
Homestyle Moong Dal in the Instant Pot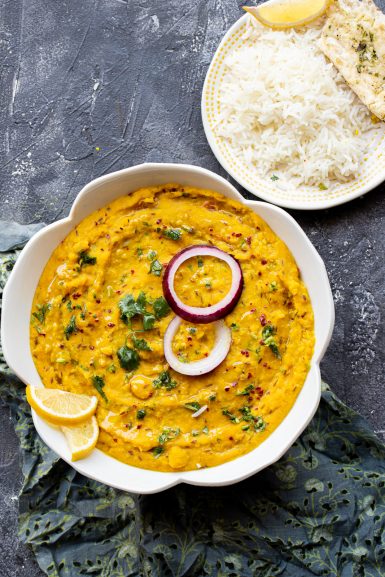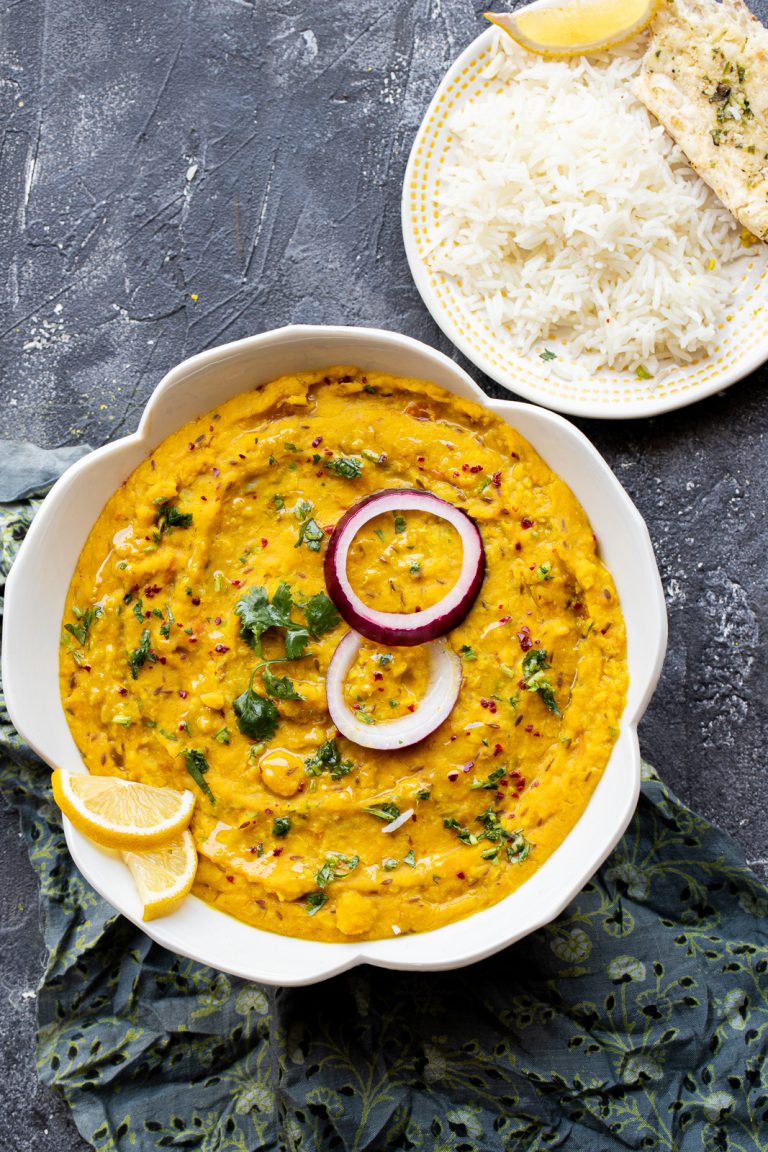 Moong (or "mung") beans are one of the oldest cultivated beans in India and are a significant tradition in Indian and Asian cuisines. This moong dal is a simple, traditional dal that features split moong beans and simple flavors like ginger, cumin, and garlic.
Osaman: Instant Pot Indian Lentil Broth
Osaman differs from other dals because it is essentially a nutritious, vegetarian lentil broth. It is usually served alongside Lachko Dal as it is the strained broth from making the thick dal. It is a simple and complex dish, and when you make it alongside lachko dal it's like getting a two-for-one.
Lachko Tuvar Dal: Hearty Pigeon-Pea Stew
Lachko Tuvar Dal is another traditional Gujarati Dal. Tuvar is a signature dal of Gujarat. This dal is full of flavor, and is served thick for ultimate scoopability. It has a rich creaminess texture that comes entirely from the tuvar. Make it with osaman, you will love them both!
Masoor Musallam, A Whole Red Lentil Dal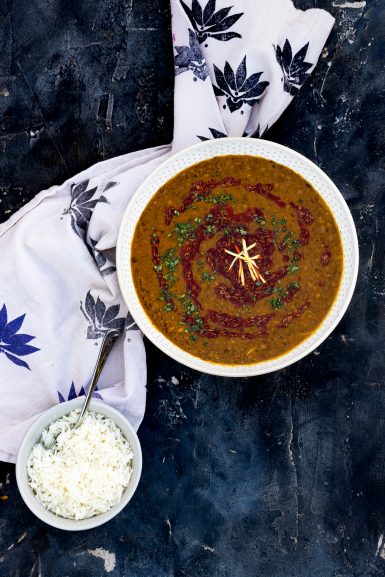 This is another masoor dal, but uses the whole red lentils instead of split. It is a classic dish from Lucknow with yogurt added at the finish. A handful of ingredients are tossed into an Instant Pot or Pressure Cooker and the result is so delicious and creamy.
Restaurant Style Chana Dal with Dhungar
This is a dhaba-style chana dal that is rich and flavorful. It has an outstanding balance of flavors with onions, garlic, black cardamom, lots of ghee, and some smokiness from the dhungar smoke at the finish.
Methi Dal | Moong Dal with Fresh Fenugreek
The fenugreek gives it a distinct aromatic and savory flavor with a slightly bitter note. This is a dish I've had at dhabas in India that I have started making for my family as a way to incorporate methi (fenugreek) into our meals.
Masoor Dal | Red Lentil Dal in Instant Pot & Stovetop
This masoor dal has been my go-to dal when I'm pressed for time as it is the fastest dal to make. It features split red lentils (masoor) and can be made from readily available ingredients found in most supermarkets. 
Moong Dal Soup with Turmeric and Shallots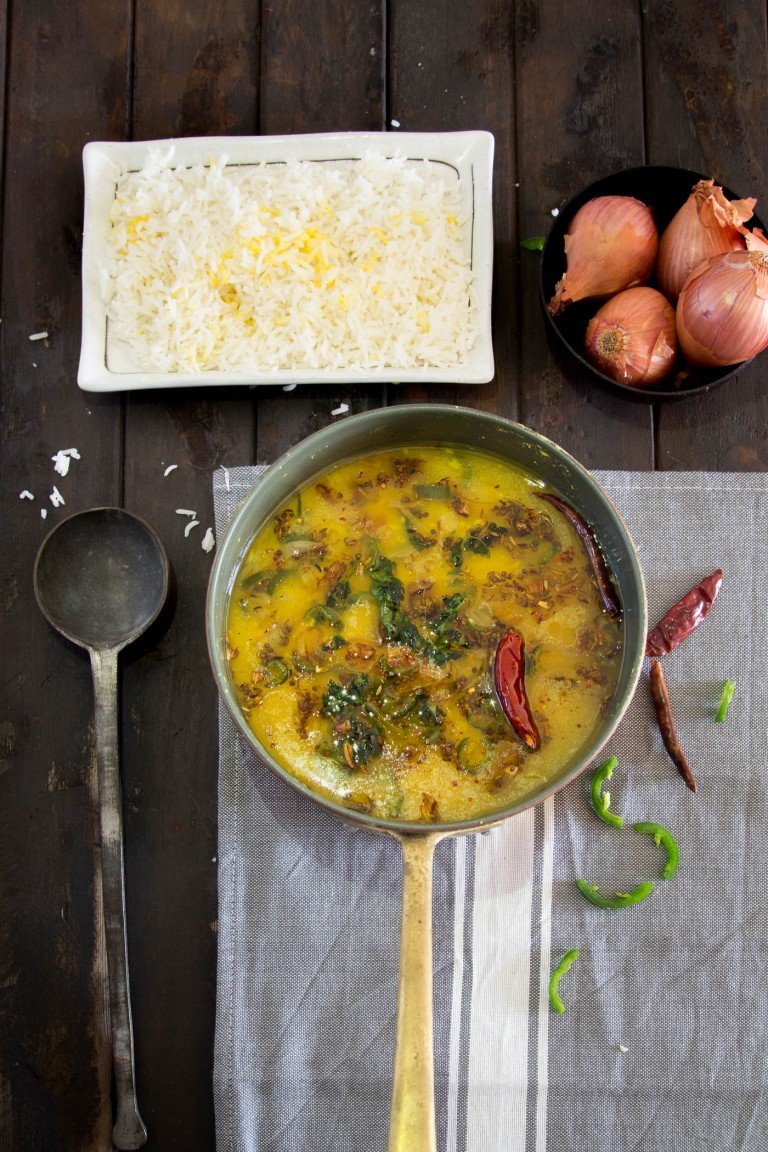 This dal is meant to be served soupier with some broth remaining. It is my version of a dal soup with authentic Indian flavors. The garlic, ginger, turmeric, chilies and shallots make this dal sing.
Goan Coconut Dal
This dal features tuvar alongside traditional goan flavors of coconut and curry leaves. It is served as a frequent weeknight meal in Goa, and especially during Ganesh Chaturthi.
Dal Chawal | Dal Bhat: Pot in Pot Rice and Dal
Dal and rice are a classic combination. Dal Chawal or Dal Bhat literally mean dal and rice. With this method you can cook a very simple dal and rice together in your Instant Pot or pressure cooker for a simple everyday meal.
Dal Saag | Dal Palak | Instant Pot Spinach Dal
Add some greens to your dal with this traditional dal made with common pantry staples. You can make it with spinach or any greens that you have on hand. 
Spicy Pineapple Lentil
This is a South Indian lentil dish with the tropical sweetness of pineapple. It's adapted from the cookbook, Spices and Seasons by Rinku Bhattacharya.