In the colorful tapestry of Gujarati cuisine, shaaks stand out as the heart and soul of everyday meals. These dishes, primarily vegetable-based, form an integral part of the Gujarati diet and are cherished for their simplicity and ease of preparation.
Unlike the elaborate celebration shaaks reserved for special occasions, the daily shaaks are all about low-fuss cooking. The beauty of Gujarati shaaks lies in their effortless preparation, making them an ideal choice for the busy routines of everyday life.
A quintessential Gujarati meal revolves around the comforting combination of rotli and shaak, often accompanied by dar bath (rice and lentils). This daily ritual, repeated twice a day, emphasizes the importance of a balanced and nutritious diet.
The simplicity of these meals doesn't compromise on flavor, thanks to the artful use of spices and seasonings. Gujarati shaaks are crafted with care, employing a delicate balance of sweet, sour, and spicy notes, creating a culinary harmony that tantalizes the taste buds.
The magic of Gujarati shaaks lies in their preparation, which is designed to be quick and hassle-free. With a focus on sautéing techniques, these dishes offer a diverse range of flavors without demanding hours of labor in the kitchen.
A typical Gujarati vaghar, or tempering, involves essential ingredients like cumin seeds, mustard seeds, cloves, cinnamon, and the constant companionship of ginger and chili. Many Gujaratis cook with garlic and onions, while many have banished them from their diet, so whether or not they are likely to be included depends on the household.
Among the beloved ingredients that grace Gujarati shaaks are eggplant, papdi, potatoes, and fenugreek, each adding its unique texture and flavor to the dish. Yogurt plays a prominent role, contributing to the creamy richness of many shaaks, while paneer, although popular in many Indian cuisines, is not a common feature in traditional Gujarati recipes.
This emphasis on simplicity, paired with a harmonious blend of flavors, defines the essence of Gujarati shaaks, making them a delightful and nutritious choice for family meals. So, dive into the world of effortless cooking and savor the goodness of Gujarati shaaks, where every bite tells a story of tradition, flavor, and nourishment.
Suva ni Bhaji
Suva ni Bhaji is a shaak that uses dill the way I am used to, as a green rather than as an herb. Fresh dill gives this shaak it's fragrance and is complemented by the inclusion of moong dal, which gives it some texture.
Ringan methi nu shaak
Eggplant and methi (fenugreek) are two ingredients frequently found in Gujarati foods. My grandmother loved to cook with eggplant and this dish featured prominently in my childhood.
Beetroot Ni Bhaji Nu Shaak (Beet Greens Curry)
The semolina in this recipe transforms the beet greens into something completely different and unexpected if you have never had this before. This shaak is soft, light, and fluffy, unlike most other dishes made with cooked greens.
Beetroot Ni Bhaji Nu Shaak recipe
Papdi nu Shaak
Papdi is such an important vegetable in Gujarati food, and papdi nu shaak is a classic dish. Preparation with homemade papdi can be a little tedious because you have to remove the strings from watch papdi, but this can also be made from frozen where the string is removed during processing.
Tindora nu Shaak
Tindora nu shaak is a simple, straightforward Gujarati dish that features tinder (ivy gourd), which are a small vegetable that grows vigorously and looks like little cucumbers.
Parval Batata nu Shaak
This is a classic Gujarati shaak featuring parval, or "pointed gourd." Parval is closely related to tindora, but is slightly sweeter and it is creamier when cooked. This simple shaak uses the traditional Gujarati flavor profile and also includes potatoes.
Methi Batata nu Shaak | Aloo Methi | Potatoes and Fenugreek
Aloo methi is another dish built around a simple, but classically Gujarati combination: potatoes and fenugreek.
Bhinda nu Shaak (Okra Shaak)
This shaak features my favorite vegetable, okra. This is a family recipe, one I frequently made with my mom and Grandma growing up.
Karela nu Shaak (Bitter Gourd Curry)
Bitter Gourd is an important vegetable in India. In the west "bitter" is often seen as a negative, but in Indian cooking bitter foods are valued because of the emphasis on balancing all flavors. Bitter foods are considered to be especially healthful.
Ringan Tuvar nu Shaak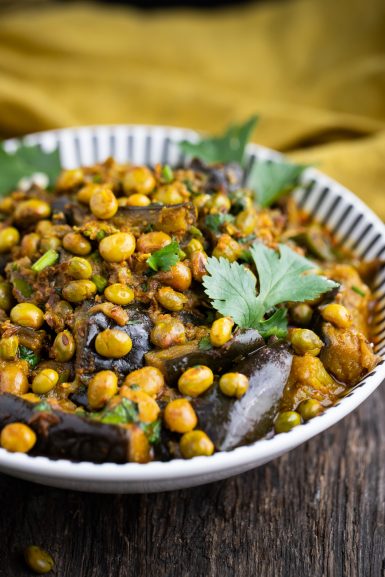 Ringan tuvar nu shaak is commonly enjoyed in the wintertime in Gujarat. Made with fresh tuvar (pigeon pea), a beloved bean especially associated with Gujarat.
Batata nu Shaak
This is a hearty, wet curry made with potatoes in a classic Gujarati gravy that features the classic sweet and sour flavors of tamarind and jaggery.
Bhinda Copra nu Shaak
This is a simple stir fry made with okra dish and coconut.
Shakariya Methi nu Shaak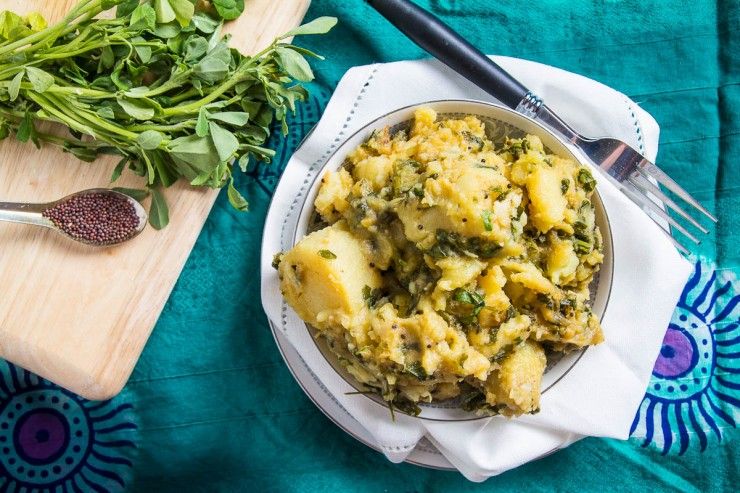 A classic shaak featuring fenugreek and sweet potatoes. Indian sweet potatoes are always white so it is best to make this with white sweet potatoes such as the Japanese murasaki potatoes.
Shakariya Methi nu Shaak recipe
Lila Chana nu Shaak
"Lila" is Gujarati for "green" as this is made from fresh chana (garbanzo beans) that are still green. I got them from my local Lebanese market, but you can often find them frozen at Indian stores. Green chana have a natural sweetness that is enhanced by a little sugar and balanced with fenugreek leaves.
Bharwa Bhindi (Bhela Bhinda nu Shaak)
This stuffed okra shaak is one of my mainstays whenever I buy fresh okra, it is stuffed with masala, nuts, and besan.
Kalingar nu Shaak (Watermelon Rind Curry)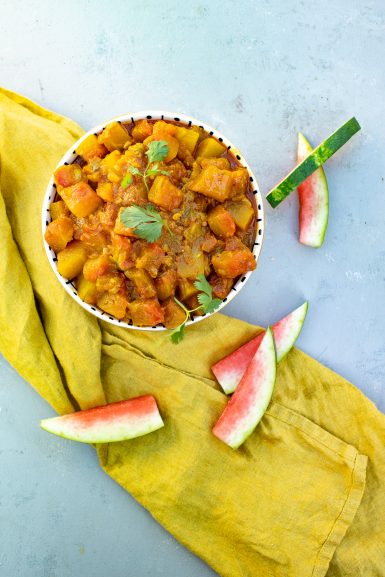 This is a unique shaak made from the rind of a watermelon. If you've never cooked with the rind of a watermelon, it becomes much like a squash and easily takes on the flavors it is cooked with.
Dudhi Chana nu Shaak
Dudhi is an important vegetable in Indian cuisine, also known as lauki or bottle gourd. It is actually one of the first known cultivated foods. This is a wet shaak made with dudhi and chickpeas.
Flower Vatana nu Shaak
The flower in flower vatana nu shaak is cauliflower. This is a simple, hearty curry made with cauliflower and peas.
Vaal nu Shaak
Vaal is lima beans and is a highly prized vegetable in Gujarat. This shaak is so valued it is considered a "wedding food." No wedding is complete without vaal nu shaak.
Chora nu Shaak
This is another wedding food, made with black-eyed peas stewed in a tomato gravy. It is hearty and rich and so delicious!