Bhinda nu shaak is a simple okra stir fry, for anyone who loves okra. With only five ingredients, the flavors are focused on the okra. It is a very easy, traditional shaak perfect for a weeknight meal. It comes together in under 20 minutes.
Other names for this dish are "binda fry," or the hindi name, "bhindi sabzi."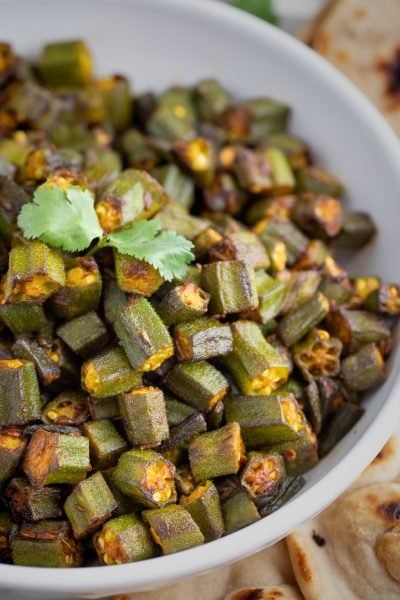 About this Recipe
Okra is my favorite vegetable, and this must be the simplest preparation you can make with it. Some people make a version of this with more ingredients, such as onion, and more spices like hing, but I prefer to keep the focus on the okra. I love the flavor and texture of this okra with a nice, warm bite of rotli or paratha.
This is a family recipe, one I frequently made with my mom and Grandma growing up. I would ask for this shaak every week. As much as I love stuffed okra, this is my absolute favorite dish to make with okra.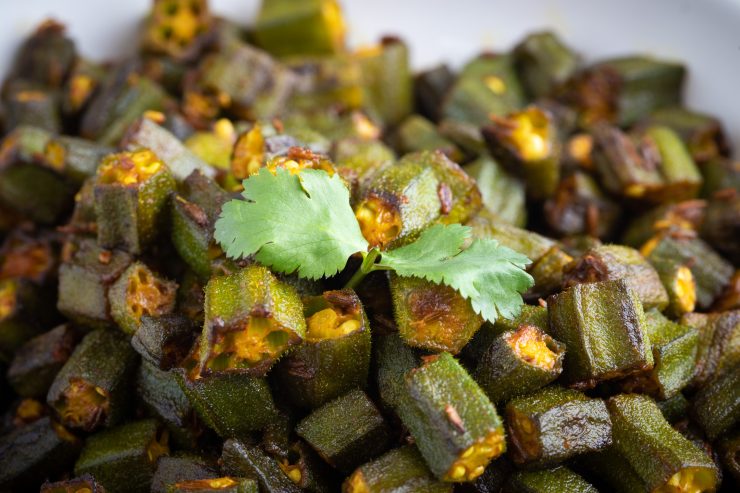 Ingredients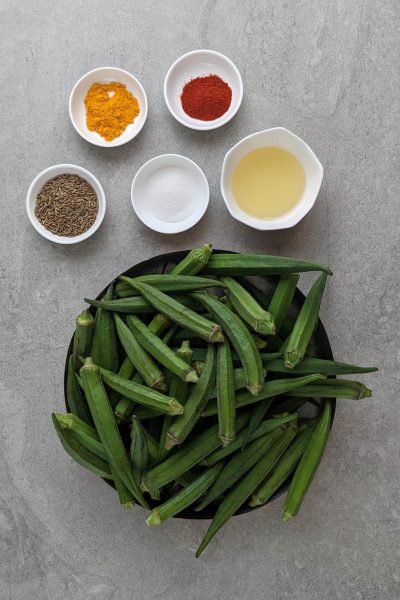 Okra (bhinda) – okra, or lady's fingers, is a staple of Gujarati cooking. The texture of okra is everything. With this dish, you want to have a texture that is soft on the inside with a crispy outside and minimal stickiness.
Oil
Cumin
Red chili powder
Tumeric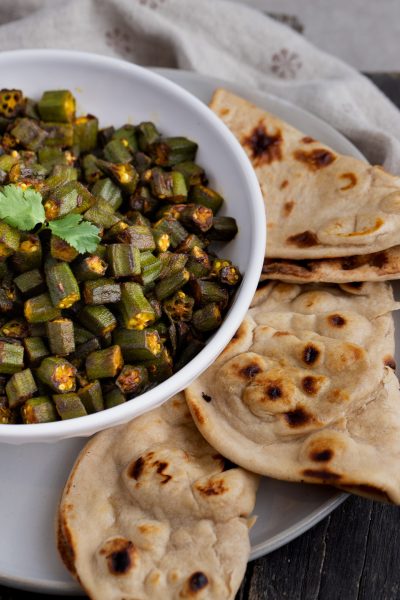 Tips
To avoid sticky okra, you can do what my family does, which is to wipe the okra with a damp towel instead of washing it. Or you can do what many other people do, which is to wash it thoroughly like any other vegetable, but then set it out to dry before cooking so there is no excess moisture.
If it gets too slimy, just cook it longer to dry out the sticky compounds.
Variations
Add onion. Many people make this dish with some sauteed onion.
Add hing – Although I prefer to keep this dish very simple, hing (asafoetida) is a common ingredient added to give it some onion-like flavor. It's good, but I prefer it without it. Use 1/8 of a teaspoon.
Add garam masala – Add ½ tsp of garam masala with the turmeric if you want to add more spice.
Add coconut – I make a very similar shaak with coconut, Bhinda Copra nu Shaak.
Serving
Bhinda nu shaak is a simple, every night casual dish. In my house, we typically eat it on its own with some flatbread. The best flatbread to go with it is a simple paratha. The soft, pillowy texture of the bread is perfect against the bhindi. It also goes well with roti or naan. You can also use tortillas in a pinch.
It can also be part of a Gujarati thali, including a classic Gujarati dal, some roti, a wet shaak like Chora nu Shaak or Dudhi Chana, and some rice, like jeera rice.
Refrigerating
This okra shaak refrigerates well for up to 5 days. It also freezes well. Defrost it in the microwave or on the stovetop.
For stovetop reheating, heat a couple of teaspoons of oil and stir-fry the okra in hot oil to re-crisp.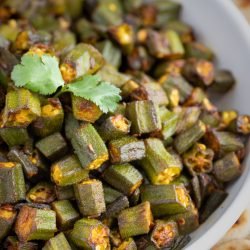 Bhinda nu Shaak (Okra Fry)
A simple okra stir-fry, for anyone who loves okra. With only five ingredients, it is a very easy, traditional shaak perfect for a weeknight meal.
Ingredients
1 ½

pounds

okra

1

Tbsp

cumin seeds

½

tsp

kashmiri chili powder

½

tsp

turmeric powder

½

tsp

salt

or to taste

1 ½

Tbsp

oil
Instructions
Start with a vaghar. Heat oil over medium heat. Add cumin and turmeric and toast until fragrant, about 10 seconds.

Add okra. Stir to coat. Add salt and mix well.

Cover and let cook for 5 minutes. Do not add water. The moisture from the okra will be enough to steam it lightly.

Uncover and stir the okra. Cook until the edges are crispy, about 10 minutes, stirring occasionally.
Nutrition
Calories:
110
kcal
Carbohydrates:
14
g
Protein:
4
g
Fat:
6
g
Saturated Fat:
0.5
g
Polyunsaturated Fat:
2
g
Monounsaturated Fat:
4
g
Trans Fat:
0.02
g
Sodium:
309
mg
Potassium:
547
mg
Fiber:
6
g
Sugar:
3
g
Vitamin A:
1311
IU
Vitamin C:
39
mg
Calcium:
155
mg
Iron:
2
mg
(Originally published July 1, 2012, with major updates February 15, 2023)