There is no vegetable quite like Okra (Bhendi in Hindi, Bhinda in Gujarati, also known as Lady's Finger in English). My very favorite okra dish is a bharela bhinda nu shaak.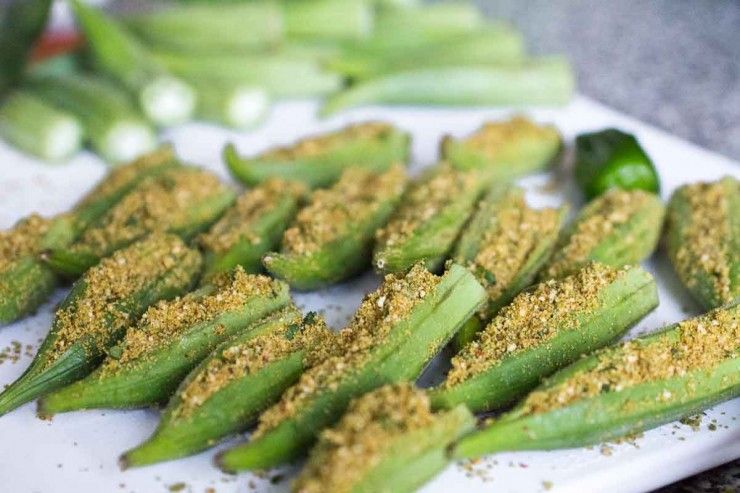 Most people have strong opinions about the slimy vegetable – they either love it or hate it. If it isn't obvious by the fact that I'm posting about it, I absolutely love Okra!
Aside from being my favorite vegetable, this underused vegetable can be incredibly versatile.  It can be used as a thickener in soups and stews like gumbo, it can be pickled, fried and can be cooked into a variety of side dishes.  
I love the chewy texture and the subtle flavor.  As a child, I insisted that my mom make me a simple dry okra shaak each week.  We had it so much that my parents would groan every time I asked for okra.  
Luckily, they were nice enough to put up with my childhood okra obsession and we continued to eat it regularly.
One of my favorite American okra dishes is Southern Fried Okra, something I had never tried until I moved to DC to work for Congress. The first time I tasted the deep fried golden morsels of okra coated with corn meal at the cafeteria in the Rayburn House Office Building, I was hooked! 
Even though I normally try to avoid fried food, I had to get the fried okra every time they were on the menu.  I really like eating them dipped in Frank's buffalo sauce. Try it, you'll love it too! Recipe for Southern Fried Okra from The Pioneer Woman.
My very favorite okra dish is a stuffed bhinda nu shaak.  It is made by cutting a slit into each okra pod and stuffing it with a mixture of nut powder (traditionally peanut but I tend to use almond or cashew most of the time because I almost never have peanuts in the house), gram flour, cumin, cilantro, and chili powder.
Traditionally, you cook it on a skillet and it takes a long time and a lot of attention.  I like to bake it in a high oven and forget about it. It comes out cooked perfectly with delicious crispy edges and crisped onions. Yum! So good!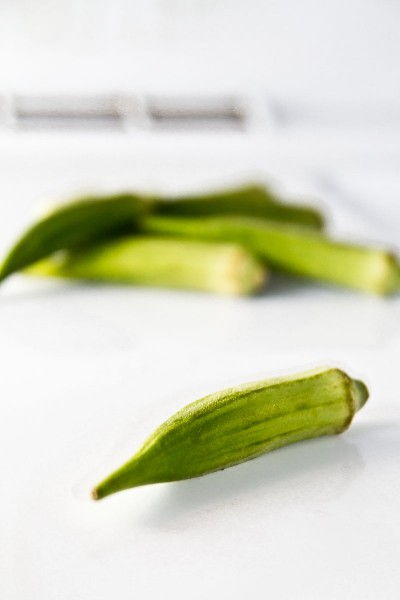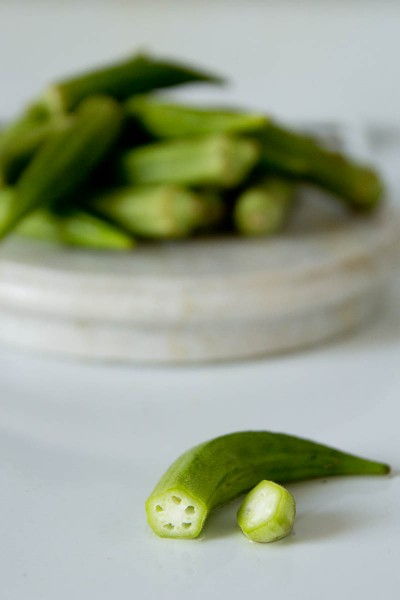 This is my baked variation of the traditional recipe that my mom and grandma cook.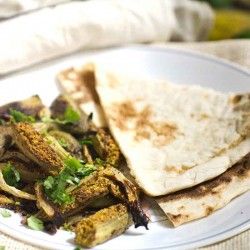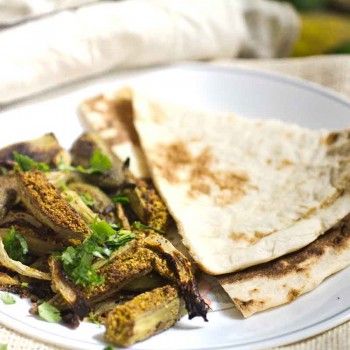 Stuffed Okra (Bharela Bhinda)
Okra stuffed with cumin and cilantro
Ingredients
For the filling:
¼

cup

cashews

Peanuts or almonds are okay too. Or leave the nuts our entirely and double the gram flour

¼

cup

gram flour

besan / garbanzo bean flour

2

tbsp

powdered cumin

¼

cup

chopped cilantro

1

green chili

1

tsp

turmeric powder

1

tsp

red chili powder

½

tsp

salt
For the Okra:
1

lb

Okra

frozen whole okra is okay if fresh is unavailable

1

large onion cut into 1/4? slices lengthwise

1

tbsp

cumin seeds

2

tbsp

oil

salt
Instructions
To Make Filling
Grind the cashews to a flour in a food processor.

Add all the other ingredients and pulse a few times until incorporated well.
To Make Stuffed Okra
Preheat oven to 425 degrees. Grease a half sheet pan or cookie sheet with oil.

Wipe the okra with a damp towel (washing it will increase the slime of the okra).

Trim off the stem ends. Then, carefully cut a slit through the okra lengthwise about halfway deep.

Gently open each okra pod and fill with as much filling as you can fit.

Toss the stuffed okra, sliced onion, cumin seeds and salt onto the baking sheet.

Drizzle the oil over the pile, toss lightly and spread out evenly on the baking sheet.

Bake for 30 minutes and stir. If the okra is drying out too much sprinkle with a tablespoon of water. Bake for 10-15 more minutes.
Notes
Serve with any kind of flat bread you have on hand. Pita, lavash, naan and even wheat tortillas warmed on a tava all work well. In the last picture below I used a bread I found at a local market that looked like a very large naan.
Nutrition
Calories:
207
kcal
Carbohydrates:
21
g
Protein:
7
g
Fat:
12
g
Saturated Fat:
1
g
Polyunsaturated Fat:
3
g
Monounsaturated Fat:
7
g
Trans Fat:
1
g
Sodium:
359
mg
Potassium:
604
mg
Fiber:
6
g
Sugar:
5
g
Vitamin A:
1088
IU
Vitamin C:
30
mg
Calcium:
151
mg
Iron:
5
mg