This Indian recipe for beet greens comes from the dish, "Moola ni Bhaji," which is one of my favorite recipes of my mom's for greens. It uses radish greens, which have a little more bite than beet greens. What really makes this recipe is the semolina. The semolina gives greens a whole new texture. They become soft, light, and fluffy.
Indians have a lot of different ways of cooking greens. This is one of my favorite because adding semolina gives it more body and substance. Semolina also helps hold the flavors and spices to the vegetable.
The best time of the year to buy vegetables in Bombay is in the winter. The warm rains drench the farmlands during monsoon season, and the winter harvest follows.
I remember this mainly because this is the time of year my mother would buy lots of greens. She would make some of my favorite dishes like her version of a traditional Moola ni Bhaji with Daikon Radish greens. But she would substitute any kind of green other than spinach (spinach would be too slimy).
Tips for Making this Dish
Make sure to toast the semolina enough. If you don't, it will become gooey and sticky.
Do not add too much water, which will also make the semolina sticky and gooey.
If you want to make it gluten-free, try cornmeal. Cornmeal has similar texture and properties to semolina, but I haven't tried it myself.
This is a great dish for making a day or two ahead of time as well, so you can take it to work and eat it with some bread.
You can do anything with beet greens that you can do with other greens, like chard or collard greens, but they don't have to cook quite as long.
Buying Beet Greens
If you are buying beets and you find beets that still have the greens on them, if the greens are not too floppy, you should buy them. This way, you know the beets are fresh and flavorful.
When you get them home, chop off the greens just about a quarter inch above the beet. The greens should last a day or two in the refrigerator, and the beets will last much longer.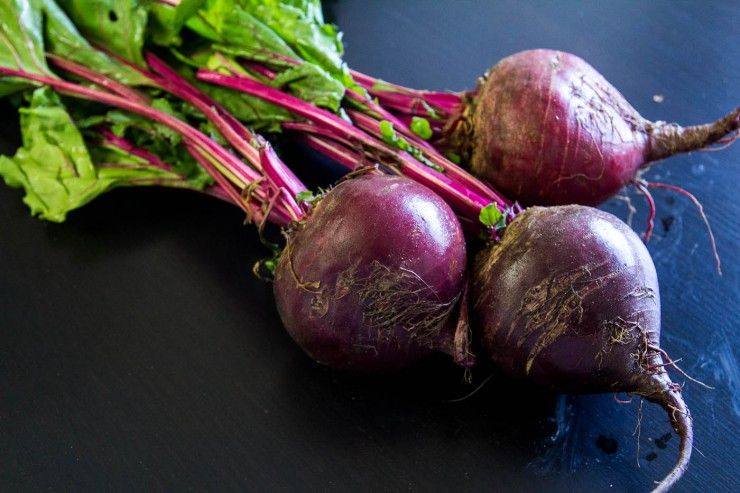 Beet Greens Curry (Beetroot Ni Bhaji Nu Shaak)
A great Indian recipe for beet greens; a curry using beet leaves, beet stalks and semolina
Ingredients
1

bunch beet greens with stems

Roughly chop the greens and chop the stems into a fine dice

1

tbsp

vegetable oil

½

onion, small

finely chopped

3

cloves

garlic

½

serrano chili

½

tsp

turmeric

½

tsp

chili powder

½

tsp

ground cumin

¼

cup

semolina

(rava)

1

cup

water

pinch

salt

(or to taste)

1

tbsp

lemon juice
Instructions
Heat 1 tbsp oil in a skillet over medium heat. Add onions, chili, beet stems and garlic. Cook until the onions are softened and transparent.

Add 1/4 cup semolina. Toast the semolina, stirring continuously until it smells toasty, about 3 minutes.

Stir in turmeric, cumin and chili powder.

Add beet greens and 1 cup water and salt.

Cover, Cook 5 minutes, stirring once about halfway through. Uncover, cook for 5 more minutes, stirring often.

Sprinkle with lemon juice, stir and serve.
Video
Notes
You can use any kind of greens for this recipe but you may need to add a little more water and cook them longer depending on the greens you choose.
Nutrition
Calories:
164
kcal
Carbohydrates:
21
g
Protein:
4
g
Fat:
7
g
Saturated Fat:
5
g
Sodium:
74
mg
Potassium:
278
mg
Fiber:
2
g
Sugar:
1
g
Vitamin A:
1705
IU
Vitamin C:
14.1
mg
Calcium:
42
mg
Iron:
2.2
mg
(Originally published May 24, 2014; updated Aug 5, 2022)