Aloo methi is a potato and fresh fenugreek leaves curry that is flavorful and savory. The methi compliments the earthy potato by adding a savory and slightly bitter complexity. This is a very easy dish to make, and you can even prep it ahead of time.
This is something my family makes frequently. It is a traditional Gujarati dish that my mom made for our family often. I now make it often for my own family.
Ingredients
Potatoes – "aloo" or "batata", I am using russet here, but Yukon Golds work well for this dish as well.
Fenugreek – fenugreek gives the dish it's signature flavor profile. Since fenugreek tends to be slightly bitter, my family uses a slightly lower ratio of fenugreek to potato. I find this ratio perfectly flavorful without becoming too bitter. Add more if you want to highlight the fenugreek even more.
Green Chili – because the potatoes are mild, a spicy green chili works well with the potato. You will want to adjust the amount of green chili you use to your tastes, depending on the chilies you have selected. One way to reduce heat without removing the flavor of the chilies is to remove the seeds and ribs of the chilies.
Dhana Jeeru – a classic Gujarati spice blend of 50% cumin and 50% coriander powder. You can buy "dhana jeeru" or make the mix on the fly.
Turmeric
Cumin Seeds
Chili powder
Fenugreek
Fenugreek is a much-loved herb in Gujarat and many parts of North India. It is a legume, but we use it in many ways. Here we are using the leaves as greens. Some other popular recipes using methi greens:
Serving Methi Batata nu Shaak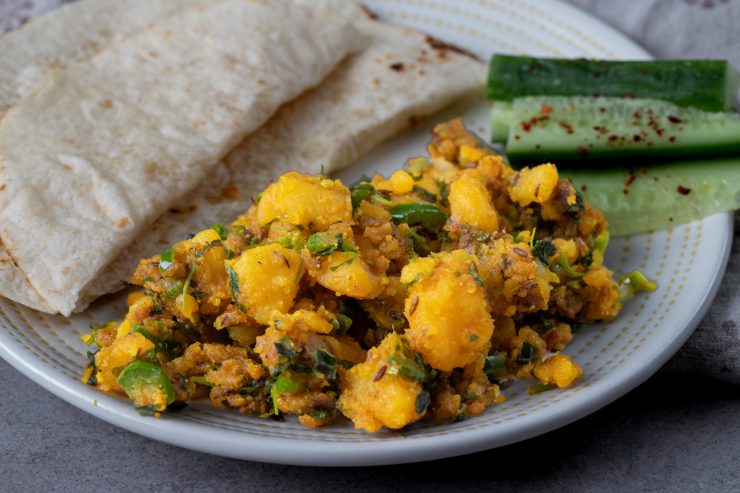 Methi batata nu shaak is most often served as an everyday meal. Serve it as part of an Indian meal with roti, rice, and a wet shaak like paneer makhani. It's nice to have some yogurt or raita on the side and some pickle.
For a flatbread to go with this, I would usually choose a roti or paratha. You can also serve it with kulcha or naan if that is what you have, but I prefer to serve these with a wet rather than a dry shaak like this one.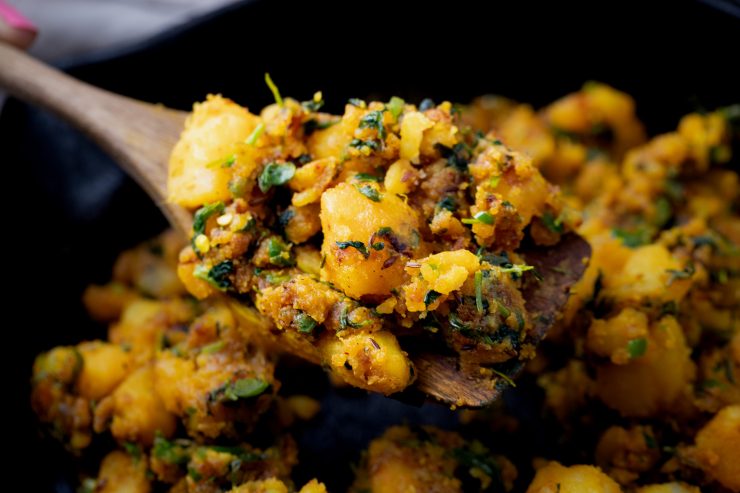 This dish also does very well at gatherings as well. Last year I made it for a Diwali lunch that I hosted because I love it so much. I had other fancier shaaks alongside it, but it's always nice to have a simpler shaak that is approachable for pickier eaters.
Cooking Tips
If you are using a cast iron or steel pan, the potatoes tend to stick. Be sure to scrape up the bits that have stuck so they don't burn. If you are using a non-stick pan that won't be an issue.
If you notice a lot of sticking, you can deglaze the pan with a tablespoon or two of water, as I did in the video.
Do not let potatoes cool in the water. They will become waterlogged and the texture will be off.
You can boil the potatoes and chop the methi ahead of time. You can even freeze the methi. Once that is ready, the actual preparation takes about five minutes.
Variations
Add garlic and garam masala
You don't have to boil the potatoes ahead of time. You can chop up a raw potato and cook it in the pan with a little bit of water before adding the methi. I prefer the texture of pre-boiling the potato. Either way, be sure the potato is fully cooked before adding the methi.
Preparing and Storing
Prepping Ahead
The potatoes and fenugreek can be prepared ahead of time and stored in the refrigerator for up to 2 days. Washed and cut methi can be stored in the freezer in a ziplock bag or an airtight container for up to 3 months. It does not require any defrosting. You can add frozen methi directly to the pan when ready to use. Be sure the methi leaves are not wet when you freeze them.
Saving Leftovers
You can refrigerate the prepared curry for up to 5 days. This is something you can make extra of and take to work for lunch throughout the week. You can also freeze it for up to 3 months in an airtight container. Reheat in the microwave or in a pan on the stovetop directly from frozen. Add a couple of tablespoons of water, so the potatoes do not dry out while reheating.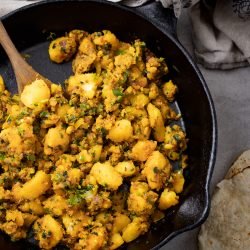 Aloo Methi | Methi Batata nu Shaak | Fenugreek and Potato Curry
A traditional Gujarati dish of potato and fresh fenugreek leaves curry that is flavorful and savory. The methi compliments the earthy potato by adding a savory and slightly bitter complexity.
Ingredients
1

pound

potatoes

1

bunch methi leaves

about 1 cup

2

Tbsp

oil

1

green chili

1

tsp

cumin seeds

½

tsp

turmeric powder

½

tsp

red chili powder

½

tsp

dhana jeeru

¾

tsp

salt

or to taste
Instructions
Add potatoes to a pot of cold water with some salt. Bring to a boil and cook potatoes until a knife or fork goes through with no resistance. Remove from water, allow to cool, and peel the potatoes.

Heat a pan with oil. Add cumin seeds, let size for 10 seconds. Add turmeric and red chili powder. Break up the potatoes by hand. The crumbles will vary in size, the larger pieces should be no more than about an inch in diameter. Add these to the pan.

Let cook until the potatoes develop crisp edges. Add green chili, methi, dhana jeeru, and salt. Let cook for 5 minutes. Add a splash of water if the potatoes start to stick to the pan.
Nutrition
Calories:
69
kcal
Carbohydrates:
1
g
Protein:
0.2
g
Fat:
7
g
Saturated Fat:
1
g
Polyunsaturated Fat:
2
g
Monounsaturated Fat:
5
g
Trans Fat:
0.03
g
Sodium:
479
mg
Potassium:
20
mg
Fiber:
1
g
Sugar:
0.4
g
Vitamin A:
80
IU
Vitamin C:
1
mg
Calcium:
7
mg
Iron:
0.5
mg