Kalingar nu shaak, or watermelon rind curry, is a traditional Gujarati curry and a great way to fight food waste. Who hasn't stared at those uneaten rinds of watermelon and wondered if there were something that could be done rather than throwing it all away?
It turns out, watermelon rind is very useful. There are a lot of different recipes that can be made with it (keep an eye out, we have more planned).
When cooked, watermelon rind resembles pumpkin or similar squashes. Not only is the texture and flavor similar, but it takes about the same amount of time to cook. This makes sense, because watermelon is in the squash family.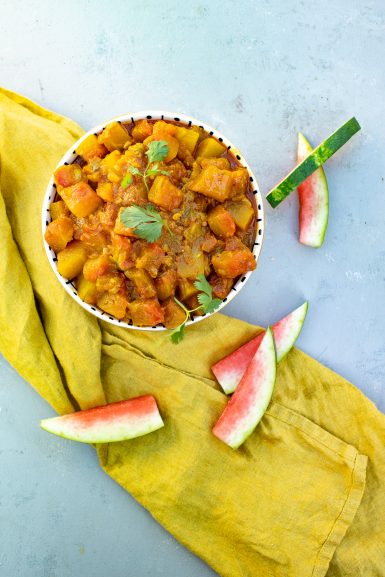 The rind is very receptive of the flavors of any spices or other ingredients that are added. That makes it particularly suitable as a shaak.
The Gujarati name for this watermelon rind curry is Tarbuj nu shaak, which means watermelon shaak (or subzi, or curry). Or another name might be Tarbooz ke chillke ki subzi, which would mean watermelon rind shaak.
Chillke refers to the skin of the watermelon. You don't actually use the skin, the green part of the watermelon. Instead you use the rind. It's okay to get a little of the red in your rind, but you don't want to include the skin. That would probably be bitter, and may even have an unpleasant texture.
Tips for Making Watermelon Rind Curry
This is an Instant Pot recipe. It can easily be cooked the same way in a pressure cooker. If you want to cook it in a regular pan on the stove, it will have to cook for a long time (at least 40 minutes just for the watermelon). You will also have to keep adding water as it will boil off.
Check your watermelon to know if it is done. If you overcook it, it will be too mushy. Better to undercook it and adjust. Check its doneness by piercing it with a toothpick or fork. It should go right in, but also offer a little bit of resistance.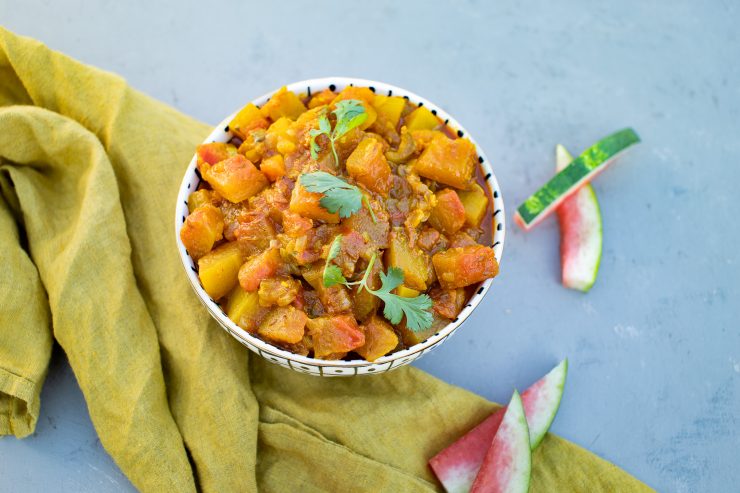 Alterations
Jaggery: Gujaratis love to add jaggery to shaaks. I didn't feel a need to add it here, but you can add some sweetness by adding one or two tablespoons
If you don't have methi seeds (fenugreek), you can use fenugreek leaves toward the end, or leave them out
Adjust the wetness of the shaak to your liking by either adding more water or boiling it off to get the consistency you prefer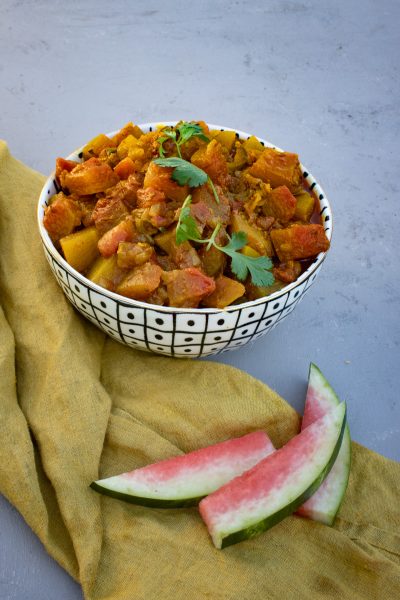 Watermelon Rind Shaak (Kalingar nu Shaak)
Watermelon rinds made into a simple curry (subzi or shaak)
Ingredients
Vaghar
2

Tbsp

oil

1

tsp

cumin seeds

¼

tsp

fenugreek seeds

⅛

tsp

hing

asafetida

10

curry leaves

½

tsp

turmeric

½

cup

onion

½

tsp

grated ginger or ginger paste
Pressure Cook
4

cups

watermelon rind

Salt

to taste
Finish
1

tsp

garam masala

½

tsp

red chili powder

1

green chili

sliced

Cilantro

optional garnish

1

tsp

lemon juice

a good squeeze
Instructions
Heat 2 tablespoons of oil in saute mode in your instant pot (or pressure cooker). Add cumin seeds and cook for a few seconds to get them to release their flavor. Then add fenugreek seeds, hing, curry leaves, and turmeric.

Add chopped onion. Cook until it starts to turn translucent. Add ginger.

Add watermelon rind. Cook under pressure for 20 minutes followed by quick steam release.

Return the Instant Pot to saute mode and add garam masala, red chili powder, and a sliced green chili. Cook for about 4 minutes, uncovered.
Nutrition
Calories:
128
kcal
Carbohydrates:
15
g
Protein:
2
g
Fat:
8
g
Saturated Fat:
1
g
Polyunsaturated Fat:
2
g
Monounsaturated Fat:
5
g
Trans Fat:
0.03
g
Sodium:
45
mg
Potassium:
224
mg
Fiber:
2
g
Sugar:
11
g
Vitamin A:
1041
IU
Vitamin C:
66
mg
Calcium:
33
mg
Iron:
1
mg