Karela is a melon that looks similar to a cucumber, but with a distinctive warty flesh (think of the warts on some gourds). Other names for karela are "bitter melon", "bitter gourd" and "bitter apple."
One major characteristic of Indian food, especially Gujarati food, is that each dish tends to appeal to all five tastes. The ideal dish strikes a balance between them. The five tastes are sweet, sour, bitter, salty, and umami.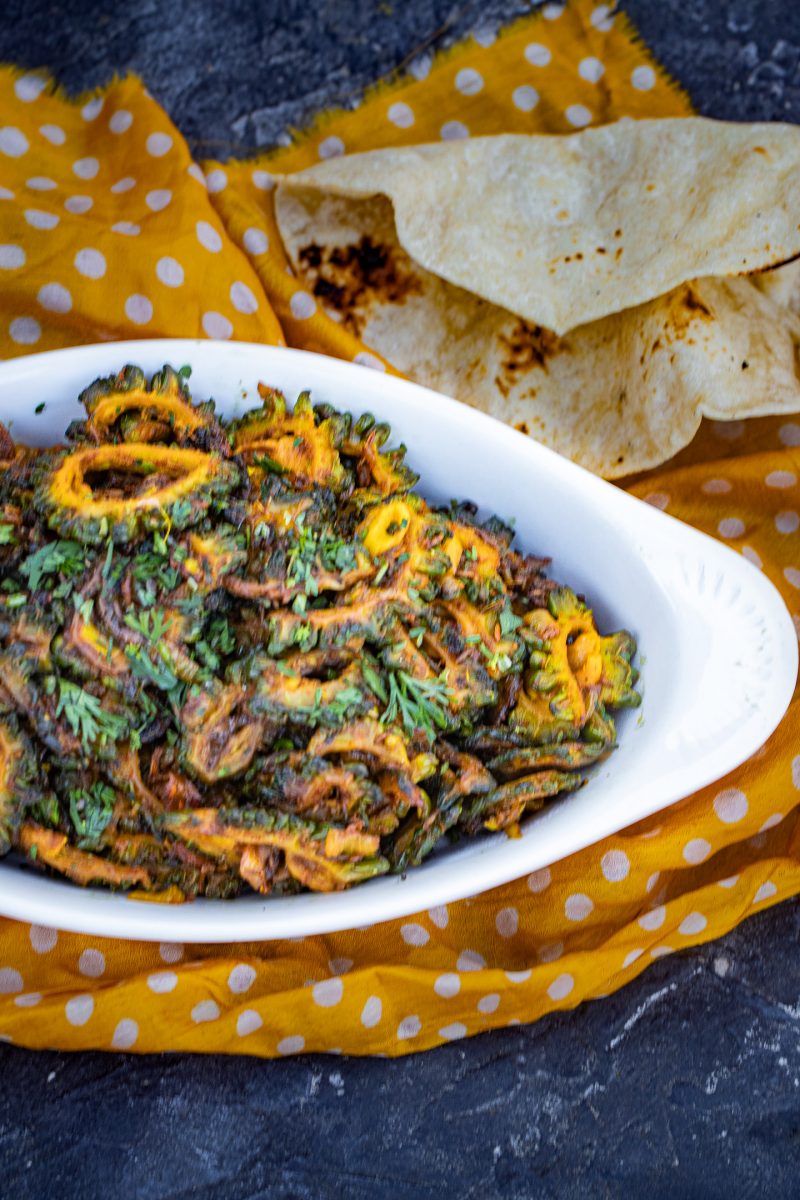 This balance is so essential that even Ayurveda (traditional Indian medicine) prescribes eating a balance of these flavors. One can get into the science behind this without getting too technical; this encourages eating a variety of different compounds that work together to meet our nutritional needs.
By contrast, in western culture, "bitter" is often seen as a negative, even though it is a dominant flavor in some popular foods. Think of chocolate (especially dark chocolate) and coffee.
Karela nu Shaak is a typical homestyle dish. My mom has made this often for us. Karela is used throughout India, this version of Karela nu Shaak is a typical Gujarati version of the vegetable curry, although some would add more sugar than I do. Karela nu Shaak is often served as part of a Gujarati thali.
This simple stir-fry meal is often eaten with a flatbread, like roti, and some yogurt. The yogurt helps cleanse the bitterness from your palate as you enjoy your meal.
Karela nu shaak (Bitter Melon Curry)
Karela nu Shaak is a typical Gujarati version of the vegetable curry featuring bitter gourd.
Ingredients
300

grams

karela (bitter gourd)

chopped into 1/4 inch rounds

1

tbsp

salt

rub into karela and let sit for 30 minutes

1

tbsp

oil

1

medium red onion

chopped

¾

tsp

turmeric

1

tsp

chili powder

1

tsp

cumin powder

1

tsp

amchur

(mango powder)

1

tsp

jaggery
Instructions
After cutting the karela into 1/4" round, remove any red or darkened seeds. Rub with salt. Let the salt sit on the karela to cause it to sweat and remove excess liquid.

Rinse the salt off of the karela pieces. Wash gently and squeeze out the liquid.

Heat the oil. Add cumin seeds, then onions. Cook for 5 minutes.

Add karela. Cook covered for 5 minutes, stirring at least once. Add a little water if it is too dry.

Add turmeric, chili powder, cumin powder and amchur. Mix, cover and cook for 10 minutes. Stir often.

Remove cover, cook another 5-8 minutes to cook out remaining liquid.

Garnish with cilantro and serve.
Nutrition
Calories:
55
kcal
Carbohydrates:
5
g
Protein:
0.5
g
Fat:
4
g
Saturated Fat:
0.3
g
Polyunsaturated Fat:
1
g
Monounsaturated Fat:
2
g
Trans Fat:
0.01
g
Sodium:
1754
mg
Potassium:
69
mg
Fiber:
1
g
Sugar:
3
g
Vitamin A:
155
IU
Vitamin C:
2
mg
Calcium:
15
mg
Iron:
1
mg
Frequently Asked Questions
What common mistakes might someone make while preparing Karela nu shaak? How should they counter them?
Remove any red seeds or any that have started to darken. Those are mature or maturing seeds that are becoming too hard to eat.

Prepare the karela by salting it and squeezing out the liquid. That will help with the bitterness and help it absorb flavors.
How might ingredients be altered to suit tastes?
Change the quantity of sugar to suit your taste and health preference. Karela nu shaak is often served spicy and sweet, but you can cut this back to suit your tastes.