Tindora nu Shaak is an example of a typical Gujarati recipe. This is a simple recipe, the way my mother makes it. The simplicity keeps the emphasis on the tindora and lets the tindora shine. This shaak is sometimes served as part of a Gujarati thali.
Tindora is a neat little vegetable, common in India and Southeast Asia. Tindora is in the gourd or cucumber family. The leaves and fruits are edible. It looks and tastes like a little cucumber when young. There are many different ways to prepare tindora, my favorite way is this Gujarati shaak.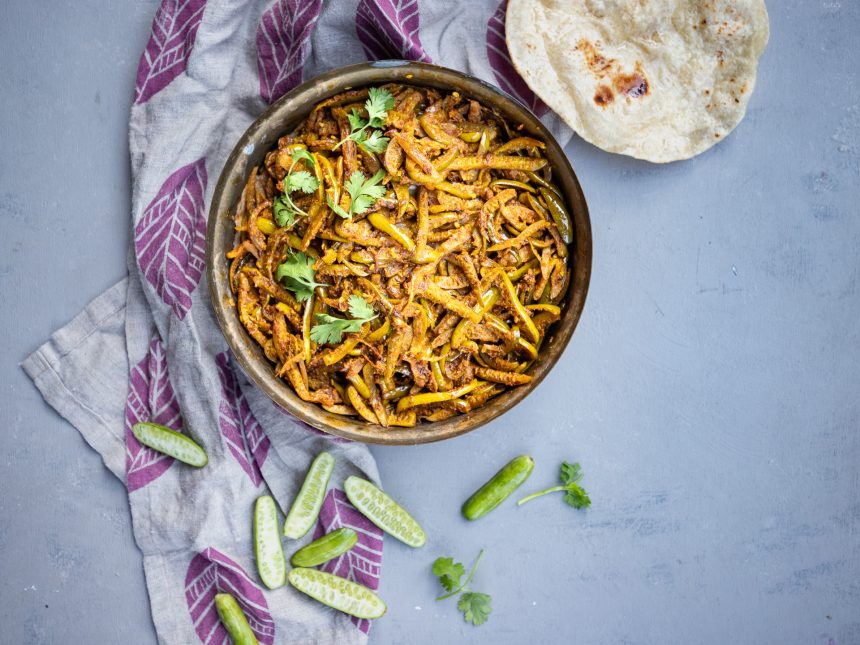 My parents do a lot of gardening. We always had tindora growing in India. I loved picking them off the vine and eating them raw. They taste very much like cucumber and I love cucumbers. When they were in season I would pick them off the vine and snack on them all day.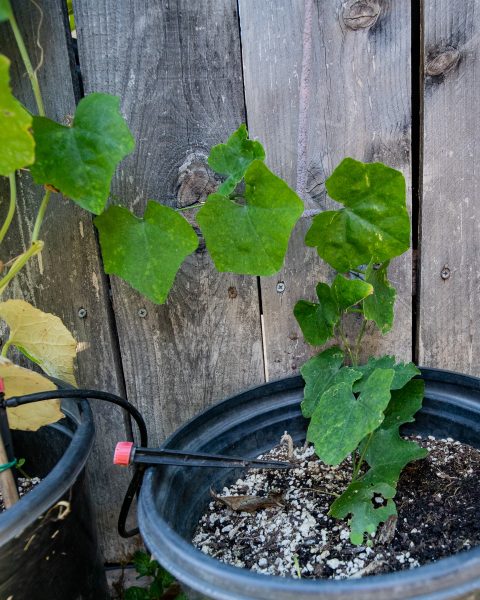 Other names for tindora are Ivy Gourd, scarlet gourd, and kowai. The plant is Coccinia grandis, an invasive species in many parts of the world, including Hawaii. Apparently, the plant can root and grow from only a little shedding that falls on the ground.
When tindora is shipped around the world, a piece of stem often flakes off onto the ground. If it is in a favorable climate, that piece can easily root and form into a whole plant.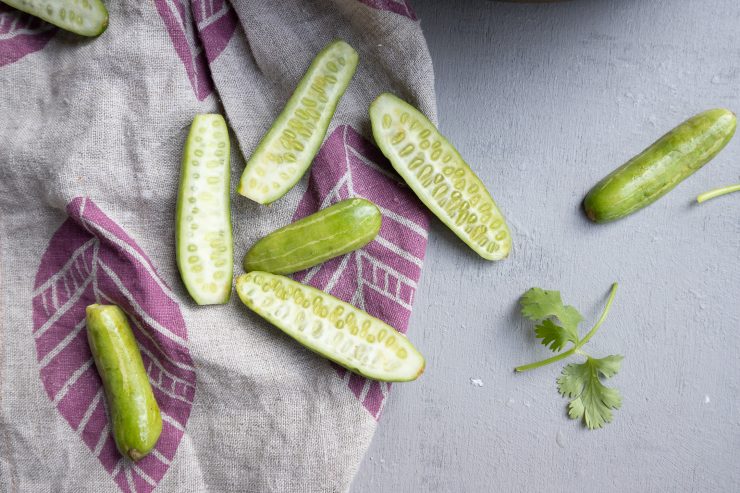 A couple of things to look out for when making this dish:
Make sure to discard any fruits that have red seeds. They have been allowed to mature too much and the fruit will be too tough to enjoy.
Do not add water to the cooking process. It will make the tindora too soft and limp. You want them to have texture. The tindora release enough water on their own to steam correctly when the lid is on as long as the heat is not set too high.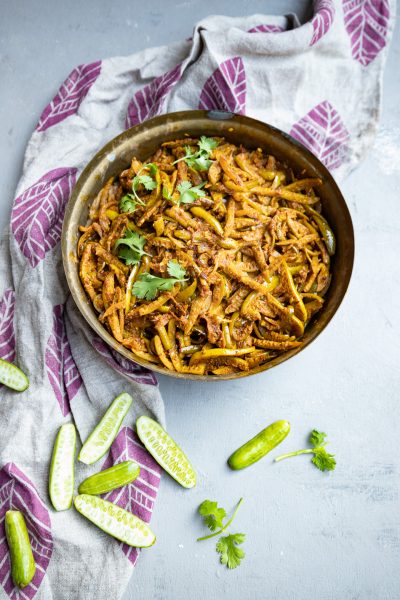 If my grandma were making this, she would definitely add sugar. Many Gujaratis add sugar to their shaaks, but I don't. This shaak is also very typically a very spicy one. I've kept mine a little toned down, you should adjust the spice level to your liking.
Do you have to use almond flour for Tindora nu Shaak?
The almond flour is used to help thicken the shaak. A more traditional way to do this would be to grind some peanuts in a mortar and pestle, but I prefer the neutral flavor of the almond flour and the convenience of it.
What is the one thing to know about this Tindora nu shaak?

Cut the tindora small and thin to ensure even cooking.
Where can I find tindora?
Tindora is unusual but delicious. You can find tindora at an Indian or Asian grocery store.
What bread do you serve with Tindora nu Shaak?
Tindora nu shaak is typically served with roti, puri or bhakli. You can eat it with naan if you have it, but that is not a typical bread to have at home.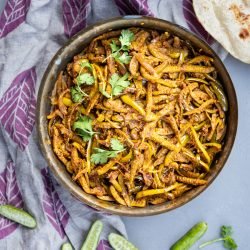 Tindora nu Shaak
A simple, traditional Gujarati shaak made with tindora
Ingredients
Vaghaar
2

tbsp

ghee or vegetable oil

1

tsp

cumin seed

jeera

⅛

tsp

asafetida

hing
Shaak
1

tsp

garam masala

½

tsp

turmeric powder

1

tbsp

Dhana jeeru

equal parts cumin and coriander powder

1

tsp

red chilli powder

1

tbsp

almond flour or ground peanut

1

pound

tindora

cut into thin sticks

½

cup

onion

cut pole to pole

1-2

green chillies

sliced

1

tsp

salt

or to taste
Instructions
Do a vaghar: heat oil in a pan. Add cumin seeds and asafetida. Cook until the fragrance is released from the cumin seeds, about 10 seconds.

Add onions. Cook until soft.

Add turmeric, dhana jeera, red chili powder, garam masala and ground almonds. Cook for 30-45 seconds.

Add tindora, green chillies and salt.

Cover and cook for 5-8 minutes on medium-low heat. Open the lid every few minutes to stir.
Nutrition
Calories:
117
kcal
Carbohydrates:
9
g
Protein:
2
g
Fat:
9
g
Saturated Fat:
5
g
Polyunsaturated Fat:
0.4
g
Monounsaturated Fat:
2
g
Cholesterol:
19
mg
Sodium:
52
mg
Potassium:
248
mg
Fiber:
2
g
Sugar:
3
g
Vitamin A:
293
IU
Vitamin C:
6
mg
Calcium:
47
mg
Iron:
2
mg