I love hearty one pot meals. But for some reason, I don't make them often enough. The first chicken tagine I made, was a recipe from epicurious that I made a few years back exactly as written. It came out great but what I really love about it is the technique.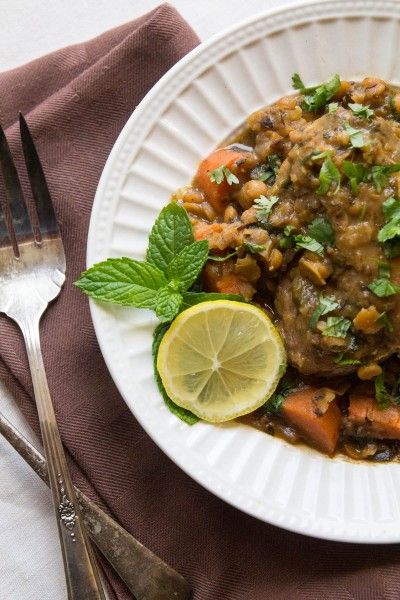 It is so fun and easy to experiment with. You can vary the flavors and ingredients widely and you end up with a delicious one pot meal every time.
Over the years I've made versions with tomatoes, olives and thyme to garam masala with preserved lemon. I made my latest version with split peas, fenugreek and mint. I love the cool flavor of mint in savory dishes and my mom gave me a mint plant that I haven't been using enough. Tagines are a Moraccan food, so I guess this is an Indian-Moroccan dish. Let me know what you think!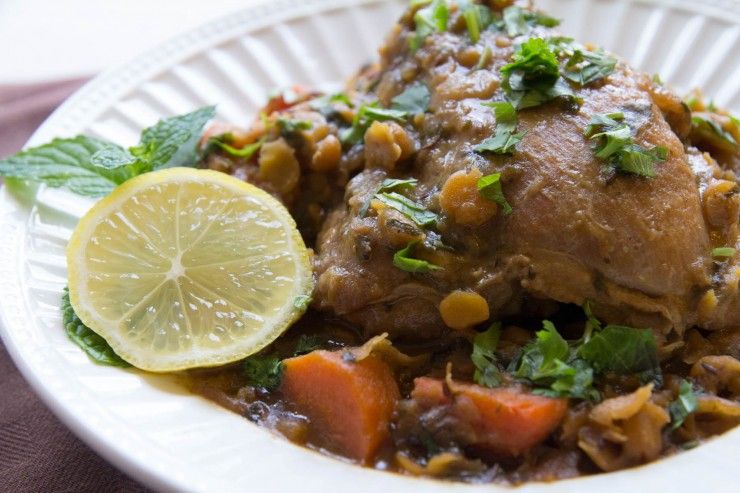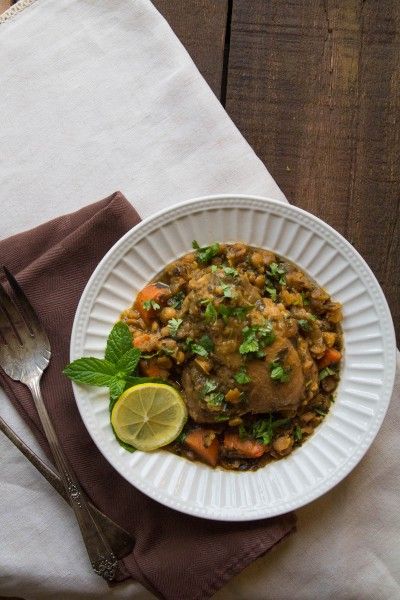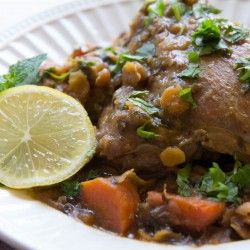 One Pot Herbed Chicken Tagine with Split Peas
A hearty one-pot chicken dish, made Moroccan style
Ingredients
4

chicken thighs

bone-in but skins removed

½

tsp

black pepper

2

onions

roughly chopped

1

tbsp

cumin

4

tbsp

oil

½

cup

dried split peas

3

tbsp

tomato paste

6

tbsp

cilantro

roughly chopped and separated

4

tbsp

mint

roughly chopped and separated

3

tbsp

dried fenugreek leaves

chop them with a knife too because they tend to be kinda stringy. The chopping helps with that

2

tsp

Kashmiri chili powder

Aleppo pepper or paprika will work too

½

tsp

cayenne

8

cloves

garlic

roughly chopped (not minced)

3

medium carrots

cut into 1 inch thick slices

1

tsp

salt

or to taste

juice of 1 lemon
Instructions
Sprinkle chicken thighs with salt and pepper.

Heat 1 tbsp oil in a large wide bottomed pot (I use my 5 quart Dutch oven). When the oil is hot add two thighs. Let brown for about 2 to 3 minutes on each side. Put the browned thighs in a bowl and set aside. I let them cool for about 20 minutes and put them in the fridge until I'm ready to use them. Add another tbsp of oil and repeat process with the remaining two thighs.

Add 2 more tbsp of oil to the same pot (don't worry about the browned pieces of chicken stuck to the bottom of the pot, they've got great flavor!). When the oil begins to shimmer, add the cumin seeds. They should sizzle when they hit the oil. Let cumin seeds fry for a few seconds and then add the onions. Add a pinch of salt and let onions cook, stirring often, until they soften.

Add carrots and garlic. Cook until onions caramelize a little and the garlic is cooked (don't worry about cooking the carrots before going to the next step – they will cook with the lentils later).

Add 4 tbsp of chopped cilantro, 2 tbsp of chopped mint, all the dried fenugreek leaves and the tomato paste. Stir and let cook for 2 minutes.

Add the split peas and 3 cups of water. Bring to a boil on high heat. Then cover, lower heat to medium low and cook for 20 minutes. Stir and add salt. Taste and adjust seasoning.

Add the chicken thighs. Cover and cook about 15 minutes.

Stir and cook uncovered for an additional 5 to 10 minutes until chicken is cooked, lentils are soft and the liquid is at the thickness of your liking.

Turn off heat. Let cool for about 15 minutes.

Stir in the lemon juice and remaining herbs. Serve warm.
Nutrition
Calories:
527
kcal
Carbohydrates:
31
g
Protein:
27
g
Fat:
34
g
Saturated Fat:
6
g
Polyunsaturated Fat:
8
g
Monounsaturated Fat:
17
g
Trans Fat:
0.1
g
Cholesterol:
111
mg
Sodium:
806
mg
Potassium:
913
mg
Fiber:
10
g
Sugar:
8
g
Vitamin A:
8330
IU
Vitamin C:
14
mg
Calcium:
94
mg
Iron:
4
mg