This is a very special blog post for us. Only a few days after celebrating our wedding anniversary, we now celebrate our One Year Anniversary with Indiaphile! As a celebration we are holding our first giveaway, but before we get to that, I want to share a few reflections on our blog.
When we started this blog one year ago today, we had no idea how much work would be involved. We didn't even know what we were going to do with it.
Steve and I had been bouncing around the idea of writing about various aspects of Indian food and culture. We decided we would write down all of the different things we had been talking about over the years– the foods we cook, my childhood memories of growing up in India and different aspects of Indian culture.
We started out slowly with just a few posts the first month. We didn't even have any pictures on our first post! But the blog quickly and naturally evolved into a food-centric site because I love to cook and experiment in the kitchen (and because it is easier for me write about food). Food styling became my job. I experimented a lot (in fact, I'm still experimenting albeit with a little more success lately). My goal was to try to incorporate an Indian aesthetic in the styling especially by using Indian fabrics as much as possible. But it didn't always work out.
Steve was already a photographer (doing mostly portraits for weddings and families) but food photography is a whole different area and he hadn't done anything like it before. It was also hard to plan a photo session for the foods we cooked. Both the styling and photography took an extremely long time because I'd try different fabric and plate set ups and then Steve would try different lighting set ups. A photo session meant that we couldn't eat dinner when it was ready but had to delay gratification (often for hours at a time) until after the photos had been taken – the food was disappointingly cold by then! We sometimes didn't eat until hours after our usual dinner time.
For the first six months Indiaphile didn't really go anywhere. We didn't see much traffic or get any attention or comments. But that all changed when we started submitting to Food Gawker and Tastespotting, promoting our blog to our friends on Facebook and getting search engine traffic.
It was so exciting that it motivated us to keep at it and keep getting better.
We've come a long way in the past year though. I've gotten faster at styling the food and Steve's gotten better at the photo shoot part. And most importantly, I am having so much fun with the blogging. I am so excited to see what the upcoming year brings.
That said, I am super excited to host our very first giveaway to celebrate Indiaphile's one year anniversary. I am absolutely in love with Hari Nayak's My Indian Kitchen: Preparing Delicious Indian Meals without Fear or Fuss
. It's such a beautifully photographed, hardbound cookbook with great recipes from all over India. I am so happy and grateful that Tuttle Publishing sent me a copy for the giveaway.
The Giveaway
How to enter:
Like the Indiaphile page on Facebook
Leave a comment here telling me that you've done so (if you already "like" the Indiaphile Facebook page, just leave a comment saying so)
You can enter up to four additional times by doing the following:
Follow Indiaphile on Twitter. Then leave an additional comment here telling me you've done so.
Follow Indiaphile on Pinterest. Then come back and leave an additional comment here telling me you've done so.
Subscibe to Indiaphile by either RSS, Bloglovin or email. Come back and leave an additional comment here telling me you've done so.
Leave a comment here telling me what your favorite Indiaphile post is and why.
Deadline:
The last day to enter the giveaway is June 30, 2013 at 11:59 PST
Rules:
This giveaway is open only to United States residents (including Alaska, Hawaii, and all territories).
— I apologize to those of you who live in other countries. We do not have the budget to ship to the rest of the world right now. Hopefully someday soon we will! 🙂
Winners:
Winners will be chosen at random and announced in a new blog post between July 1, 2013 and July 3, 2013. If winners do not respond within 48 hours another winner will be chosen.
Today I am sharing a recipe for Chicken Tikka Masala from Nayak's My Indian Kitchen. This book is filled with delicious recipes like it. It's a great book for someone who wants to learn Indian cooking or someone who just wants to expand their repertoire. It has a bunch of both vegetarian and non-vegetarian recipes so it works for everyone.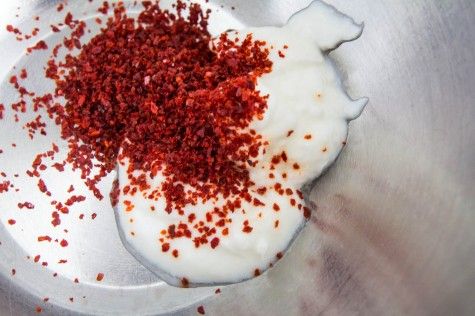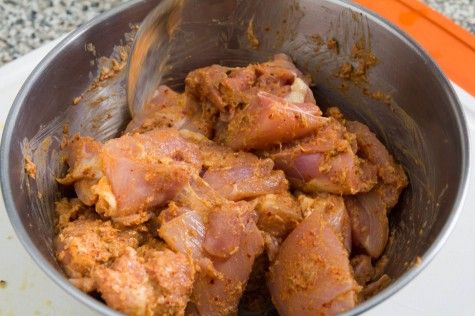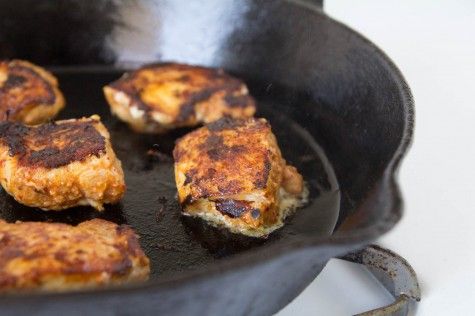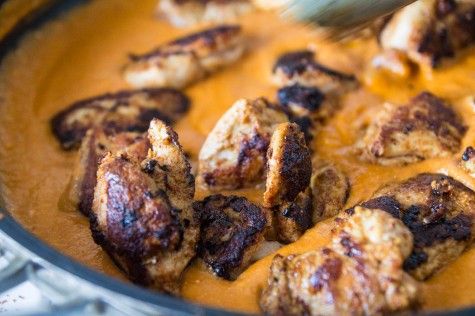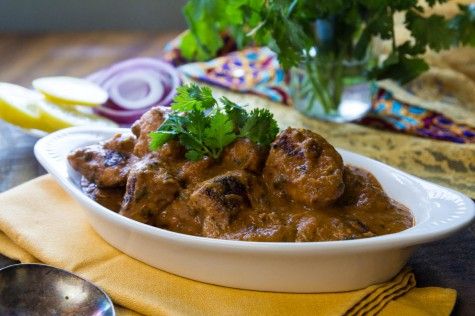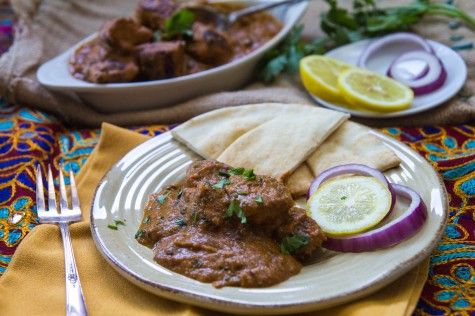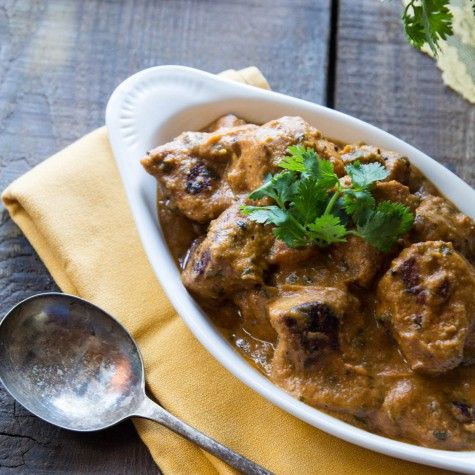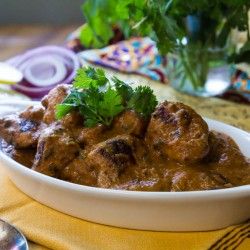 Murg Tikka Masala
Ingredients
⅓

cup

80 ml thick, Greek-style plain yogurt or sour cream

1

tbsp

plus 1 tsp paprika

2

tsp

ground coriander

3

tsp

garam masala

1

tbsp

plus 1 tsp ginger-garlic paste

2 tsp each of grated ginger and garlic

1 ¼ to 1 ½

lbs

600 to 750 g skinless, boneless chicken pieces, cut into 2 inch (5 cm) cubes

Nonstick cooking spray or oil

to grease the grill pan

2

tbsp

oil

1

large onion

about 1/2lb/250g, minced

1 ¼

cups

300ml tomato puree

2 ½

tbsp

tomato paste

1

tsp

salt

plus more if needed

4

tbsp

chopped cilantro

coriander leaves

2

tbsp

softened butter

optional
Instructions
Mix together 2 tbsp yogurt or sour cream, 2 tsp paprika, 1 tsp ground coriander, 1 tsp garam masala, and half the ginger-garlic paste in a large mixing bowl. Add the diced chicken and mix until the chicken peices are well coated. Let marinate in the refrigerator for 2 hours.

Heat a grill pan over medium heat and grease with nonstick cooking spray or a little oil. Place the chicken cubes on the grill pan and cook all sides until well browned, about 4 to 5 minutes per side. Set aside.

Heat the oil in a large, heavy-bottomed skillet over medium-high heat. When hot, add the onion and saute until translucent, about 1 minute. Add the remaining ginger-garlic paste and cook until the mixture turns golden brown, about 1 to 2 minutes. Add the remaining paprika and ground coriander. Mix well and cook for another 30 seconds.

Add the tomato puree, tomato paste and salt, and cook, stirring constantly until the oil separates from the masala (the spice, tomato and onion mixture), about 2 minutes. This technique is called bhunao. Remove from the heat.

Transfer the onion-tomato mixture to a food processor or blender and process into a smooth paste. Add a little water if the mixture gets too thick.

Pour the tomato-onion puree back into the skillet and set over medium heat. Whisk in the remaining yogurt or sour cream, making sure it is well blended.

Add the chicken and reduce the heat to medium-low. Cover the pan and allow the chicken to simmer until it is completely cooked, about 7 to 8 minutes. Stir in the remaining garam masala, the fresh coriander leaves and butter, if using, and mix well. Taste for seasoning and add more salt if needed. Serve hot.
Notes
I love how easy this recipe is to make. Far less complicated than I expected.
I do not have a grill pan so I just used my cast iron skillet to brown the chicken. It worked out really well.
I used Aleppo pepper instead of paprika because my paprika is really old (also because I have a small obsession with Aleppo pepper right now).
I also added 1/2 tsp of sugar right at the end because I felt it needed a little touch of sweetness.
This recipe is shared from the book My Indian Kitchen by Hari Nayak, with the permission of Tuttle Publishing.
Nutrition
Calories:
531
kcal
Carbohydrates:
14
g
Protein:
46
g
Fat:
32
g
Saturated Fat:
10
g
Polyunsaturated Fat:
6
g
Monounsaturated Fat:
14
g
Trans Fat:
1
g
Cholesterol:
143
mg
Sodium:
868
mg
Potassium:
1018
mg
Fiber:
4
g
Sugar:
7
g
Vitamin A:
1800
IU
Vitamin C:
13
mg
Calcium:
78
mg
Iron:
4
mg