June is a big anniversary month for Steve and I. We got married two years ago, on June 4th, and started Indiaphile one year ago on June 10th. From the very beginning we've been talking about putting up a post about our wedding and I think now is the perfect month to finally get around to doing it!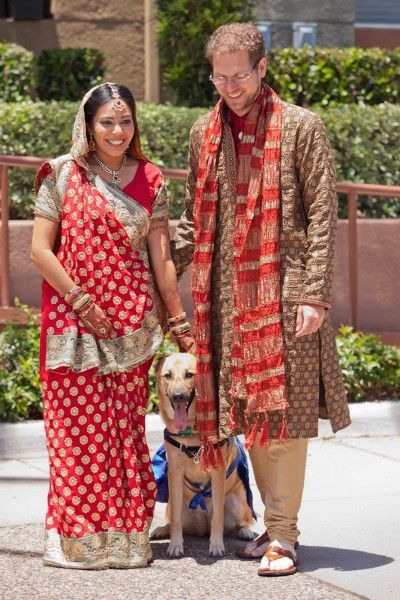 Steve proposed in October and we decided we didn't want a long engagement. At first we talked about getting married in March but we quickly learned what an insane goal that was for all of the things we wanted to do for it. Our wedding was very DIY, we had a lot of ideas for how we wanted the food, decorations and location.
In the end, it was the location that decided the date. We looked around a lot of places and found a lot that we loved but were too restricted in what they allowed us to do. A lot of places try to impose restrictions like using one of their approved caterers, who were willing to "learn to cook Indian food" for our wedding. Right! One place we found looked really cool. It as a ranch with a beautiful wedding hall. They wanted to control everything from the food to the decorations! They said they had tried letting people do it themselves before but it never worked.
After an exhaustive search, we found Marina Village. A beautiful venue right on the Marina and across from the estuary where the San Diego River meets the Pacific Ocean. This place was perfect because they were completely hands off and gave us the freedom to do everything we wanted. And they didn't even mind the horse! This decided the date because when we went to book the reception hall they only had one Saturday still available for the entire summer!
Neither Steve or I are religious, so how to handle the ceremony was a big question for us. We decided to have a ceremony that was a mix between Western and Indian. After tons of research into wedding practices from all around the world, we decided to incorporate many elements of a traditional Gujarati wedding and added some things from a Western wedding too. As we looked into it, we found the meaning behind many of the rituals to be so romantic. Like the sapta padi (seven steps), it is said that two people who take seven steps together will remain friends forever. I love that idea!
We decided we'd have a fire but unlike a traditional Indian wedding where everyone sits, we decided to stand. We asked a good friend of ours to be our officiant. We asked our family members to participate in the rituals and Xaria (our dog) was our ring bearer.
In a typical Indian ceremony, the bride's maternal uncle carries her down the aisle to deliver her. Then parents perform a ceremonial "donating" called kanya daan. It's a lot like the Western tradition of the father giving the bride away, but I am not some man's property to be transferred over. It was important to me that my parents were included in the ceremony, but I did not want to be "donated" away. I walked down the aisle alone to show that I was about to enter into marriage of my own volition and was excited to do it!
Indian culture is so patriarchal that even a woman's middle name is her dad's first name until she gets married and then it switches to her husband's first name. I've always had a problem with that. It's a literal way to refer to women as property. And it is a part about my culture I reject. So I walked down the aisle alone as a symbol of my independence. This is also why it was so important to me that Steve and I took each other's last names.
Here is the wedding ceremony in pictures (These photos were taken by our friends at eWed Photography):