Upma is one of my go-to Indian breakfast foods. It is a type of porridge made from rava, or semolina in English. Semolina has a texture similar to Cream of Wheat, and I often describe upma to people as "Indian Cream of Wheat."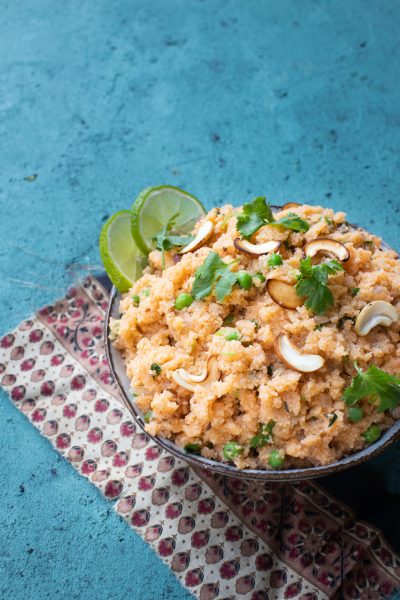 Rava ("sooji" or "suji" in Hindi) is a type of wheat flour and is used in lots of Indian foods, like the shells of pani puri, and for thickening beetgreens nu shaak. Upma is unusual because it makes the rava the feature.
Upma has always been served in my house as a breakfast food or as an afternoon snack. My mother ingrained in me the importance of having a "warm snack," ("nashto" in Gujarati) in the afternoon. To her, "warm snack" is synonymous with healthy and nourishing, as opposed to something off the shelf, like chips.
Upma isn't all flour, it is also loaded up with vegetables. It is a great vehicle for adding peas and carrots, and will easily take on other vegetables as well. Nothing wrong with mixing in some greens, like kale, or some cauliflower or broccoli.
Tips for Good Upma
Make sure to toast the rava enough before adding the water. If you don't, it will come out too sticky. The rava should start to toast and brown– it should actually be slightly red in color before adding water.
The amount of water is important. If you add too much, you have to cook it longer. Keep in mind, even though it looks wet as it cools it will get drier.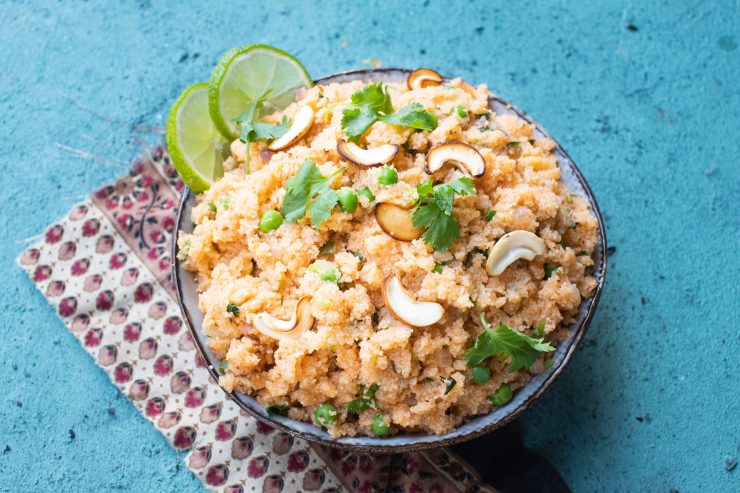 What do you serve with upma?
Upma is eaten on it's own, but accompanies a warm cup of chai very well. It is a typical "nashto", which is a breakfast food or snack, so it is commonly paired with tea.
How might upma's ingredients be changed to suit different tastes?
You can skip the peas if you don't like them, or have them on hand. They add a nice contrast in taste and texture. If you do leave them out, you might want to find another vegetable to add in. 
You can also add cashews. Cashews add a nice little crunch to upma, and if they are toasted, they help to accentuate the toastiness of the rava.
Why won't my semolina dry out all the way?
1. If you didn't toast your rava enough.  
2. You added too much water. This is easily fixable, return it to the pan and burn it off the excess water. 
3. It's drier than you think – if you let it cool a little, you may find it is the right dryness after all.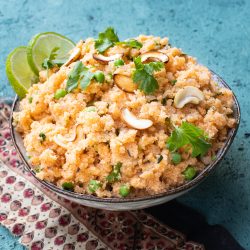 Upma (Savory Cream of Wheat with Onions and Peas)
A savory and nutritious breakfast made with rava and peas or other vegetables
Ingredients
1

cup

semolina (cream of wheat or wheat farina)

1

tsp

cumin seeds

1

tbsp

oil

1

sm onion

finely chopped

1

green chili

finely chopped

½

cup

peas

½

tsp

red chili powder (to taste)

¾

tsp

salt

3

cups

water

lemon juice

fresh herbs
Instructions
Heat oil in a 12 inch wide skillet over medium heat. When the oil begins to shimmer, toss in the cumin seeds. Let cook for about 10 seconds.

Add the onion and green chili with a pinch of salt. Saute the onions until they are soft and translucent.

Add the semolina. Dry roast the semolina, stirring constantly, until it becomes fragrant and smells toasty. About 5 to 7 minutes.

Add the water, peas, chili powder, and salt. Stir.

Let cook for 3 to 4 minutes until all the water is absorbed.

Sprinkle with lemon juice.

Fluff with a fork before serving.
Notes
Feel free to add turmeric or some toasted nuts if you want.
Nutrition
Serving:
340
g
Calories:
212
kcal
Carbohydrates:
36
g
Protein:
6
g
Fat:
4
g
Sodium:
491
mg
Potassium:
171
mg
Fiber:
3
g
Sugar:
2
g
Vitamin A:
240
IU
Vitamin C:
10.6
mg
Calcium:
28
mg
Iron:
2.6
mg