Pani Puri is made from some very basic ingredients, garbanzo beans (chana), moong beans and potato. You can substitute other beans that you have on hand as well. You place these in a puri (a crunchy shell) and add chutney and "pani." Pani means water, but in this case, it is a flavored water.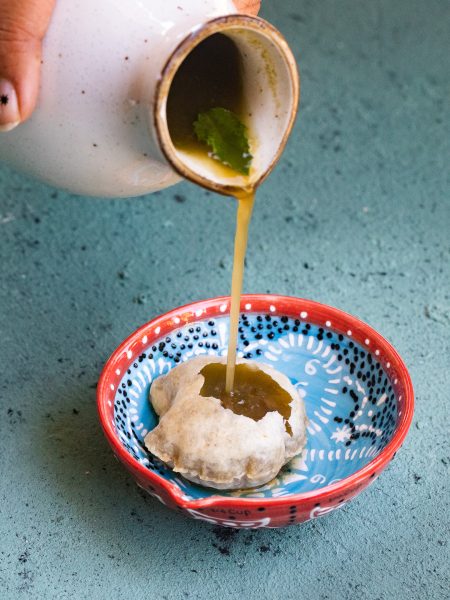 Pani puri is one of the most delightful street food snacks. It simply hits all of the buttons, with a crisp outer shell and a cool, watery middle. It is an explosion of textures, with the crunch of the puri against the soft potato and lentil filling. The cool water against the spice, and I like to use a lot of tamarind chutney for an additional punch of sweet and sour.
Pani puri is also an interactive food. It makes a great buffet item at a party, where guests are invited to fill their own shells. Everyone has their own preferences when it comes to pani puri anyway, whether they want more lentils or more potato, more sweet chutney, or more green chutney, spicy water or cool.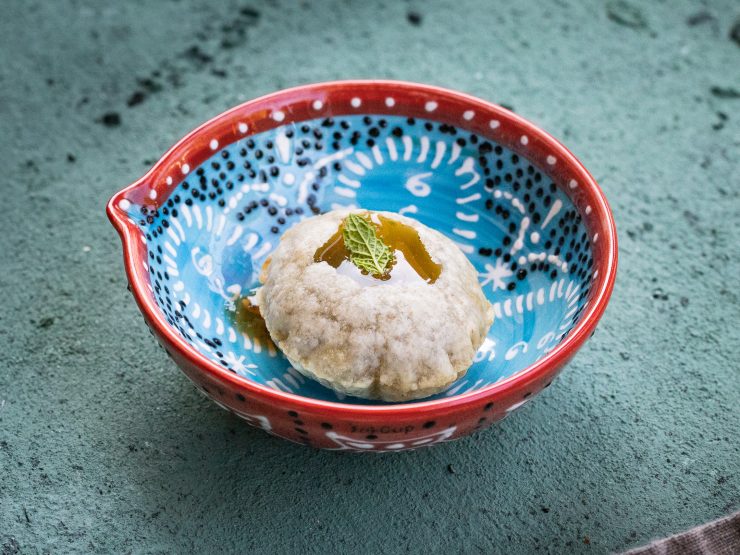 Pani Puri as Street Food
In India, a major part of the experience of eating Pani Puri comes from the experience of ordering from roadside stalls. At these stalls, they usually have a few different versions that you can ask for. This is a basic pani puri with a potato and mung filling.
You can ask for spicy water, sweet water, or regular water. Regular water is the mint water I use in this recipe. You can add a garlic chutney to it that is garlicky and spicy. There is also a more sour version. You can add as much sweet and sour chutney as you want to meet your taste.
For the filling, there can be many options, like ragda, a thick dried pea stew, which is served hot. When you add the cold pani puri pani, you get the explosion of flavor and also diverse temperatures. I can't think of a lot of foods that use a variation in temperature like this.
A plate usually has 6 puris. They are made one by one. You eat them as they are made. Often the street vendor is serving 5 or 6 people at once. You get one, then they serve the next person who gets one and the next, until your turn comes back again.
Pani puri is such a fun and playful treat, these vendors with their full carts are now often brought to weddings. It is even becoming more common to see similar carts in the US. I've seen them set up next to a restaurant inside an Indian grocery store, and I've seen them on the street between two stores in the little India part of Artesia.
When you eat it, you stick the whole puri in your mouth. What you get is a wonderful assortment of flavors and textures. The puri crunches and collapses in your mouth, releasing the pani as you bite into the soft potato and beans. What you taste is an explosion of sweet, tart, spicy and cool mint flavors.
This version of pani puri is what my mother makes. It's a little different from the Bombay street version that uses a hot pea stew instead of chana and moong.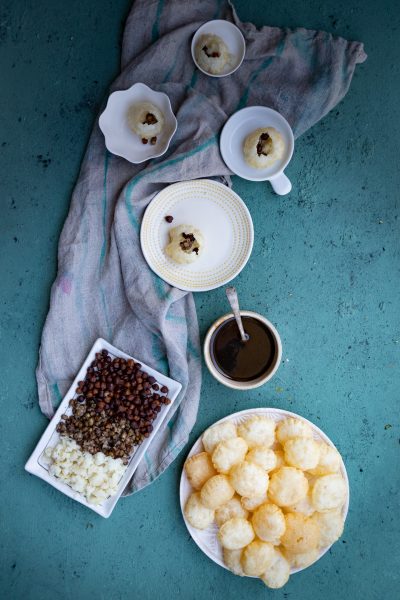 Pani Puri Water
"Pani" is Hindi for water. It refers to the "water" that is used to fill the shell once the shell is stuffed. If you don't get the pani right, the dish is ruined.
Pani puri shells often come with a packet of pani puri powder. In theory, you could just mix this with some water and you've got your pani. But that pani is never very good.
It isn't terribly difficult to make your own pani. The fresh mint leaves in the pani must be what makes all of the difference.
Aside from the fresh ingredients, what give pani puri its special flavor is "sanchar," or "kala namak," black salt. Black salt is a naturally occuring salt from the Himalayas that is high in iron. It is produced by burning various materials in a ceramic pot with salt to add iron sulfide to the salt.
The pani isn't really meant to be drunk on its own, but I love it so much it's one of the things I look forward to. After I've eaten my puris, I drink a full glass of pani.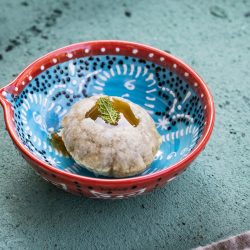 Pani Puri with Pani Puri Water
Pani puri shells filled with moong beans, channa, potato, pani puri pani and chutney
Ingredients
For the Pani Puri
24

pani puri shells

½

cup

cooked garbanzo beans brown

½

cup

cooked moong beans

½

cup

boiled potato skinned and cut into 1/4 inch cubes

2

tbsp

sweet and sour tamarind chutney
For the Pani Puri Pani
1

cup

mint packed

1

serrano chili

2

tbsp

tamarind concentrate, or 1/4 cup of dried tamarind from a block

½

cup

water

1

tbsp

black salt

½

tsp

black pepper

1

tsp

salt

7

cups

water
Instructions
For the Pani Puri Pani
Put 1/2 cup water with mint leaves, chili and tamarind concentrate into a blender, and blend thoroughly.

If using dried tamarind, soak it in warm water for 20 minutes and mash with your fingers to squeeze out as much pulp as possible. Strain and use this as your tamarind concentrate.

Add the rest of the ingredients and blend to combine.
For the Pani Puri
Break the shells by crushing the tops with your finger or tapping it with a knife or spoon. Be careful not to crack the side or bottom of the shell as you do this.

Add an equal amount of garbanzo beans, moong beans and potato to each one to fill.

Top with a few drops of tamarind chutney.

Fill the shell completely with pani puri pani and consume immediately. You can prepare each shell ahead of time, but don't add the pani until the last second before eating.
Notes
Pani puri shells are easily available at Indian stores.
Nutrition
Serving:
3
g
Calories:
73
kcal
Carbohydrates:
15
g
Protein:
4
g
Fat:
0.4
g
Saturated Fat:
0.1
g
Polyunsaturated Fat:
0.1
g
Monounsaturated Fat:
0.1
g
Sodium:
1207
mg
Potassium:
229
mg
Fiber:
3
g
Sugar:
4
g
Vitamin A:
26
IU
Vitamin C:
1
mg
Calcium:
34
mg
Iron:
1
mg
(Originally published June 2, 2014, with major changes July 31, 2022)
How long can you store pani puri water in fridge?
You can store pani puri water in the refrigerator for up to one week. Any longer and the mint will start changing color and turning slimy. You can also freeze it for several months.