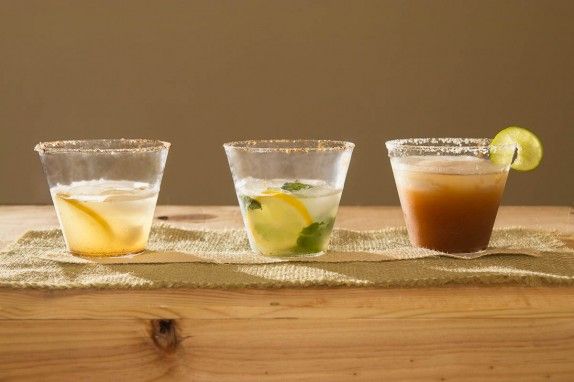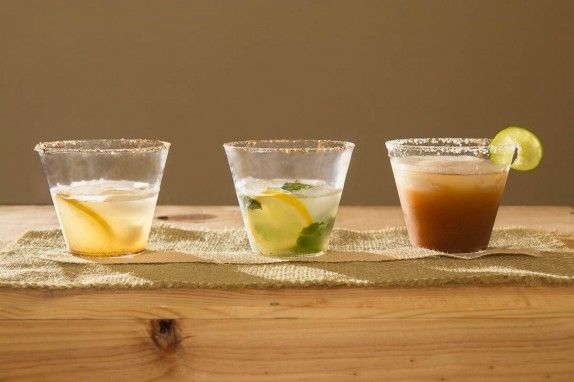 Our favorite Happy Hour spot is hosting their third annual Margarita contest and the deadline to submit a recipe was today. Puja and I came up with our own recipes and held a tasting last night. Last year's winner was a "Thai-garita", a Thai inspired, lemongrass and Thai chili flavored margarita. So of course we went Indiaphile on the contest.
Puja couldn't make up her mind on her recipes without tasting them first, so she made two versions of her margarita for the tasting. She was inspired by Indian style lemonade, which is made with cumin and salt in addition to the sweetened lemon juice. You can find these for sale on the streets of Bombay, not to mention she makes it at home from time to time. For the contest she decided to call her creation a "Bombay Margarita."
I'm a big fan of tamarind chutney. It's one of the first Indian foods I learned to make myself. It's pretty easy, you just boil tamarind pulp in water, strain it, boil the remaining liquid, add lots of sugar until it is sweet enough and reduce it until you get the thickness you want.
I figured out a while ago that you could make a tamarind version of lemonade just by taking this chutney and adding cold water. That's basically the Mexican drink Tamarindo. So that was my inspiration for my margarita. I also added a touch of lime to bring out the flavor and the ginger helped to give it complexity.
The results were great. Puja decided on the minted version of her Bombay Margarita. Sprucing it up with the mint came from her mom's take on the Indian lemonade.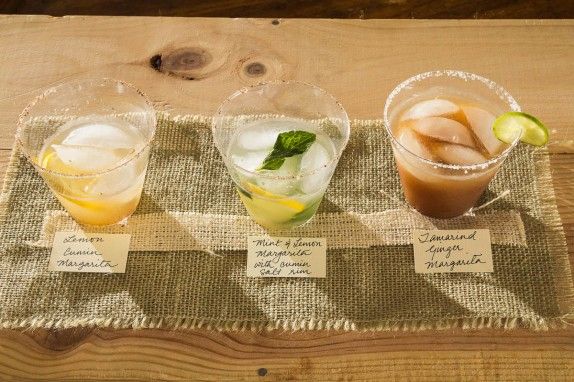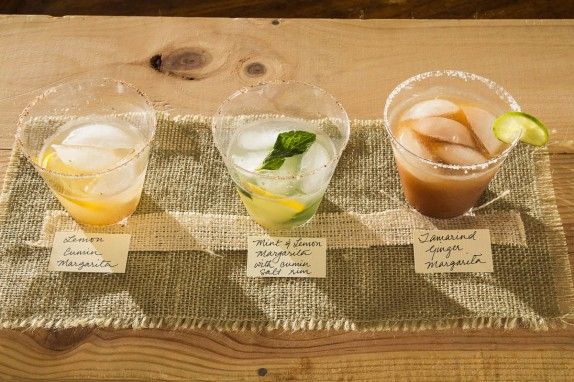 Bombay Margarita
Ingredients
10 mint leaves
1 lemon slice
2 oz Cuervo Tradicional
2 tbsp simple syrup
2 tbsp freshly squeezed lemon juice
1/8 tsp or a couple of drops of Bitters (I used homemade apricot and curry leaves bitters)
1/2 tsp coarse salt
1/4 tsp roasted and coarsely ground cumin seeds
Instructions
Mix the coarse salt and cumin seeds on a plate
Run a slice of lemon along the rim of your glass and dip into the salt and cumin mixture
Toss the mint leaves into the glass, add a pinch of the cumin salt mixture and muddle slightly to release their flavor.
Fill the glass with ice. Pour in the tequila, simple syrup, lemon juice and bitters. Stir.
Garnish with a slice of lemon.
Kerala Margarita
Ingredients
1.5 oz Tequila
1.5 oz Tamarind juice (boil 1 cup tamarind in 2 cups water for at least 5 minutes, strain out the tamarind)
2 tbsp ginger syrup (1/2 cu sugar, 1/4 cu water, 5 ginger slices, bring to boil, allow to cool before removing ginger)
.5 oz Cointreau
1 key lime, juice of
Instructions
Rim glass with ginger salt (make ginger salt by mixing salt with grated ginger and letting it dry out a bit).
Garnish with candied ginger.
Serve on rocks.