Cold is relative and this week has been freezing in San Diego! Hot soup has been on my mind since my brother came down to visit with his new girlfriend and we went all went out for Mongolian Hot Pot.
Even though the weather's been warmer in San Diego lately, the evenings are still pretty chilly and I've had a sore throat so I was really craving soup yesterday. But we haven't been shopping for a while and ingredients were running pretty scarce in the Thomas-Patel household.
I dug around in the fridge and came up with some carrots and decided a Carrot Ginger Soup would be delicious. And the ginger would help soothe my throat. I added a sweet potato but seriously considered adding a beet instead. I think some butternut or acorn squash would also be a good addition. The soup is pretty versatile.
While the carrot soup was simmering, I found myself still digging in fridge. The soup on it's own didn't feel like enough for dinner. I found some wonton wrappers in the fridge and thought some pea dumplings would make the soup heartier.
I sauteed some onions with carom seeds and frozen peas to make a filling similar to the kind used in a kachori. I didn't have green chilis so I just used red chili powder.
I have to admit, after the dumplings were stuffed and the soup was ready, I started to seriously doubt my idea. The soup was too thick and creamy and it seemed odd to cook dumplings in it. But at this point, I'd already invested a half hour of my time. So I went for it. I thinned out the soup a little more by adding 3/4 cup of water. Plopped the dumplings in and crossed my fingers. It turned out great. The pea dumplings added a fun unexpected element to the soup. And most importantly, it really did soothe my throat!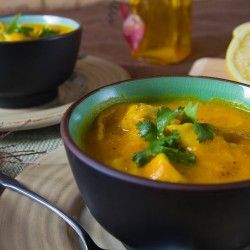 Carrot Ginger Soup with Pea Dumplings
Pea dumplings in a carrot-ginger soup
Ingredients
For the Dumplings
1

tsp

oil

¼

tsp

carom seeds can substitute cumin seeds or mustard seeds

Pinch

of asafoetida optional

1

shallot or 1/2 small onion finely diced

1

cup

peas

1 ½

tsp

ginger grated

¼

tsp

red chili powder or fresh green chilies to taste

½

tsp

ground cumin

salt to taste

18

wonton wrappers square
For the Soup
1

tbsp

oil

1

tsp

cumin seeds

1

large onion finely diced

5

cloves

garlic roughly chopped

2 ½

tbsp

ginger finely chopped or grated

salt to taste

1

lb

carrots roughly cut into 1/4 inch circles

1

small sweet potato

1

bay leaf

½

tsp

turmeric

2

tbsp

lemon juice

Handful of cilantro sprigs for garnish
Instructions
For the Dumplings
Heat oil until it starts to shimmer.

Add the carom seeds and asafoetida, cook for about 30 seconds.

Add the onions and ginger. Saute until the onions start to brown.

Add the peas, chili powder, ground cumin and salt. Stir and cook for about 2 minutes.

Put a spoonful of pea filling in the center of a square wonton wrapper.

Dip your finger in water and run along all the edges of the wonton wrapper and fold so that two points meet to form a triangle. Press the edges together to make sure you have a good seal. You may have to wet the edges a little more.

Tuck your thumb under the flat side of the triangle so that the two points meet. Cover the dumplings with a damp paper towel or tea towel until ready to cook.
For the Soup
Heat oil until it starts to shimmer.

Toss in the cumin seeds and cook for about 30 seconds.

Add the onions and a pinch of salt, saute until translucent.

Add the garlic and half the ginger. Saute until the onions start to caramelize and turn golden brown.

Add the carrots, sweet potato and salt to taste.

Add 4 cups of water, bay leaf and turmeric. Turn the heat high and bring to a boil.

Turn the heat down to medium, cover pot and let simmer for 20 to 25 minutes. Until the carrots and sweet potato are soft.

Add in the remaining ginger.

Blend the soup into a puree either with an immersion blender or by transferring the soup into a blender in batches.

Add a little more water, if needed, to get a consistency you like.

Pour the soup back into the pot, bring to a boil.

Add the dumplings and cook for 3 to 4 minutes. Turn off the heat.

Gently stir in the lemon juice.

Garnish with cilantro sprigs.
Nutrition
Calories:
176
kcal
Carbohydrates:
31
g
Protein:
5
g
Fat:
4
g
Saturated Fat:
0.3
g
Polyunsaturated Fat:
1
g
Monounsaturated Fat:
2
g
Trans Fat:
0.01
g
Cholesterol:
2
mg
Sodium:
196
mg
Potassium:
453
mg
Fiber:
5
g
Sugar:
7
g
Vitamin A:
15900
IU
Vitamin C:
18
mg
Calcium:
59
mg
Iron:
2
mg