When I opened our CSA box this month the first thing I saw was a huge bunch of green– carrot greens. I normally throw out carrot greens because you pretty much have to use them right away or they dry up and become useless, but with all of these greens I knew I couldn't let them go to waste.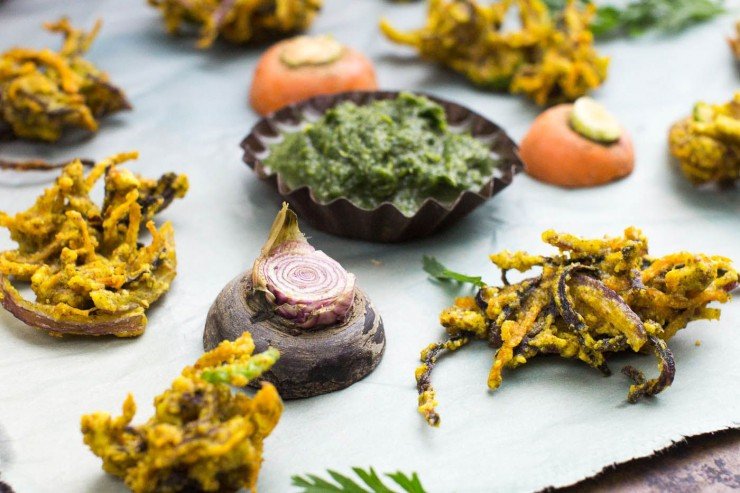 The greens were attached to some really pretty rainbow carrots. Actually, what we had was two bunches of carrots, rainbow and regular orange ones. Even the more ordinary orange carrots looked amazing.
They were organic and fresh from the farm, and they were richly saturated, nearly glowing. There are lots of Indian dishes made with carrots that I could have made, from Carrot Halva to Carrot Malai. It was so hard to decide, but suddenly I got an idea to make bhajias (pakoras) or fritters out of them.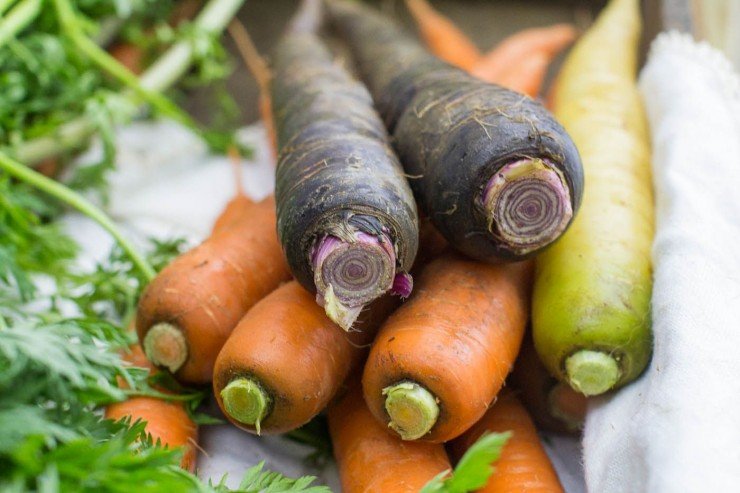 I've never heard of carrot bhajias, and I checked with my mom and she hadn't heard of them either, but I doubt I'm the first person to make these.
Bhajias can be made with just about anything you have on hand, because everything tastes great fried! Once I get the idea of making bhajias in my mind, it's not something I can let go of easily, so I went for it.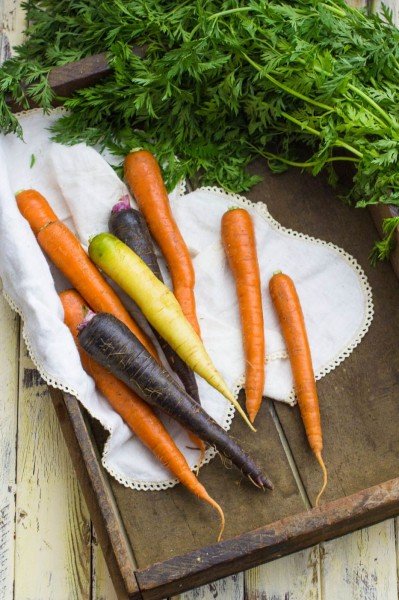 Bhajias are sometimes called "Indian Tempura." Like real tempura, they are a simple dish of battered and fried vegetables. But they are about as drastically different from the Japanese style tempura as they could possibly be, because we use besan (chickpea flour) which makes for a more dense crust, and we always make it spicy!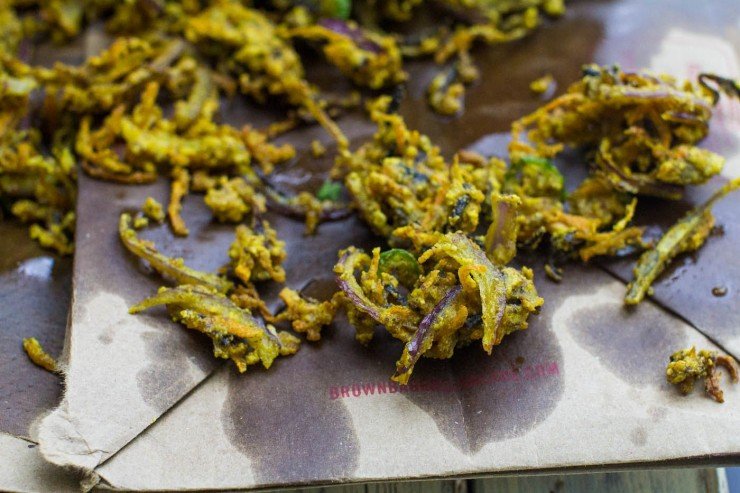 Bhajias are the perfect rainy day food. We always used to make them during the heavy rains in India. When it rains there, it really rains– you are not going outside unless you really have to.
It was always a great time-pass to stand around the fry-pot with my family and eat these while they are fresh and still crunchy (although you do have to let them cool for a minute or two!).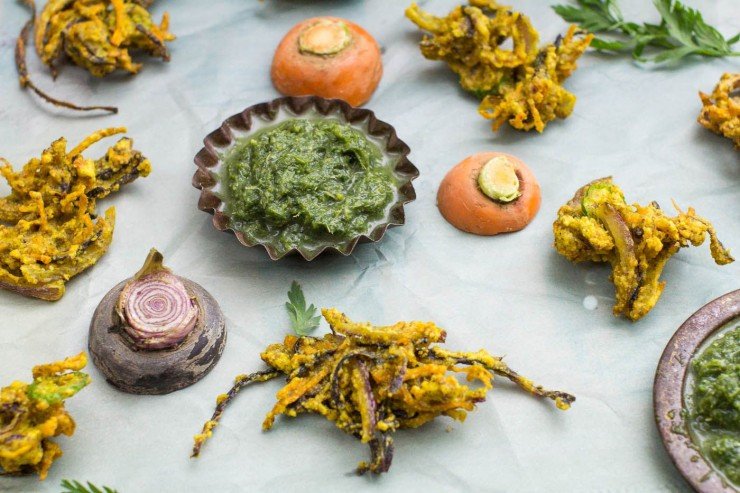 For the greens, I invented this carrot-green chutney to go with them. It worked out so well. I think the closest comparison would be a parsley chutney, but Steve hates parsley and yet he liked the milder carrot greens. You can also eat bhajias with any kind of Indian green chutney, or even ketchup.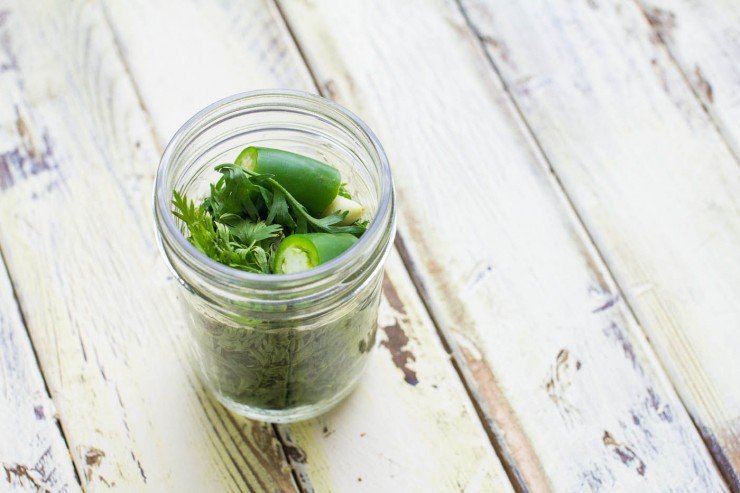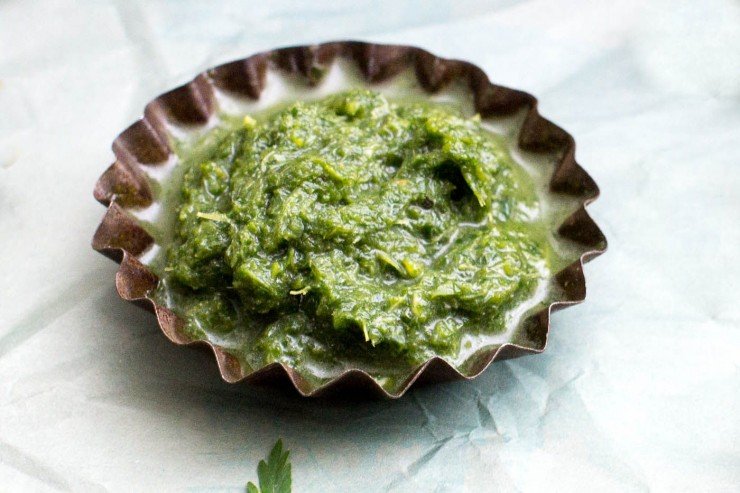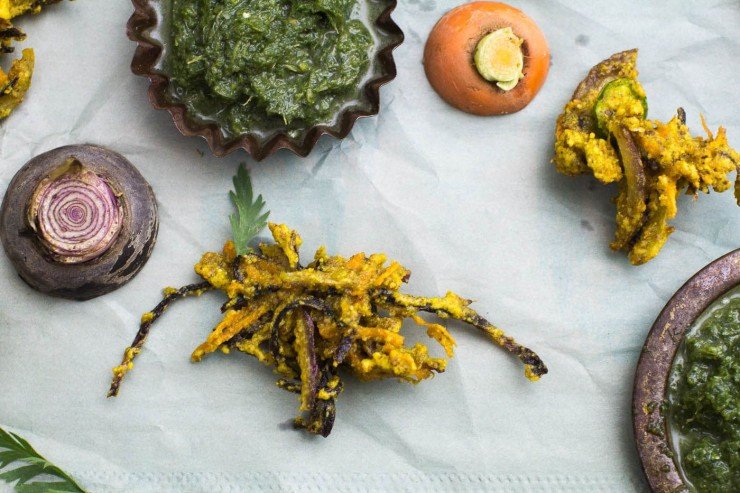 Carrot Bhajia (Carrot Fritters) with Carrot Green Chutney
Carrot fritters with a chutney made from carrot greens
Ingredients
Carrot Bhajias
2

carrots

grated

1

sm onion thinly sliced pole to pole

¾

cup

besan

gram flour / garbanzo bean flour

2

tbsp

rice flour

½

tsp

cumin seeds

½

tsp

turmeric

½

tsp

salt

¼

cup

water

3-6

cups

of vegetable oil for frying
Carrot Green Chutney
1

cup

of carrot greens

remove any stems that cannot be torn easily

1

green chili

Squeeze of lemon

1

clove

garlic

Pinch

of salt to taste

2

tbsp

water
Instructions
Carrot Bhajias
Combine the besan, rice flour, cumin seeds, turmeric, salt and water in a bowl to form the batter.

Add the carrots and onions to the batter, mix with a fork (or your fingers). You may need to add a little bit more water if it is too dry at this point.

Heat the oil in a pot or fryer. The pot should be about 3/4 full with oil. Test the temperature by dropping in a little drop of batter. It should bubble around the batter, and the droplet should immediately rise to the surface.

With a fork, scoop out a cluster of onion and carrot. Gently add to the oil. Try to keep the cluster pretty loose, but not so loose that it will fall apart.

You can fry multiple fritters in the pot depending on the size of your pot.

Each one should fry for about 45 seconds to a minute, until golden brown.

Remove and place on brown paper bags or paper towels to drain. Serve warm with carrot chutney.
Carrot Green Chutney
Add all of the dry ingredients to a blender (we use a mason jar instead of the blender jar).

Add water – You may have to use more or less water to get it to blend properly, but try to use as little as possible.

Blend, adding water as needed.
Nutrition
Calories:
155
kcal
Carbohydrates:
25
g
Protein:
7
g
Fat:
3
g
Saturated Fat:
0.5
g
Polyunsaturated Fat:
1
g
Monounsaturated Fat:
1
g
Sodium:
366
mg
Potassium:
345
mg
Fiber:
4
g
Sugar:
5
g
Vitamin A:
5108
IU
Vitamin C:
17
mg
Calcium:
83
mg
Iron:
3
mg