Bhindi do pyaza is a popular okra restaurant dish with a yogurt-tomato sauce. It is made with onions cooked two ways, giving it the name "do pyaza" which means "two onions." One onion is caramelized and blended into the sauce; the other is lightly fried. The second onion retains some crunch for texture and flavor in the final dish.
This is a must-try recipe for anyone who enjoys Indian okra dishes. For other okra dishes, try bharela bhinda nu shaak (stuffed okra), or my favorite, bhinda nu shaak.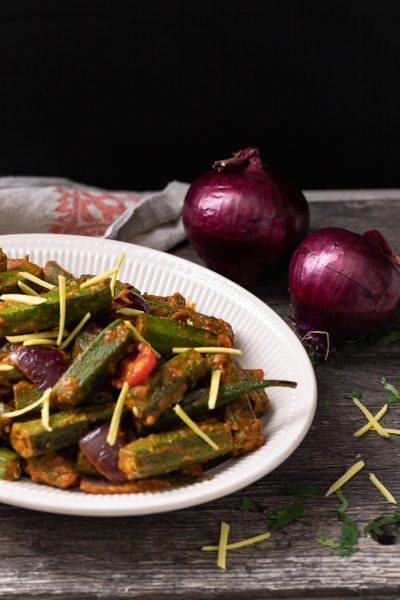 About this Recipe
"Do Pyaza," or "dopiaza," are a family of recipes introduced to India by the Moghuls and remained popular through the colonial and post-colonial periods. They typically contain meat and are equally popular in India, in Iran, and other areas once dominated by the Moghul Empire. This okra (bhindi) preparation is a very popular vegetarian do pyaza.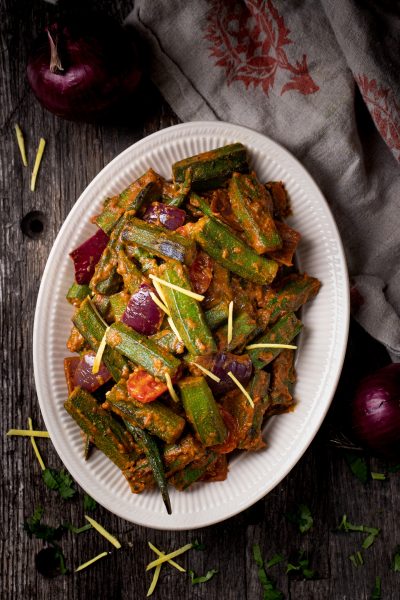 If you love okra, you will enjoy this dish. It's a little bit complicated to make because it has a lot of steps. None of the steps on their own are all that difficult, and this dish is well worth creating. It is sure to impress whomever you serve it to.
What is unique about this dish is the textures of the okra, and the onion are crunchier than most other Indian dish preparations of these ingredients. They should have a little bite in the end, although you can cook them to softer if you prefer.
Traditionally in many restaurant dishes the okra is fried. Instead of giving it a deep fry, I pan fried it, the way I cook it for bharela bhinda. This is a simpler way to do it and still achieves the correct texture.
Ingredients
Onion – cooked two ways, caramelized and used to form a sauce, and lightly fried, cut into petals.
Okra – a favorite ingredient of mine, done a little differently here than in many other dishes.
Tomato – forms the sauce base. Some are held back to the end to provide some variation in texture and bite. Many restaurants add it at the end for tang and umami.
Yogurt – provides the creaminess of the sauce and a little bit of tart. For a dairy-free version, swap with cashews.
Spices
Garam masala – super common in everything. Adds a warming base.
Dhana jeeru – not traditional. Coriander and cumin are usually included separately, but dhana jeeru is a shortcut since I have it available.
Black salt – (sanchar) adds a little sulfury funkiness. It can be replaced with chaat masala, but it provides an important flavor.
Cumin
Ajmo – carom seed – provides a flavor similar to thyme, which adds a
Ginger-garlic paste – can add separately, but the paste is a welcome timesaver if you have it
Kasoori methi – dry fenugreek leaves
Turmeric
Cooking Tips
Take care not to burn the ginger. When you add the ginger paste, keep it moving. If it starts to stick, deglaze it with water.
You can cook the okra and the onions to your liking. Traditionally they are cooked to retain some crunch, but if you prefer them softer, you can cook them longer.
Wet okra: okra will get slimy if you wash it with water and leave it wet. It's not as much of a problem here as with other okra dishes, since the pieces are larger. Still, to avoid this problem, I wash the with a slightly damp towel. Other people wash them with water like any other vegetable and then wait up to several hours to let them dry up. If you notice your okra is slimy, cook it until the slime dissipates.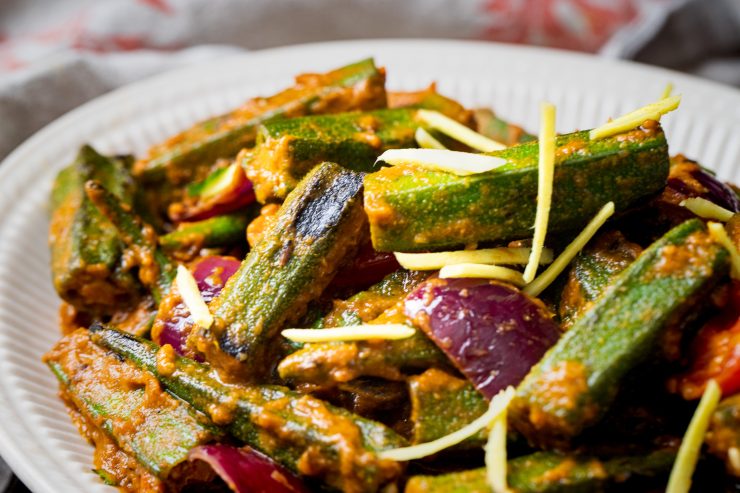 Serving
This is a great dish to eat with flatbread, such as naan, kulcha, paratha, or roti. It also goes very well with simple basmati rice.
As a family meal, this dish can act as the only entree with a side of bread or dal. For larger feasts, you may want to include some additional dishes. Dal makhani and palak paneer would be at home next to this shaak. If you want to include meat to go alongside it, chicken tikka bites or chicken tikka biryani would be a good choice.
Variations
Cook veggies longer
To save yourself some effort, you do not have to blend your sauce. It will change the texture a little since the onions will not be pureed, but is a perfectly legitimate way to make the dish.
This can be made with frozen okra instead of fresh. I do not recommend using pre-cut okra, since it will be cut too small and will give the wrong texture for this recipe. Use whole, frozen okra and cut it to the proper length.
Freezing and Refrigerating
Bhindi do pyaza refrigerates well for up to 5 days in an airtight container. Reheat in the microwave or stovetop with a lid. You can adjust gravy consistency by adding a little water if needed.
It can also be frozen for up to 3 months in an airtight container. Defrosted in the microwave or a pan the same way, extending the heating time. Again, add water to adjust consistency.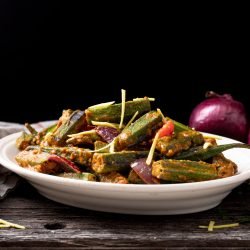 Bhindi do Pyaza
Bhindi do pyaza is a popular okra restaurant dish made with onions cooked two ways, giving it the name "do pyaza" which means "two onions."
Ingredients
¾

pound

okra

bhindi

2

medium red onions

1

green chili

slit down the middle

3

Tbsp

oil

1

cup

tomato

cut into 1 inch pieces

1

tsp

cumin

½

tsp

carom seeds

ajmo

1

Tbsp

ginger-garlic paste

½

tsp

Kashmiri chili powder

¼

cup

yogurt

whisked

¼

tsp

turmeric powder

½

tsp

salt

¼

tsp

black salt

kala namak or sanchar

1

tsp

kasoori methi

½

tsp

amchur

1

tsp

garam masala

1

Tbsp

dhana jeeru

or 1/2 Tbsp cumin + 1/2 Tbsp coriander powder

5

stems of cilantro
Instructions
Slice one of the onions into thin slices from pole to pole, and set aside. Cut the second onion into 1-inch-sized pieces and separate the petals. The smaller inner layers can be sliced and added to the sliced onion batch.

Clean the okra by wiping it with a damp towel. Remove the tops and cut the okra into two-inch pieces. If you prefer to wash the okra, dry it thoroughly before cutting.

Heat a large skillet with 2 tablespoons of oil under high heat. Fry the onion petals until translucent, and the edges start to turn golden. Remove the onion petals and set them aside.

Add the cumin seeds to the remaining oil and let sizzle for a few seconds. Add the okra and sprinkle with some of the salt to season. Mix well and cover. Cook for 5 to 7 minutes. Remove the okra and set it aside.

Add 1 tablespoon of oil in the same pan and allow to heat. Add the carom seeds and let sizzle for a few seconds. Add the sliced onions and cook until golden. Add the ginger garlic paste and cook for about one minute. Add a splash of water if the ginger sticks to the pan and deglaze (scrape up any bits that are sticking).

Add the yogurt, turmeric, and red chili powder. Cook until the yogurt thickens and is bubbling.

Add ¾ cup of tomatoes to the pan, leaving the remaining ¼ cup for the end. Cook until jammy. Remove the mixture from the heat and let it cool for a few minutes. Transfer the cooled mixture to a blender and process it into a smooth paste. Add small amounts of water if needed to get the blender going.

Using the same pan under medium heat, combine the okra, onion petals, green chilies, and tomato gravy. Let cook for about 3 minutes. Add the kasoori methi, garam masala, amchoor, black salt, and remaining tomatoes. Mix well and remove from heat.

Garnish with ginger sticks and cilantro.
Nutrition
Calories:
350
kcal
Carbohydrates:
32
g
Protein:
7
g
Fat:
23
g
Saturated Fat:
2
g
Polyunsaturated Fat:
6
g
Monounsaturated Fat:
14
g
Trans Fat:
0.1
g
Cholesterol:
4
mg
Sodium:
994
mg
Potassium:
927
mg
Fiber:
10
g
Sugar:
12
g
Vitamin A:
2032
IU
Vitamin C:
60
mg
Calcium:
231
mg
Iron:
2
mg