Palak Paneer is a creamy spinach curry with paneer. It is a popular Indian dish and a great way to incorporate greens into your meal. Palak Paneer might also be called "Spinach Paneer" or "Saag Paneer," although "saag paneer" is a little more generic and may use any kind of greens. "Saag" is Hindi for "greens."
Palak Paneer is an essential restaurant dish and Dhaba food, but it can easily be made at home. It is also easily modified at home to become much healthier than what you would eat in a restaurant, where they often use a lot of butter or cream.
A lot of people have different tricks for making their palak paneer just to their liking. In this recipe, I share two of mine.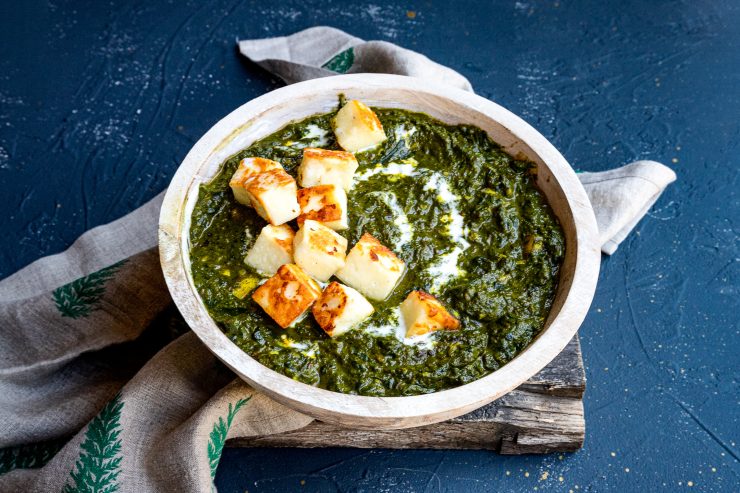 Trick #1: Preparing the Spinach
My first trick of this palak paneer recipe has to do with the texture. I dislike palak paneer that is overly soft. I find the over-blended texture dull to the point of being unpleasant. So I have a technique where I fully blend half of my spinach but only partially blend the other half. That gives me just the right mouthfeel for a delicious palak.
Some people would also prepare the spinach by blanching, particularly if they are on a low-oxalic acid diet.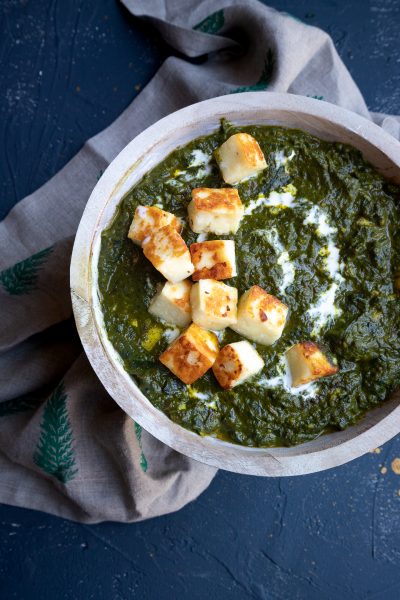 Trick #2: Firm Paneer
I like firm paneer in my palak paneer, so I always cook the paneer before I place it in the palak. I love the taste of fried paneer. Many restaurants and home cooks do not do this, but to me, it is an essential step.
Heat a little oil in a pan, then add your paneer, stirring to get all sides a little brown. This firms up the paneer and browns it for a wonderful taste and texture.
Serving Palak Paneer
Palak Paneer is your typical Indian restaurant shaak. It goes well with naan. At home, I might serve any flatbread I have on hand, like paratha, roti, or a store-bought tortilla in a pinch. I also love it with a side of rice and a nice dal, like dal makhani.
Using Frozen Spinach
Frozen spinach is a great convenience and, when used properly, does not change the flavor of palak paneer. Some say freezing spinach helps preserve the nutrition and flavor since it is done immediately after harvesting.
Start by thawing your spinach on the counter. Or if you are in a hurry, running tap water over it. I would avoid using the microwave to thaw it, since this can add unwanted flavors.
One thing to keep in mind when using frozen spinach is, that as it melts, it releases a lot of water. That is ok, because you can easily burn off the excess water in the pan as you are cooking it.
Palak Paneer (Spinach and Cheese Curry)
Creamy spinach curry with paneer, a popular Indian dish and a great way to incorporate greens into your meal.
Ingredients
1 ½

lbs

spinach

I like to use baby spinach because it's so much easier to clean

2

green chilies

with the seeds and veins removed if you don't like it too spicy (I usually use either jalapeno or serrano)

½

cup

cilantro leaves

1

large onion

finely chopped

1

tbsp

cumin seeds

6

cloves

garlic

finely chopped

4

tbsp

ghee or vegetable oil

seperated

½

cup

milk

almond milk works just fine, if you want to keep it vegan

10

oz

paneer

cut into 1/2 inch cubes (sometimes I substitute tofu to keep it vegan)

1

tsp

turmeric

½ to 1

tsp

red chili powder

¾

tsp

garam masala

2

tbsp

cream or butter

optional

1

tsp

salt

or to taste

lemon
Instructions
Heat 1 tbsp of ghee (or oil) in a 12 inch wide skillet. Fry the paneer cubes until browned on all sides. Let drain on paper towels until needed.

Toss half the spinach, the green chilies and the cilantro leaves into a food processor and process until pureed (you can use a blender instead of a food processor, just add a little water or milk to get it to puree). Set aside.

Heat the rest of the ghee in a wide pot that is big enough the hold the spinach (I use my 5 quart dutch oven). When the oil is hot and shimmering, toss in the cumin seeds. Cook for about 10 seconds.

Add the chopped onions. Saute until soft and translucent.

Add the chopped garlic and cook for 2 minutes.

Add in the pureed spinach. Cook for about 10 minutes.

Add in the chopped spinach, milk, salt, garam masala, turmeric and red chili powder.

Let cook for about about 10 to 15 minutes.

Add in the paneer and, optionally cream, and cook another 5 to 10 minutes.

Turn off heat and add a generous squeeze of lemon juice to the palak paneer.
Notes
Best served with a flat bread such as naan, pita or even a tortilla.
The nutrition info is calculated with whole milk, cream and paneer.
Nutrition
Serving:
0.75
cup
Calories:
297
kcal
Carbohydrates:
16
g
Protein:
17
g
Fat:
20
g
Saturated Fat:
11
g
Polyunsaturated Fat:
1
g
Monounsaturated Fat:
1
g
Cholesterol:
50
mg
Sodium:
831
mg
Potassium:
1102
mg
Fiber:
6
g
Sugar:
4
g
Vitamin A:
16229
IU
Vitamin C:
55
mg
Calcium:
575
mg
Iron:
6
mg
FAQ
Do you have to blanch the spinach?
Blanching  the spinach is a way to bring out the rich green color of the palak. It also helps to cut down on oxalic acid, which is a naturally occurring chemical found in many vegetables that can cause kidney problems if too much is consumed. Blanching is an optional step and doesn't affect the flavor. I don't feel it makes that big of a difference, so I don't bother. 
To blanch your spinach, before using it, boil a pot of water. Then add all of your spinach and allow it to boil for about 40 seconds. Then remove them and put them in an ice bath to stop the cooking process.
Why does my palak paneer taste grassy?
Making a good palak paneer is about balance. If your palak paneer tastes grassy, you are falling over on the leafy green side. This might be because you are using older spinach or because you have too much cilantro or spinach. To balance it out, add more garlic and onion to bring in the savory flavors that make it taste yummy.
Can you freeze palak paneer?
Palak paneer is a great dish for preserving in the freezer. You can make a large quantity and eat it all month.
Can palak paneer be made with other greens?
The "palak" in "palak paneer" means spinach, but there is a very similar dish called "saag paneer" which is prepared the same way but with other greens. "Saag" means greens. Other greens, such as mustard greek, fenugreek, collard greens, or swiss chard will sub in quite nicely for spinach.
(Originally posted July 11, 2013, with a major re-write July 17, 2022)