Parathas are a staple of food in the Indian diet. You can eat them plain, or with some yogurt and pickle, or as a flatbread to pick up different shaak ("curries") with. They are so easily transported. Just put them in a pile and wrap some foil around them, or put them in a container. They are one of those high energy foods that gets people through their day.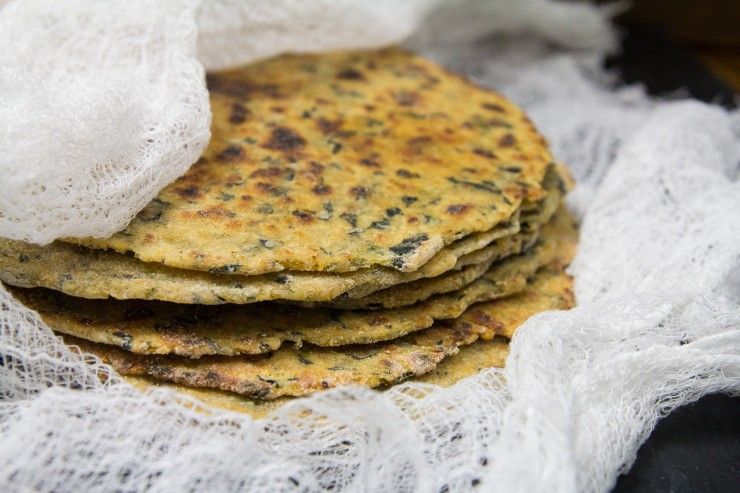 Parathas are really a no fuss flatbread. With a little practice it becomes so easy to form the dough, roll it out and cook it on the tava (you can use an iron skillet if you don't have a tava). It's commonplace to add some extra ingredients to make them interesting. My mom often adds green things, like spinach, cilantro or beet greens to hers.
This time I thought it would be fun to try mixing in some quinoa and kale. It was actually Steve's idea to add quinoa to our parathas. And I added the kale mostly because we had a big bag of chopped kale in the fridge that I really wanted to use up before our trip Death Valley this weekend. To our good fortune, the combination worked out great!
For dinner, Steve and I ate these with yogurt and Gondal pickle. We buy the Gondal pickle from the Indian market, it has Gondal chilis, fennel seeds, and fenugreek seeds in it. Gondal chilis are a very bright red, fruity and spicy chili from Gujarat. If I ever get my hands on some Gondal chilis I'd love to make my own pickle.
Kale Quinoa Paratha
Traditional paratha stuffed with kale and quinoa
Ingredients
1 ½

cups

chapati flour

also known as atta or rotli flour — If you don't have chapati flour, you can use 3/4 cup whole wheat flour and 3/4 cup all purpose flour

3

tbsp

+ 1 tsp ghee

or vegetable oil, separated

½

tsp

grated ginger

1

clove

garlic

grated

½

tsp

cumin seed

¼

tsp

salt

3

oz

kale

cooked and finely chopped (about 3/4 cup cooked or 1 1/2 cups uncooked)

½

cups

cooked quinoa

⅔

cup

water

adjust for the dough
Instructions
In a large bowl, combine the flour and salt. Mix well using either your fingers or a whisk.

Create a small well in the middle of the flour and add 1 tbsp of ghee (or oil). Mix in the ghee with your fingers until you get a sandy texture.

Mix in the cumin seeds, ginger, garlic and salt. Incorporate well.

Add the kale and quinoa, mix well.

Add the water, a little at a time, and knead into a dough. You may need a few extra tablespoons of water if the dough feels tough. It should be soft and slightly sticky. Knead the dough for 60 seconds.

Add 1/2 tsp of ghee and roll the ball of dough in the ghee. Cover with a kitchen towel and let the dough rest for 15 minutes.

Once the dough has rested, knead the dough for a few seconds. Then divide the dough into two equal parts. Form each part into a 4 inch log. Break off one inch pieces from the logs, creating eight equal pieces of dough.

Roll each piece of dough between your palms forming a ball and then press the ball between your palms to flatten, creating a disc shape.

Take one disc of dough, make sure to cover the rest so they don't dry out, and press both sides into the rice flour. Then roll out the disc into about a 4 inch round. Spread a 1/4 tsp of ghee onto the surface and sprinkle a pinch of rice flour over the ghee. Fold the round into quarters and then mush back into a disc. Dip the disc back into the rice flour and roll out into a 6 inch round. Feel free to dip back into the rice flour if the paratha starts to stick to the surface as you're rolling.

Heat a 12 inch cast iron skillet or a tawa (a cast iron pan specifically made for making flat breads) over medium low heat. Transfer the rolled out paratha to the pan. Let cook until you see bubbles forming. Flip the paratha over using a spatula. Drizzle 1/2 tsp of ghee onto the side that was just cooked and spread the ghee around with your spatula. Let cook for about 45 seconds to 1 minute. You will see more bubbles forming and you can check to make sure the paratha is ready to flip by lifting a side of the paratha and peeking under. If you see a few reddish brown spots beginning to form, it's ready.

Turn the heat up to high and flip the paratha one more time. This time, press onto the paratha with your spatula for about 30 to 40 seconds. This will help it puff up.

Flip the paratha back over and press the other side with your spatula for a few seconds.

Turn the heat back down to medium low.

Stack the paratha on a plate and keep covered with a tea towel until ready to serve.
Notes
To cook the kale, I put mine in a steamer for 15 minutes. You can cook it however you would like, such as sauteing it until wilted.
You can substitute vegetable oil for ghee
See our video on making plain parathas
Nutrition
Calories:
144
kcal
Carbohydrates:
19
g
Protein:
4
g
Fat:
7
g
Saturated Fat:
4
g
Polyunsaturated Fat:
1
g
Monounsaturated Fat:
2
g
Cholesterol:
14
mg
Sodium:
81
mg
Potassium:
143
mg
Fiber:
3
g
Sugar:
0.3
g
Vitamin A:
1066
IU
Vitamin C:
10
mg
Calcium:
39
mg
Iron:
1
mg