This cranberry chutney is our family's favorite take on the traditional cranberry sauce. It is a great way to add a little bit of complexity, or wow, to a traditional sauce. This recipe is very simple to make. It takes only about 20 minutes, and a mere handful of ingredients. The best part is, it is so flexible, you can easily make it your own.
I first made this chutney for Thanksgiving about a decade ago and it's so flavorful and so easy that it's been part of every Thanksgiving since. It often shows up on cheeseboards, sometimes at Christmas.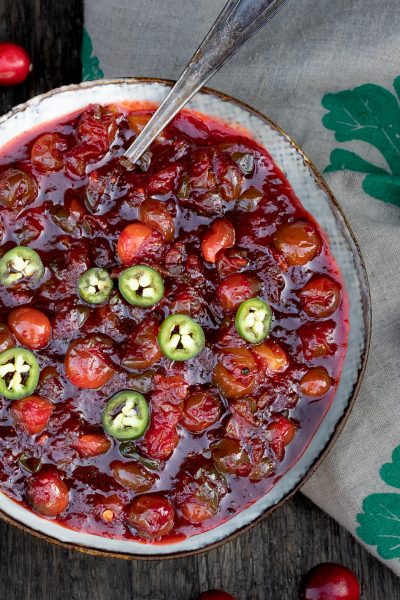 Historical Relevance
According to the book A Tale of Cooks and Conquerers, Chutneys and achars have long been a part of the Indian tradition for preserving herbs and fruits. Indians made achars and chutneys from fresh greens, coriander, coconut, and green chili.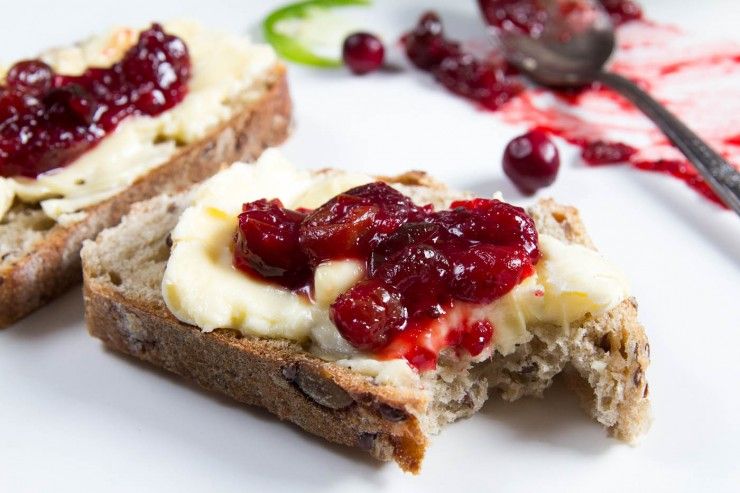 In the 17th century, the British learned about chutneys from Indians. The British East India company brought chutneys and pickles to England where they were sold in jars. At that point, British cooks started making them with locally available ingredients like apples, dates, horseradish and dill.
For that reason, I think of this dish as a British-style chutney adapted to American food. Cranberries are an essential American Thanksgiving food because they are native to New England.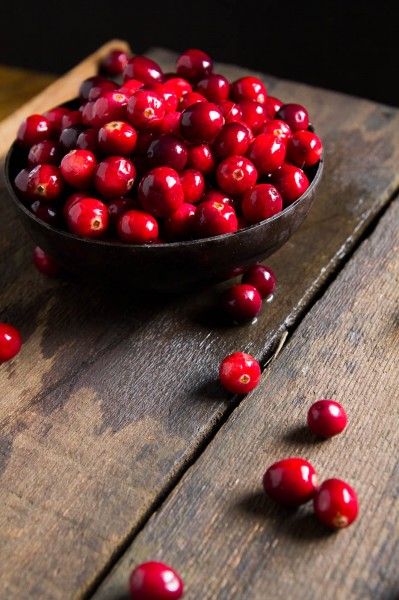 Enjoying Cranberry Chutney
First off, nobody will question your decision to serve the chutney at your next Thanksgiving feast. The main flavor very much comes from the cranberries, that form that familiar cranberry sauce base.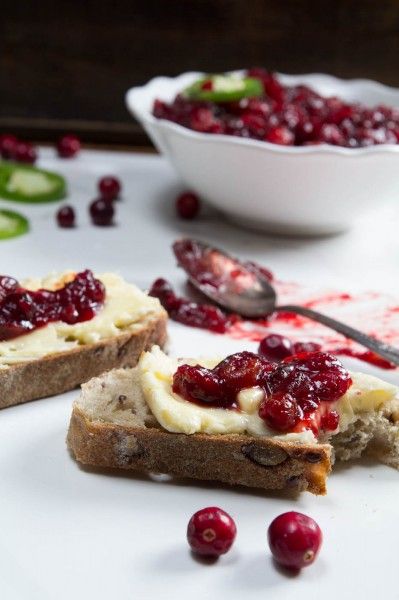 The difference is in the accent flavors of mustard seeds, turmeric, black pepper, and chilies that give it a pleasant complexity.
This chutney is so versatile, it goes well with poultry like roast chicken or turkey, or even cheese. If you are making this for Thanksgiving, I suggest making some extra to keep around afterward to serve with some brie or goat cheese and for sandwiches. 
It adds a nice sweet and sour contrast to anything. It could even be used in place of tamarind chutney, say for samosas or pakora.
Tips:
Do not use dried cranberries. Both fresh or frozen cranberries will work well for this recipe.
Make sure to cook the onions enough, but not too much. Onions should be soft but not brown.
Be sure to cook the cranberries enough. You should cook past the point that cranberries start popping. You want them to start to split open and release pectin to form that familiar jelly-like consistency.
Spice it up even more by adding cayenne pepper. I like to add 1/4 tsp to start.
Add other spices such as 1/4 tsp dried ginger, 3 to 4 cloves, a pinch of ground cardamom, 1/2 tsp chai masala, or one star anise. The spices can be added with the turmeric.
Add some dried fruit with 1/4 cup of golden raisins or chopped dried figs.
Add 1/2 cup of chopped fresh fruit like apples or pears. Add the fruit after the onions have softened and cook until the fruit softens before adding the cranberries.
Replace half the water with orange juice for a citrusy flavor.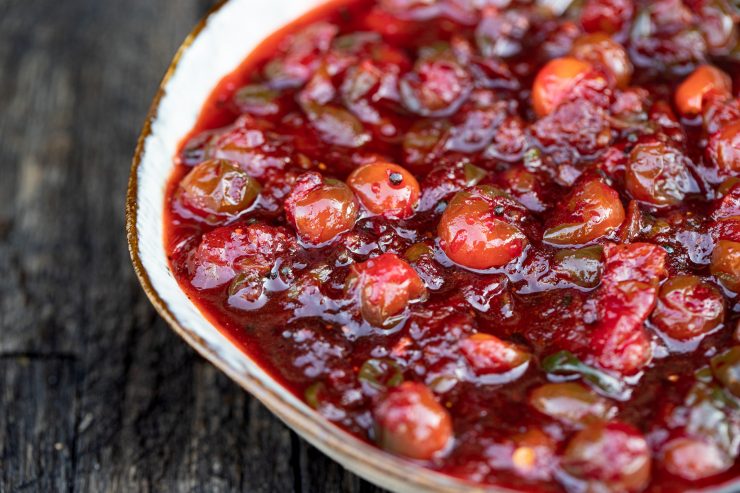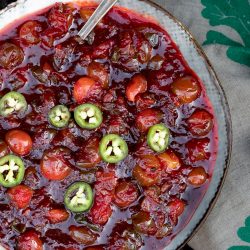 Sweet and Spicy Cranberry Chutney
A sweet and spicy cranberry chutney with mustard seeds and jalapenos.
Ingredients
1.5

cups

fresh cranberries

12 oz bag

2

tsp

ghee

or vegetable oil

½

tsp

black mustard seeds

¼

cup

finely chopped onion

½

fresh green chili

(such as serrano or jalapeno, thinly sliced)

¾

cup

sugar

¼

tsp

ground black pepper

1

bay leaf

¼

tsp

turmeric

¼

tsp

salt

½

cup

water
Instructions
In a medium saucepan, heat ghee or oil until it starts to shimmer. Drop in one mustard seed to test the oil, if it sizzles, the oil is ready. Add the rest of the mustard seeds. Let cook for about 10 seconds.

Add the onions and jalapeno slices. Cook until the onions soften and turn translucent. Add the bay leaf, black pepper and turmeric. Stir and cook for about 10 seconds.

Add the cranberries, water, sugar and salt. Stir.

Turn the heat up to high. Bring the cranberries to a boil. Once the cranberries boil, turn down the heat to low and let cook for 15 minutes.

Let cool and serve.
Video
Notes
This cranberry chutney is great served with cheese. I ate a whole bunch of it with a big slab of camembert. Brie or goat cheese would be great too. It would also be great served along side a traditional Holiday meal or with a simple roast chicken.
Nutrition
Serving:
20
g
Calories:
104
kcal
Carbohydrates:
23
g
Fat:
1
g
Cholesterol:
3
mg
Sodium:
74
mg
Potassium:
39
mg
Fiber:
1
g
Sugar:
20
g
Vitamin A:
30
IU
Vitamin C:
6.4
mg
Calcium:
3
mg
Iron:
0.1
mg
(Originally published November 24, 2013. Major rewrite 11/9/2022)