My family always had pickled marchu (peppers) around. Lal Marcha nu Athanu was a condiment at every meal. My mom would pretty much automatically add two chilies from the jar to every plate she prepared.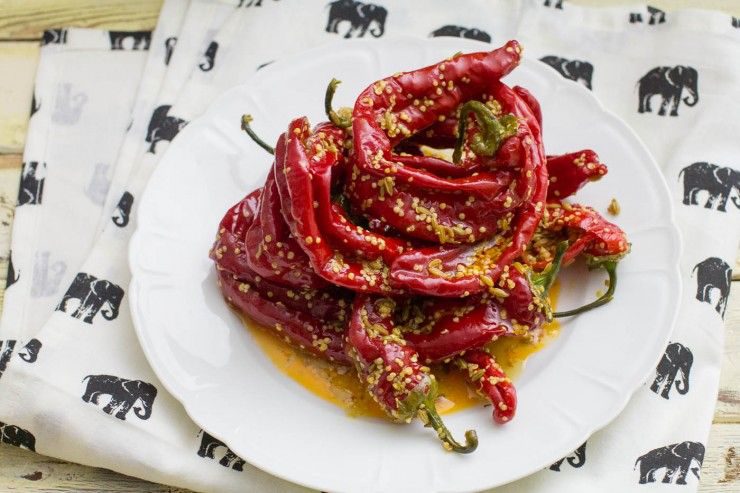 It's not hard to understand why pickled marchu was so important. Can you imagine life without a refrigerator? Where do you put your milk, your leftovers, your produce? I can, because when I was a kid living in India, that wasn't such a strange thing. I grew up in the 80s, at a time when refrigerators were just starting to be in most houses.
Oddly, our house on the farm had a refrigerator, but the one in Bombay did not. That is because in the city it was easy to get things like daily deliveries of milk and fresh produce. When it came to milk, we had milk delivered every morning.
My mom would boil it when we first got it, then again in the afternoon so we could have some with dinner. Any left over after that was turned into yogurt.
When you don't have a refrigerator, fermentation becomes an important means of preservation. Another method of preservation is pickling. Pickling is an important part of Indian cuisine.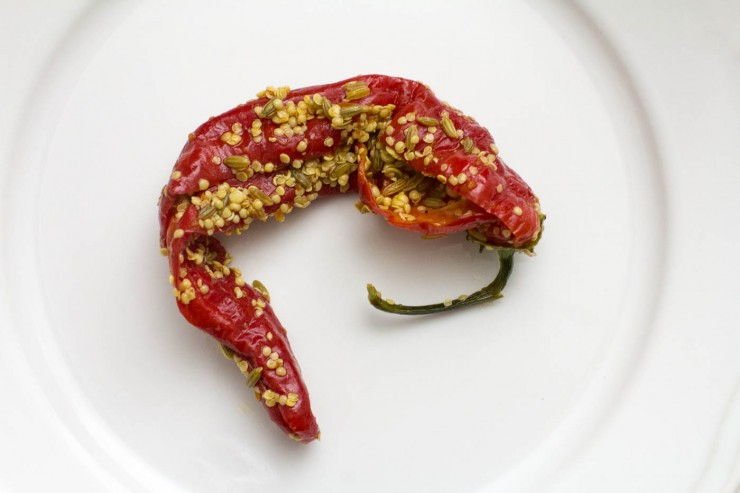 It goes with any kind of shaak and snacks like khandvi or dhokra. It's like adding hot sauce to your food, but it's the actual peppers.
If you are making this for the first time, I recommend choosing a very mild chili. The heat of any chili seems to be enhanced in the pickling process.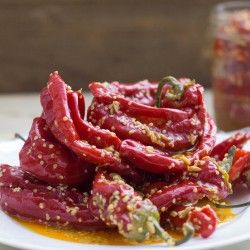 Lal Marcha nu Athanu (Red Chili Pickle)
An Indian pickle of hot peppers with mustard seeds and fenugreek.
Ingredients
½

cup

olive or vegetable oil

¼

cup

split mustard seed

rye na kuriya

2

tbsp

fennel seeds

¼

tbsp

asafoetida

hing

1 ½

tsp

salt

1

tbsp

chili powder

use a milder chili powder for less heat

1

tsp

sugar

3

tbsp

lemon juice

1

pound

red chilies
Instructions
Put all of the dry ingredients in a pan with the oil, cold. Heat until fragrant, but do not allow it to reach sizzling temperature.

Pour into a bowl, mix in sugar and lemon juice.

You can use either chopped chilies or whole chilies. If you are using whole chilies, split them open by slicing lengthwise along one side of the chili. Rub the mixture into the chilies.

Place the chilies and liquid in a jar. The liquid does not fill the jars.

Let the pickle sit at room temperature for 24-48 hours. Shake the jar a few times per day to distribute the mixture.

Refrigerate after that. It will be good to eat for at least 2 weeks.
Nutrition
Serving:
2
tbsp
Calories:
45
kcal
Carbohydrates:
2
g
Protein:
1
g
Fat:
4
g
Saturated Fat:
1
g
Polyunsaturated Fat:
2
g
Monounsaturated Fat:
1
g
Trans Fat:
1
g
Sodium:
115
mg
Potassium:
68
mg
Fiber:
1
g
Sugar:
1
g
Vitamin A:
210
IU
Vitamin C:
21
mg
Calcium:
11
mg
Iron:
1
mg