Turmeric pickle is a crunchy, mildly spiced condiment that you can even munch on by itself for a quick bite. Enjoy the health benefits of fresh turmeric with the five minute recipe that involves no cooking.
About Turmeric Pickle
Turmeric pickle was always available in my house growing up. Not only because it is a common, traditional condiment, but my parents were very enthusiastic about ayurveda. My mom would often prepare a few days worth of turmeric pickle as she was preparing dinner, or ask me to give her a hand by putting some together.
Pickles are an important part of Gujarati cuisine. No thali is complete without a spoonful of some kind of pickle. This recipe is an example of one that could be put together in a few minutes without having to sit for hours or days before serving.
Health Benefits of Turmeric
Turmeric is extremely popular in today's health-food culture. Ayurveda has always recognized the benefits of consuming turmeric. Turmeric is said to help fight inflammation and to help with digestive issues. Turmeric is added to many foods, such as this moong dal, to give them a bit of earthiness, some color, and for its health benefits.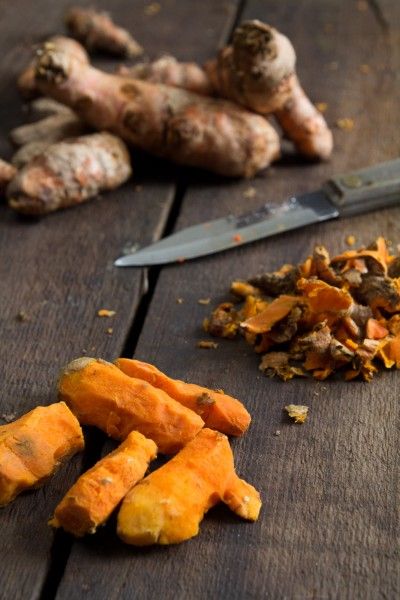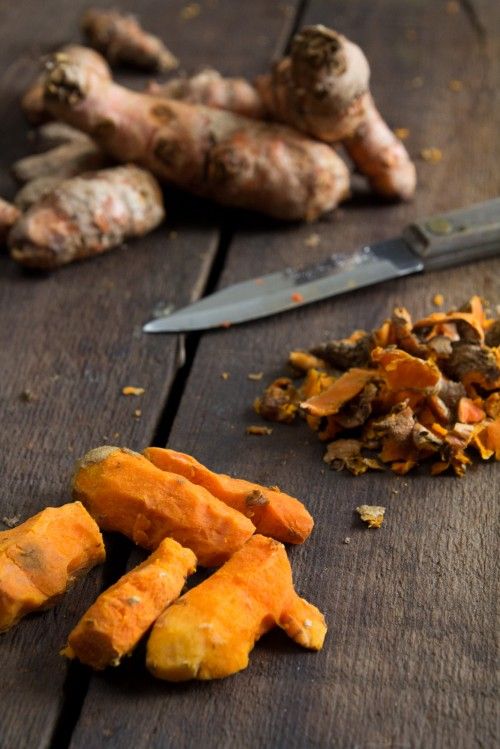 Making 5-Minute Tumeric Pickle
One thing to know about this recipe is that turmeric pickle can be made in so many different ways. In the video, I show you the easiest way. That is the version that is most easily assembled out of easy-to-find ingredients. Depending on where you live, fresh turmeric can be a little hard to find.
If you don't have an Indian store around, Whole Foods, Sprouts, or some kind of health food store would be your best bet. Other than that, it only has a couple of other ingredients which are very common: ginger, salt, lemon juice, and oil.
You can also cut your turmeric, ginger and chili however you'd like. I like to cut them into matchstick shapes for this. You could also cut them the other direction and form coin shapes. When I'm in a hurry I will often use the large side of the grater and grate the pieces. It all works.
Variations
The basic version of this pickle is already very "Gujarati" to me, although it is probably eaten that way in many households throughout India. My family also commonly adds a couple of other ingredients that give it even more of a Gujarati feel: rye na kuria and jaggery.
Rye na kuria is split mustard seeds. It's a bit of a specialty item you can find at many Indian stores. But if you can't, you can make it yourself by taking whole mustard seeds and coarsely crushing them in a mortar and pestle. If you want, you can toast them by heating up your oil and adding the seeds, letting them toast for about 10 seconds. This will really bring out the mustard fragrance.
Like lemon, sugar is a natural preservative in pickles. It also sweetens the pickle, which you may or may not like. Gujaratis love to add sugar to everything, so it is only natural that a Gujarati version of this pickle often involves a little jaggery. Brown sugar works great in place of jaggery if that is what you have on hand. I prefer to leave it out.
Vinegar Turmeric Pickle
I've been asked if you can make turmeric pickle with vinegar, the answer is yet. Lemon is more traditional, but white vinegar is an easy substitution for lemon juice. The acid of either one helps to preserve the turmeric and gives it a bit of sour taste. Use about half as much vinegar as you would lemon juice, so about 1 1/2 tablespoons for this recipe.
Other Variations
This pickle is very much like a salad, where you might add the things you want and leave out things you don't want. It's very flexible. If you want to add vegetables, just go ahead and chop them up and throw them in. It is very common to add carrots. You can also add cauliflower, chili, raw mango, anything you'd like. Keep in mind you might need to compensate for the added bulk by increasing your wet ingredients.
Beyond adding ingredients, you may also decide you like a more sour version and add more lemon juice.
This version of pickle is made with oil. The oil will act as a preservative and you can keep it around for about a week. You can skip the oil, which will change the flavor some, and it will only keep fresh for a couple of days.
Expert Tips:
How to Peel Turmeric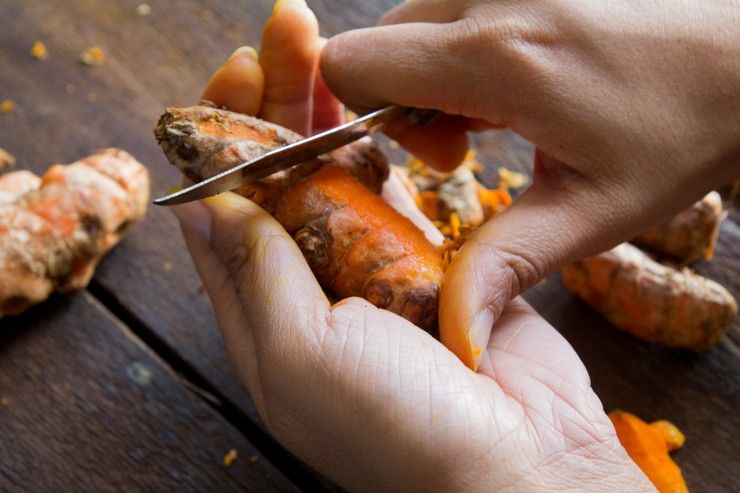 The easiest way to peel turmeric is, using a paring knife, scrape the blade against the skin of the turmeric. You don't want to slice the skin off because you will end up removing good turmeric. Instead, the blade should be held perpendicular to the turmeric and brushed firmly against it so just the skin comes off.
This is exactly the same as technique as peeling ginger. See the video for a demonstration.
How to Store Fresh Turmeric
Pickling turmeric is a great way to prepare turmeric and have it available to snack on for a week or so. If you expect to have fresh turmeric on hand for a while before using it, keep it fresh by wrapping it in a slightly damp paper towel and storing it in the crisper of your refrigerator.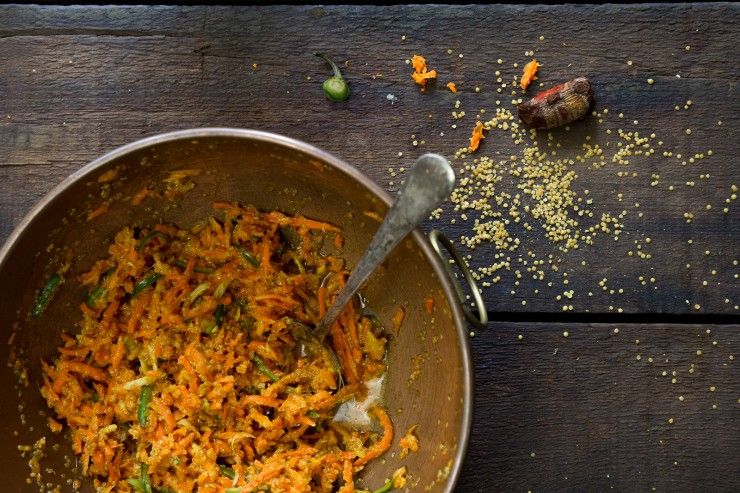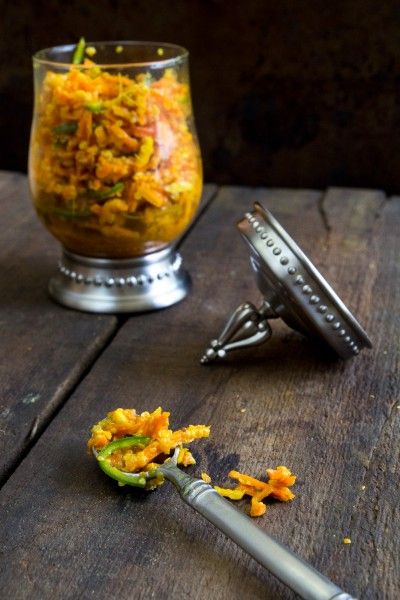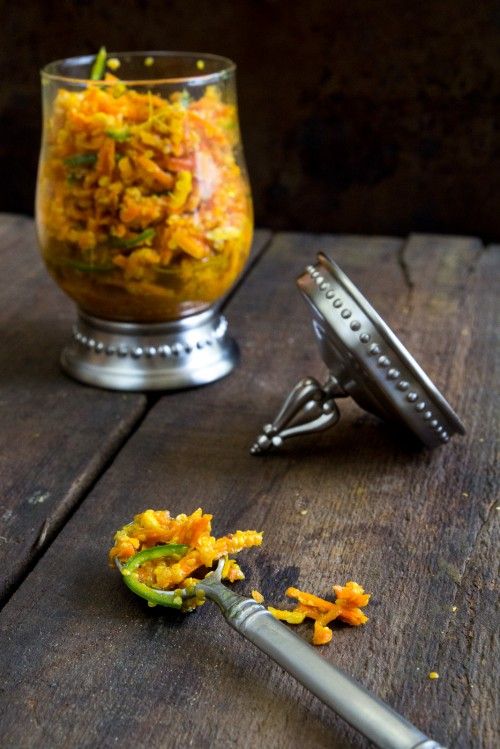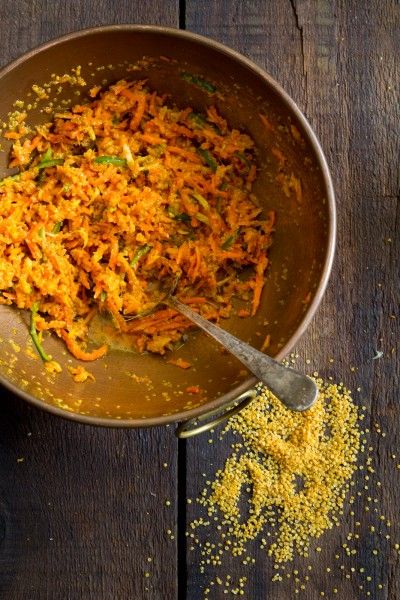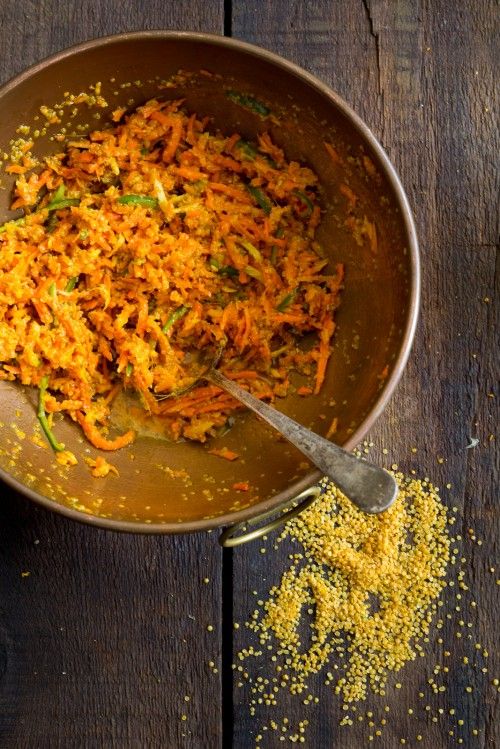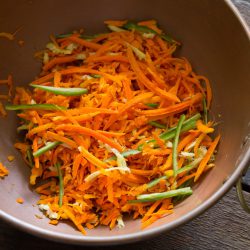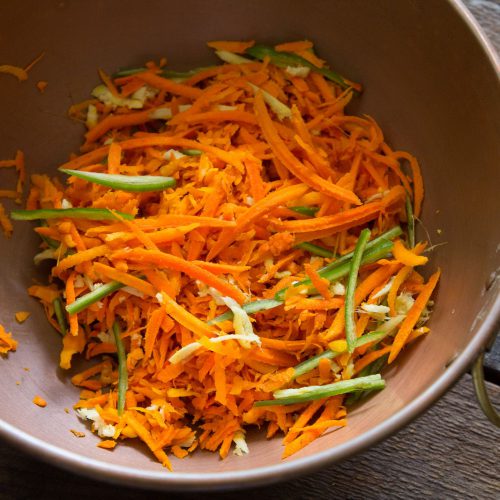 Quick Turmeric Pickle
A very quick and healthy Indian pickle that features turmeric. Make it in under five minutes with as little as four ingredients.
Ingredients
1

cup

turmeric

shredded or cut into matchsticks

⅓

cup

fresh ginger

shredded or cut into matchsticks

⅓

green chili

(serrano chilies or jalapeno)

2

Tbsp

oil

olive or vegetable

⅓

cup

fresh lemon juice

1 to 2 large lemons

2

tsp

salt

3

Tbsp

split mustard seeds

rye kuriya (optional)

½

Tbsp

brown sugar

(optional)
Instructions
Prepare all the ingredients by shredding or slicing turmeric (I used a food processor with a grater attachment), chop or slice up the chilies, grate the ginger.

Mix all ingredients together in a bowl.

Let the flavors meld for at least one hour, but it is best after a day or two.
Notes
Add sugar and rye ni kuria (or coarsely ground mustard seeds) for a more complex version, which has more of a Gujarati style.
Nutrition
Serving:
28
g
Calories:
66
kcal
Carbohydrates:
9
g
Protein:
1
g
Fat:
3
g
Saturated Fat:
1
g
Polyunsaturated Fat:
1
g
Monounsaturated Fat:
1
g
Trans Fat:
0.01
g
Sodium:
240
mg
Potassium:
322
mg
Fiber:
3
g
Sugar:
1
g
Vitamin A:
1
IU
Vitamin C:
5
mg
Calcium:
27
mg
Iron:
5
mg