I love looking at the bright yellow turmeric next to the deep red of chili powder and the neutrals of cumin and mustard seeds in my masala dubba. Turmeric is indispensable in any Indian kitchen.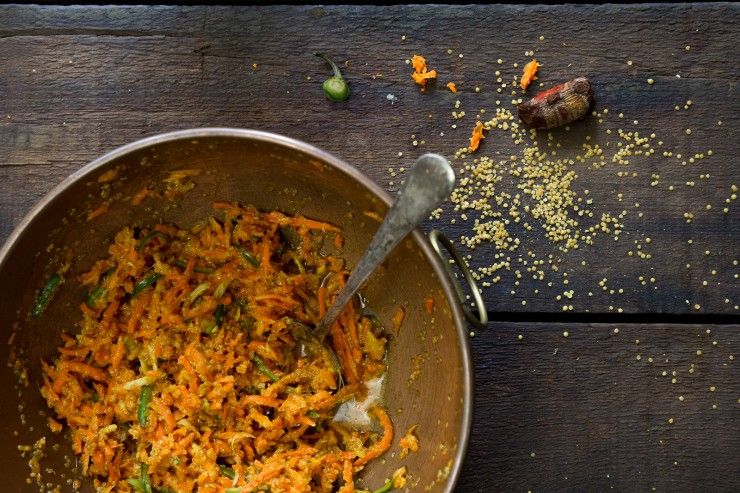 So many of my favorite Indian comfort foods, like a big bowl of yellow Kadhi or my Grandma's Gujarati Dal, just wouldn't be right without turmeric.
I am lucky enough to always have great quality turmeric in my masala dabba. That's because whenever my mom goes to India she brings back large bags of freshly powdered turmeric.
Turmeric is so important to my mom that she stocks up every year when she goes to India. She actually goes to her spice seller in India, picks out the dried turmeric roots that she wants, and insists on watching him grind the turmeric in front of her.
This is to make sure that she gets only pure, wonderful turmeric that isn't adulterated in any way.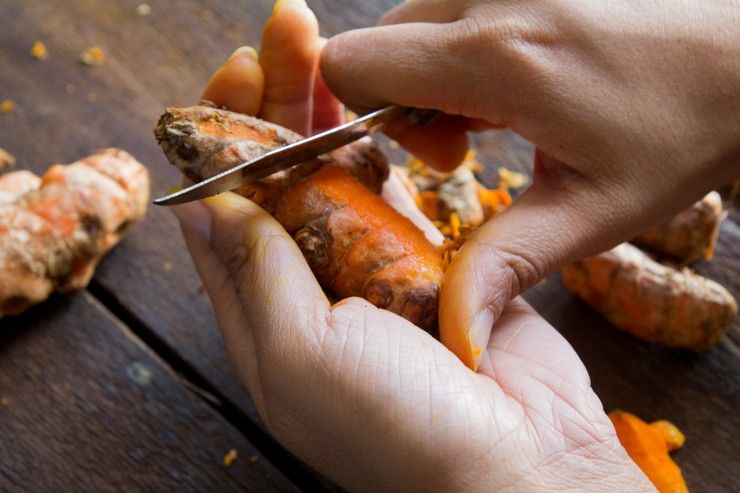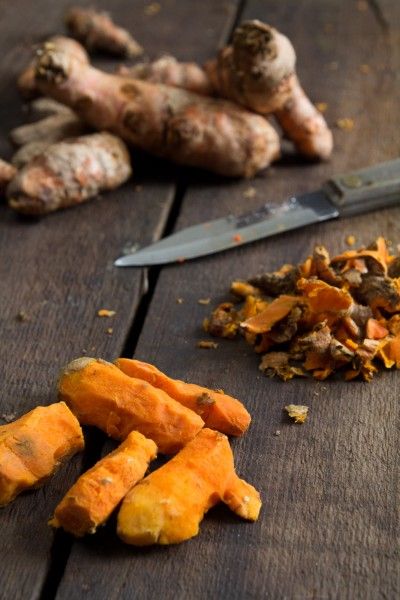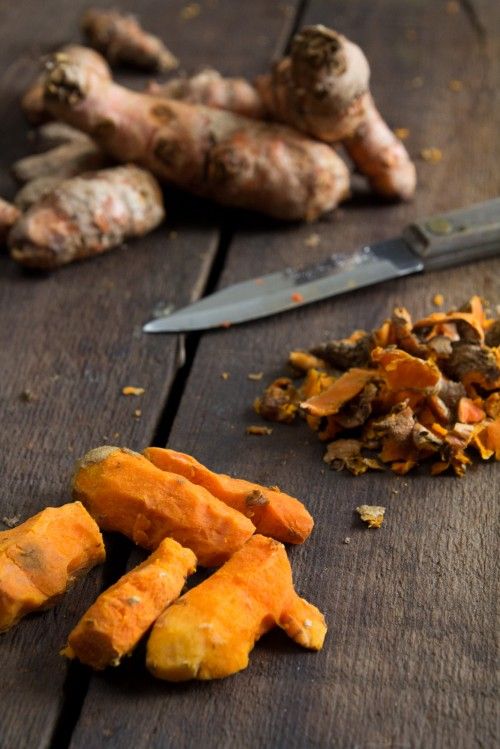 The turmeric powder we have even looks slightly different from the stuff you find in the grocery store. Instead of being a perfect, bright yellow, it has a slightly deeper color that makes it look a bit more orange.
Turmeric comes from a root that looks a lot like ginger since they are from the same family. Although it is often easiest to buy it in powdered form, you can find the fresh root at Indian stores and even Whole Foods since many health food aficionados are very interested in turmeric for its medicinal properties.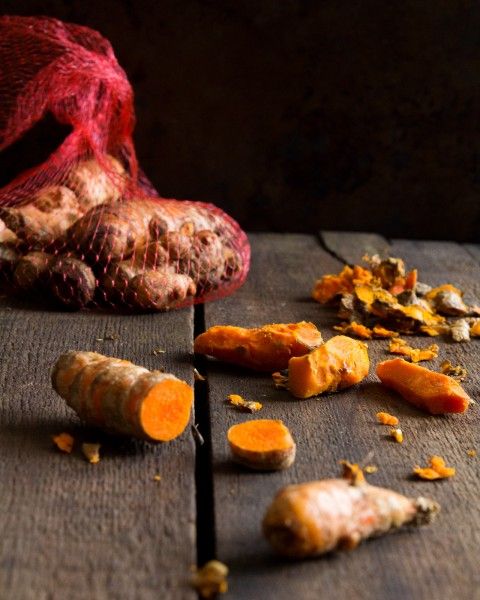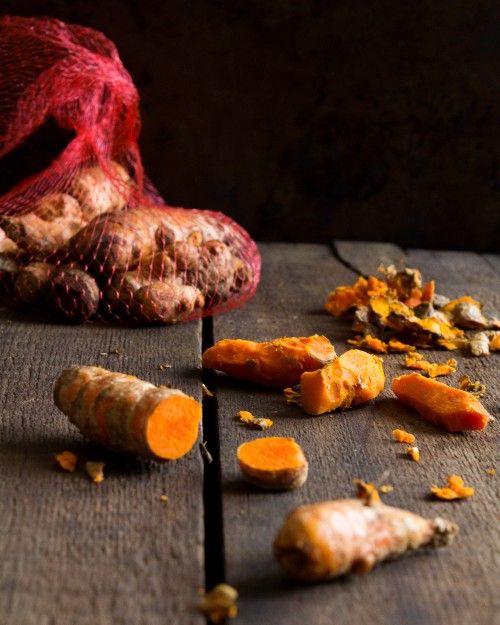 Turmeric is highly regarded in Indian culture. According to Ayurvedic medicine, turmeric is a super healthy, curative herb. It has been used for thousands of years to treat stomach ailments, ulcers, liver problems, fever and as an antiseptic for wounds and sore throats. It is widely regarded as anti-inflammatory.
My mom takes it to help with her arthritis. It is also thought to be antiseptic and antiviral. Western medicine has done little to study turmeric to verify these beliefs, but there are many ongoing cancer studies involving turmeric that show great promise.
In addition to being an antiseptic for wounds, as a paste it is also used to stop bleeding. Once one of our dogs in India got in a fight with another dog and came home wounded and bleeding.
This was at our factory in rural Maharashtra and there were no veterinarians around. We didn't think it would be a good idea to use an antiseptic spray on him because he would lick it off and it might be poisonous.
So we made a paste by mixing turmeric powder and a little water and applied it to his wounds. As you would expect, he kept licking it off, so we kept reapplying it. In the end, the turmeric paste stopped the bleeding and he made a full recovery.
My husband, Steve, has been on a smoothie kick lately. He throws various fruits and vegetables into the blender, along with some combination of seeds, olive oil, hemp hearts, herbs and spices to create these weird, super-healthy smoothies.
He likes to add herbs and spices such as turmeric, chili powder, cinnamon and nutmeg for the likelihood that they have medicinal advantages and boost metabolism. Since I last made this big batch of turmeric pickle, he's been using it in many of them.
The pickle I made is a traditional Gujarati pickle. It is ayurvedic not only because of it's health benefits but also in the sense that it has a balance of all flavors (salty, sweet, sour, astringent, bitter and pungent), which is considered very important in ayurveda.
As a pickle it goes great with just about anything. If you are eating a shaak or dal with some flatbread, you can add a little turmeric pickle for a pleasant crunch.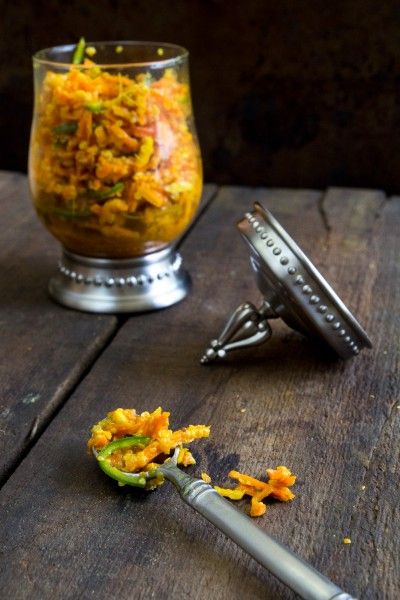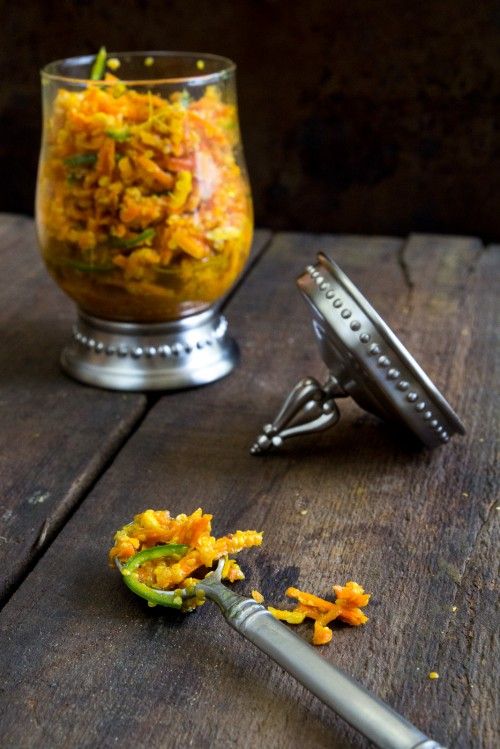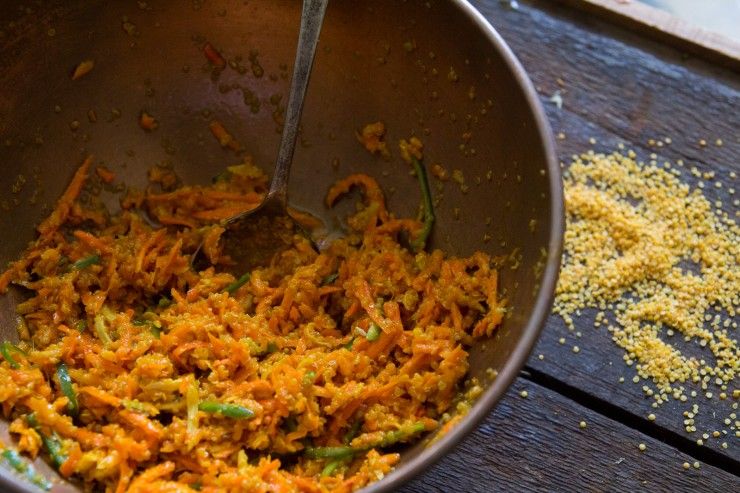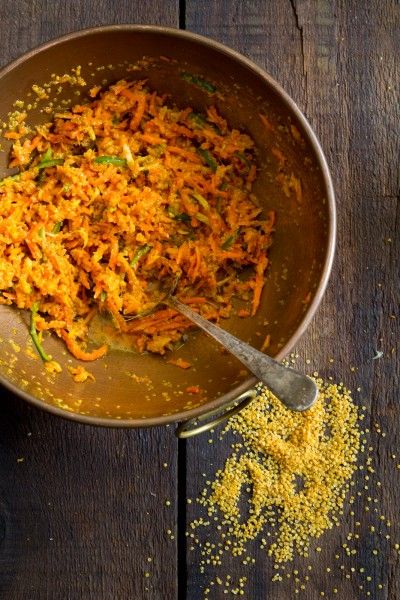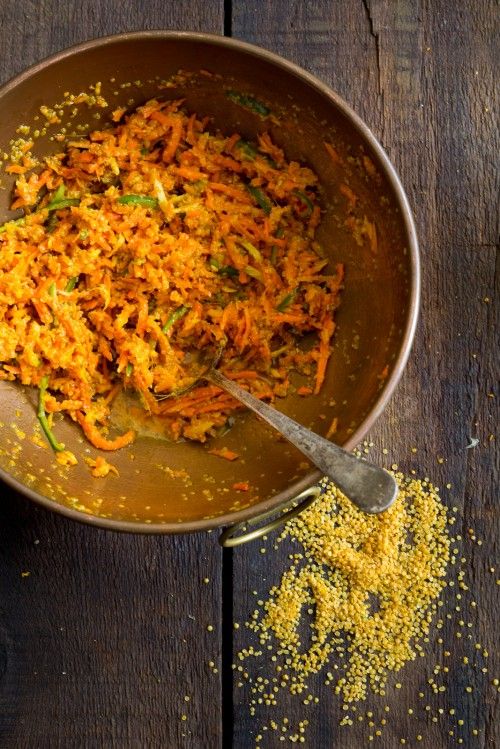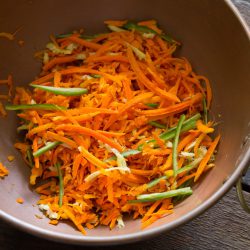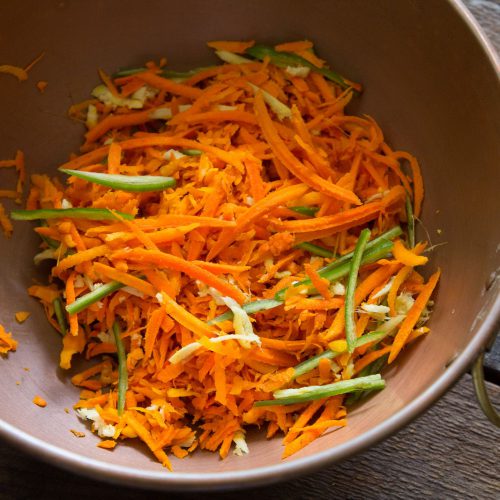 Turmeric Pickle
A simple pickle made with fresh turmeric
Ingredients
1

cup

turmeric

shredded or cut into matchsticks

1-2

serrano chilies

depending on desired heat

3

tbsp

split mustard seeds

rye kuriya

⅓

cup

fresh lemon juice

1 to 2 large lemons

¼

cup

oil

olive or vegetable

2

tsp

salt

½

tbsp

brown sugar

2

tbsp

fresh grated ginger
Instructions
Prepare all the ingredients by shredding or slicing turmeric (I used a food processor with a grater attachment), chop or slice up the chilies, grate the ginger.

Mix all ingredients together in a bowl.

Let the flavors meld for at least one hour, but it is best after a day or two.
Notes
This pickle will keep for two weeks in the refrigerator.
Nutrition
Serving:
28
g
Calories:
32
kcal
Fat:
3
g
Sodium:
232
mg
Potassium:
14
mg
Vitamin A:
5
IU
Vitamin C:
1.8
mg
Calcium:
3
mg
Iron:
0.1
mg