Sukhdi is a traditional Gujarati sweet made with simple ingredients that combine into something so delicious that it has been a family favorite for generations. "Sukh" is Gujarati for joy, happiness, or contentment. Sukhdi means that which brings joy.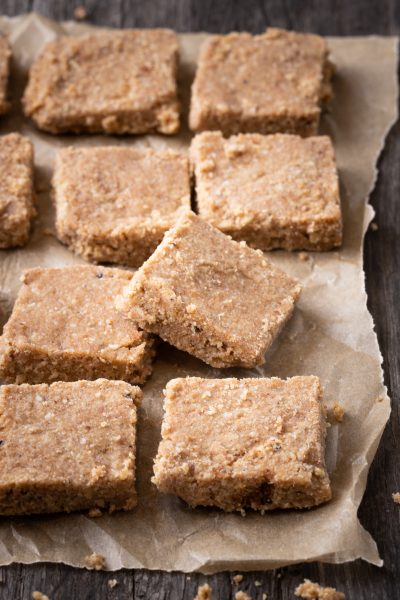 About this Recipe
Sukhdi is a traditional Gujarati sweet that evokes the feeling of home and nostalgia for me. This recipe has been in my family for generations, it was my Grandpa's favorite sweet.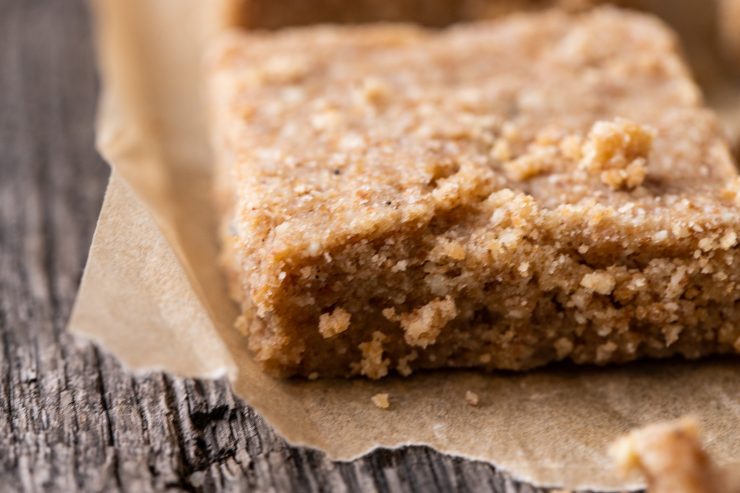 We always had homemade sukhdi around. It was something we often served our guests with cha (chai). It's especially common to have sukhdi during any religious holidays and festivals.
This recipe has almond flour that gives it extra richness. That's a change my mother has made to this recipe.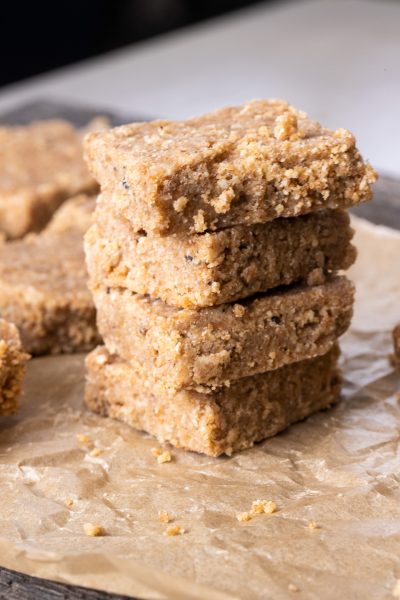 Ingredients
Whole wheat flour: You can make this with chapati flour (atta), a finely ground whole wheat flour available at Indian stores. But if you don't have atta, supermarket whole wheat flour works well too. Do not use all-purpose flour.
Ghee: It is traditional to use ghee, and it adds a fantastic buttery flavor. But when I was eating a dairy-free diet, I would make it with coconut oil.
Jaggery: The type of jaggery you use is essential. A lighter-colored, softer jaggery works better. Do not buy a dark, brown-colored jaggery as it has a higher chance of burning before it melts completely and will throw off the delicate flavors of the sukhdi.
It is important to break the jaggery up into small pieces before adding it into the sukhdi. This will ensure that the jaggery melts evenly and quickly. Three methods work well for me: 1) Grate with a large-sized cheese grater 2) Use a mallet on a cutting board to crumble the jaggery 3) Use a chef's knife to shave small slivers off the jaggery
Almond flour: Almond flour or ground almonds are optional, but add a nutty richness that I love. My mom has added almond flour to her sukhdi for over 40 years, so it is traditional in my home.
Variations
Add poppy seeds. This is traditional for many families and tastes delicious.
Add nutmeg.
Add grated or desiccated coconut.
Leave out the almond flour and replace it with whole wheat flour.
Add gundar (gondh) or edible gum. My mom will add this in the winter.
Add dried ground ginger. My mom adds 1/2 tsp of dried ground ginger and edible gum in the winter to add warmth.
Refrigerating
Shukhdi will keep well in the refrigerator for up to a month. You can also freeze it for up to 6 months. To defrost, set it out overnight to allow it to come to room temperature before serving.
Sukhdi
Sukhdi is a sweet made with simple ingredients that combine together to transform into something so delicious that it has been a family favorite for generations.
Ingredients
1

cup

whole wheat flour

½

cup

almond flour

½

cup

ghee

¾

cup

jaggery

grated or crumbled using a mortar and pestle

½

tsp

cardamom
Instructions
Heat ghee under medium heat until melted.

Add flour and cook until toasted. Set a timer for 5 minutes, you should see bubbling in the flour.

Add almond flour. Toast for 1 minute.

Add cardamom and jaggery. Stir until the jaggery melts. The jaggery will melt and bring the whole mixture together.

Spred into a pan. Score and allow to cool.
Nutrition
Calories:
278
kcal
Carbohydrates:
21
g
Protein:
2
g
Fat:
21
g
Saturated Fat:
12
g
Polyunsaturated Fat:
1
g
Monounsaturated Fat:
5
g
Cholesterol:
48
mg
Sodium:
1
mg
Potassium:
37
mg
Fiber:
2
g
Sugar:
13
g
Vitamin A:
1
IU
Vitamin C:
0.02
mg
Calcium:
18
mg
Iron:
1
mg