Pav bhaji is a much-loved street food that rarely lives up to the hype when made at home. It is made of a rich, spiced vegetable mash and served with a warm, buttery roll. This recipe faithfully reproduces the pav bhaji from the street of Mumbai, and it is not difficult at all.
About Pav Bhaji
One of the things I miss most about living in Mumbai is the pav bhaji. My family would buy it from a vendor who served it from his pav bhaji cart, which he strolled by our house in the evenings.
The story of pav bhaji deeply reflects the story of the city it was born in. The Portuguese had colonized Mumbai from 1534-1661 before the British took over. Soon after, Mumbai experienced rapid growth as a trade city starting in the late 1700s. Following this period, Mumbai's textile industry took off in the 1860s as a side-effect of the American Civil War, when America's textile manufacturing suddenly became unreliable in the world market.
Pav bhaji was invented during this boom period. Textile workers in Mumbai ("Bombay" at the time), worked long hours and had short breaks for meals. Pav bhaji became a popular dish sold by local vendors because it was light and could be eaten quickly.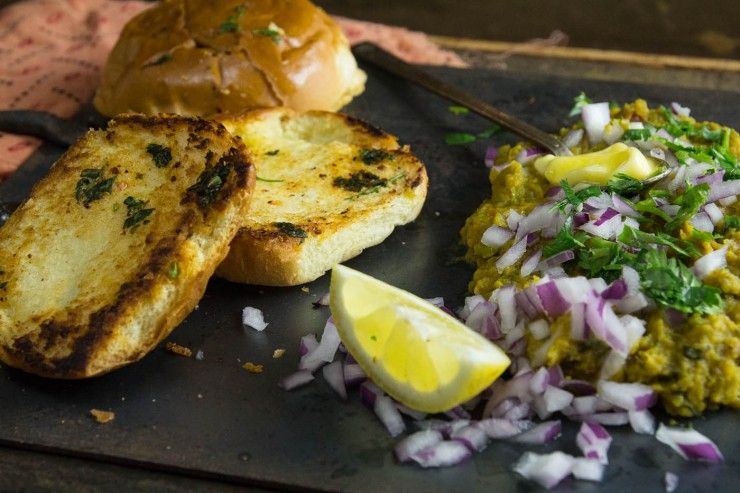 As far as influences, the dish is a mix of Portuguese and local cuisine. The spiced vegetable mash features potatoes, tomatoes, and chilies, which were all introduced to India by the Portuguese, as was the "pão." It also features classic Indian spices, such as turmeric, cumin, black pepper, and amchoor. And it features the classic ginger-garlic paste.
Notably, it is served with a baked roll, the "Pav." There are a number of explanations for the name "Pav," one likely explanation is that it is a corruption of the word "pão," which means bread in Portuguese. Pav is featured in a number of other street dishes, such as Vada Pav and Masala Pav.
Pav Bhaji at Home
About the Pav
Pav Bhaji is one of the most popular Indian street foods that has been adapted for home cooking. Most Indian stores stock pav and boxed "Pav Bhaji Masala." You can make your pav, but I recommend buying the store-bought. You can also sometimes find similar rolls at Asian markets. They are somewhat similar to "King's Hawaiian Rolls," but Hawaiian rolls are much too sweet and chewy.
In place of Pav, many people use hamburger buns or similar rolls that can be easier to find at the supermarket. Hamburger buns will work, but it is worth the extra effort to seek out pav. Hamburger buns tend to be a little too sweet.
The Masala
As far as the boxed masala, I recommend Everest or MDH brand. These are the labels I remember vendors around my house in Mumbai using. My local Indian stores have lots of Everest masalas but no Pav Bhaji masalas for some reason. Lately I have only been able to find MDH brand and Shaan. I don't like the Shaan masala because it had added sugar, which is a bit odd, and some preservatives.
To be honest, I've never much liked most Pav Bhaji that has been served to me in people's homes. There are a couple of ways I think people go wrong in making their pav bhaji:
Not using enough butter: this is street food, and it is not made most healthily. You may skip some of the fat, but your final dish will suffer.
Adding cauliflower: home cooks often add cauliflower to their Pav Bhaji. As much as I love cauliflower, I believe the boiled cauliflower flavor takes away from the wonderful flavors of a good vegetable mash.
Fried bell pepper: In this dish, the bell pepper is boiled, not fried. Small amounts of water are added to the bell pepper as it is cooking, which keeps the cooking temperature low. The bell pepper should not brown but soften to become part of the final mash.
Ingredients
Tomato
Potato
Onion
Bell Pepper
Turmeric
Garlic-Ginger Paste – a classic Gujarati paste, can be prepared ahead of time, or simply add grated garlic and ginger.
Chili Powder – Pav bhaji is typically served very spicy, but you can adjust to your liking
Hing (asafoetida)
Pav Bhaji Masala – a masala mix that can be purchased at any Indian grocery store. I recommend MDH or Everest brand.
Lemon wedge – or finish with a squeeze of lemon.
Cilantro
Serving Pav Bhaji
Pav bhaji is a complete dish and requires no accompanying foods. If you were theming a pav bhaji party, you might feature other Bombay street foods alongside it, like sev puri, pani puri, batata vada, or masala cheese toast.
Drink Pairing
Pav bhaji goes well with a refreshing drink, such as masala chaas, sweet lassi or a cold soda.
For a wine pairing a sweet Riesling and similar sweet, white wines pair very well. The sweet, crisp flavor cuts through the oil and masala of the pav bhaji. Alternatively, anything bubbly, like a sparkling rose or prosecco, will also go well with pav bhaji, acting as a refreshing palate cleanser between bites.
Cooking Tips
Spice – street style pav bhaji is typically very spicy. This recipe is only moderately spicy and you can add it cut back the pav bhaji masala to taste.
Mashing the vegetables: a good potato masher can be used to mash the vegetables, but I typically get frustrated as the vegetables slip between the openings of the masher. Instead, I will use a metal cup to mash down on the vegetables. I used to use a glass, but once had one explode in my face because of the heat, so I caution against doing that.
Variations
Although I don't recommend it, you can add cauliflower, as many people do. Other vegetables like green beans, carrots, or zucchini can be used to add nutrition – this is commonly done for homemade recipes.
Storage
The vegetable mash for pav bhaji will store well for a few days in the refrigerator or about 2 months in the freezer. They can be reheated on the stovetop or microwave. I would not prepare the pav beforehand since the buttery richness and warmth are key to this dish's appeal.
Recipe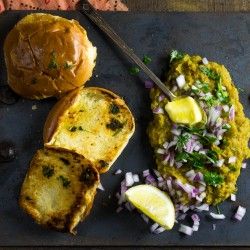 Pav Bhaji
Pav Bhaji is a spicy, buttery dish made up of mashed vegetables served with bread.
Ingredients
1

green bell pepper diced

2

large tomatoes

300g chopped

1

red onion

175g finely chopped and separated

1

medium potato

250g boiled or baked and roughly mashed

½

cup

peas fresh or frozen will work

1 ½

Tbsp

ginger-garlic paste

150g

½

tsp

turmeric

½

tsp

red chili powder or to taste

1

tsp

sea salt or to taste

½

cup

cilantro roughly chopped and separated

6

tbsp

butter separated

¼

tsp

asafoetida

1

Tbsp

pav bhaji masala

separated

1

tsp

kasoori methi

dried fenugreek leaves

2

tablespoons

finely grated beet

optional, for color

1

lemon

4

pav

dinner rolls
Instructions
Heat 1 tablespoon of butter in a pan. When it starts to foam, add the hing (asafoetida), half of the onions, the bell peppers, and mix well. Then add the ginger-garlic paste, half of the pav bhaji masala, half of the cilantro, and the kasoori methi. Cook until the onions and bell peppers soften. Add water if anything starts to stick or looks too dry in the pan.

When you are able to mash the bell peppers with the bottom of a metal cup, add tomatoes, beets, turmeric, chili powder, salt, peas, and the boiled potato, broken up into small pieces.

Mash everything together with the bottom of a metal cup or a potato masher to roughly mash the mixture together.

Push aside the mash to make room on the pan (or use a separate pan). Add 3 tablespoons of butter the open area. Top the butter with remaining pav bhaji masala. Mix the spices into the butter and let the spices bloom for 10-15 seconds.

Mix the spiced butter into the vegetable mash. Add a half cup of water and let the mixture cook until the butter separates and rises to the top, about 5-8 minutes.

Mash to desired consistency, or transfer half of the bhaji to a blender and blend until smooth, then recombine with the roughly mashed bhaji. Add water to adjust consistency if needed. Remove from heat and set aside.
For the Pav
Slice the pav 3/4 of the way through and spread open the rolls.

Heat 1/4 tablespoon of butter on a flat pan. Sprinkle with a pinch of pav bhaji masala and a pinch of cilantro (optional). Spread the mixture on the pan and place 2 rolls face down over the mixture. Rub the rolls into the mixture to coat. Allow to toast lightly on the pan. Flip and repeat. Do this for all of your rolls. If you use a large pan you can do more rolls at a time.
Plating
Spoon a serving of veggie mash onto a plate. Top with 1/2 tablespoon of butter. Sprinkle with onion and cilantro. And serve with lemon wedge and toasted pav.
Nutrition
Calories:
369
kcal
Carbohydrates:
42
g
Protein:
8
g
Fat:
20
g
Saturated Fat:
12
g
Polyunsaturated Fat:
1
g
Monounsaturated Fat:
6
g
Trans Fat:
1
g
Cholesterol:
45
mg
Sodium:
960
mg
Potassium:
640
mg
Fiber:
7
g
Sugar:
7
g
Vitamin A:
1431
IU
Vitamin C:
67
mg
Calcium:
123
mg
Iron:
3
mg