Masala chaas is a summertime cooling, salty, spicy yogurt drink. It is perfect for hot weather and helps to beat the heat like nothing else. The masala gives it a salty, spicy taste and helps replenish electrolytes. The yogurt, along with the mint and cilantro, gives it a tangy coolness.
About this Recipe
As a kid, I was in charge of two things: chutneys and chaas. It was very common, especially on hot afternoons, for my family to gather and enjoy a cool glass of chaas together. On those days, it was my job to ensure it was ready. We also often had it as part of my favorite comfort food, khichdi chaas.
There are many ways to prepare chaas. I must have experimented with them all to arrive at this, my favorite. It combines a vaghareli chaas with a mint-cilantro chaas. I love the heat of the chili against the cooling mint and cilantro and the salty, tangy yogurt.
Ingredients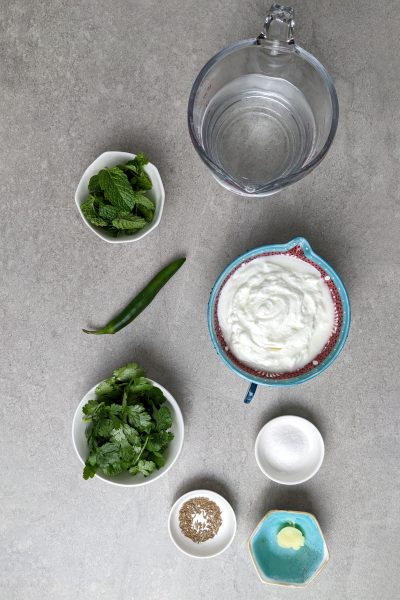 Yogurt – makes chaas, chaas. In India, we made fresh yogurt every night. Yogurt is an essential ingredient used all over India. It is a traditional way to make milk last longer. It is used as a marinade, as a base for sauces, eaten on its own, it is used for religious purposes, and, as here, used for drinks.
Mint
Cilantro
Salt
Ghee – traditionally, a vaghareli chaas has a vaghar with ghee and cumin poured over the top and whisked in. I like to serve my chaas cold. When you do that, the ghee creates solid chunks that I do not like. So I pour my vaghar into the blender and let the blender break the ghee down. 
Cumin
Green chili
Ice and Water – traditionally, chaas is served in clay pots, which help cool the mixture even on a hot day. I blend ice with it to make the chaas cool. Take care not to add too much water. Chaas is thinner than lassi, but should not taste watered down.
Serving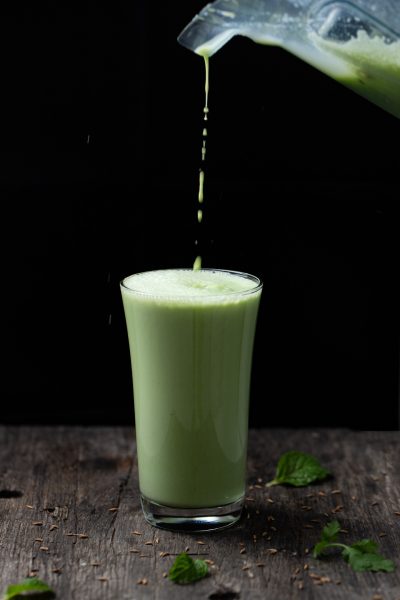 Chaas is frequently served as an afternoon, refreshing drink. It is enjoyed across India, from the hot deserts of Gujarat to the more tropical regions of South India.
In Gujarat, we often drink it with bajri no rotlo. My favorite comfort food, khichdi chaas, is made by cooking rice and dal together, then pouring chaas over it. Chaas is also at home alongside a thali for a complete dinner or lunch.
Cooking Tips
Be aware of yogurt and water balance. You don't want to over-thin the yogurt. It should be drinkable and not thick like lassi, but you want to maintain the presence of the yogurt.
It's hard to mess up chaas. Have fun with it, and add whatever appeals to you.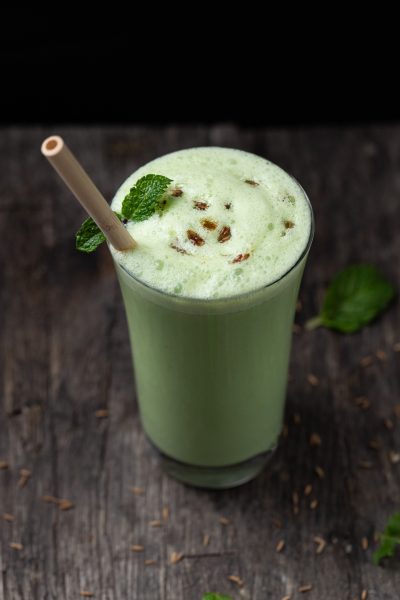 Variations
You can add ginger or dried ground ginger to the recipe
You can add chaat masala or black salt
If you don't want to add the vaghar, you can leave the ghee out; just add a little toasted cumin directly in
I have made this with regular Indian-style yogurt. If using Greek yogurt, add a little extra water (1/4-1/2 cup) to get the right consistency.
If you don't like mint or cilantro, you can leave one or both out
Although not traditional, I think this would be good with dill
Pink beet chaas – add a little beet to the blender to give it a nice pink color
Refrigerating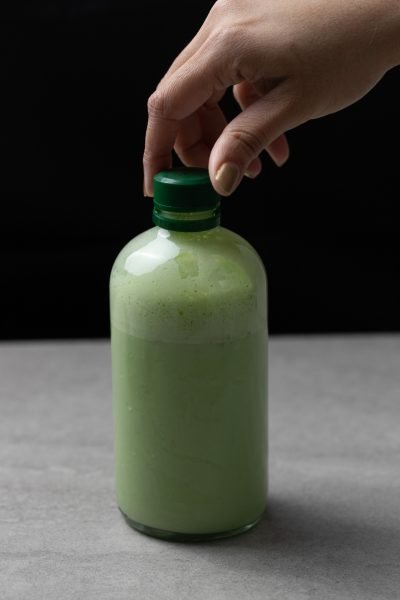 Chaas will last about four days in the refrigerator. I like to make extra and keep it in a bottle to drink over several days. Remember to shake or stir it well before serving because it tends to separate.
Masala Chaas | Vaghareli Chaas
Masala chaas is a summertime cooling, salty, spicy yogurt drink. It is perfect for hot weather and helps to beat the heat like nothing else.
Ingredients
1

cup

thick yogurt

1 ½

cups

water

20

mint leaves

¼

cup

cilantro leaves

½

tsp

salt

1

tsp

green chili
Vaghar
½

tsp

ghee

¼

tsp

cumin seeds
Instructions
Add yogurt, mint leaves, cilantro, salt and green chili to a blender.

Make a vaghar by heating the ghee. Then add cumin seeds and let them sizzle until fragrant. Remove a small amount to set aside for garnish. Pour the rest into the blender.

Blend until well mixed. Add water to thin out, blending again to combine.

Pour into a glass and top with reserved cumin seeds to garnish.
Notes
Use 2 cups water if using Greek yogurt
Nutrition
Calories:
82
kcal
Carbohydrates:
6
g
Protein:
11
g
Fat:
2
g
Saturated Fat:
1
g
Polyunsaturated Fat:
0.1
g
Monounsaturated Fat:
0.4
g
Trans Fat:
0.01
g
Cholesterol:
8
mg
Sodium:
647
mg
Potassium:
213
mg
Fiber:
1
g
Sugar:
3
g
Vitamin A:
567
IU
Vitamin C:
4
mg
Calcium:
145
mg
Iron:
1
mg