Sesame Chikki is a candy brittle made with sesame seeds and jaggery. It's a treat that is popular across all of India, and some other parts of the world too! This was one of the chikki my mom would always make for Makar Sankranti (Uttarayan, the Kite Festival) every year.
About Sesame Brittle
Chikki is a sweet brittle made all over India. We have lots of variations on it, from mumra chikki, to amaranth chikki, to peanut. This one, sesame, is one of the more popular versions.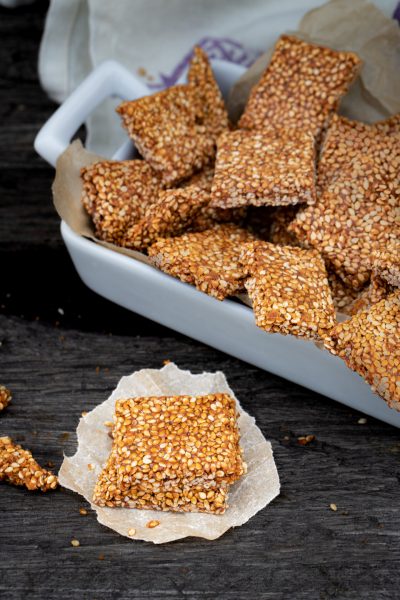 Chikki is the traditional sweet of Makar Sankranti, the Kite Festival. Every year my family makes at least 2 different brittles. Sesame is one of my favorite versions.
This recipe is true to the way my mom taught me to make it. Our family version uses slightly less sugar than many other families would. My mom started making it this way because my grandfather had diabetes and she was always looking for ways to make recipes a little healthier. It doesn't make that much of a difference, but I simply prefer it this way.
My mom also taught me to add cardamom and nutmeg. The flavors they impart are subtle and most people leave them out. They are completely optional.
Sesame Chikki has different names all across India, like gajak, til chikki, tilgul, til gur patti, maroondam, and til gud.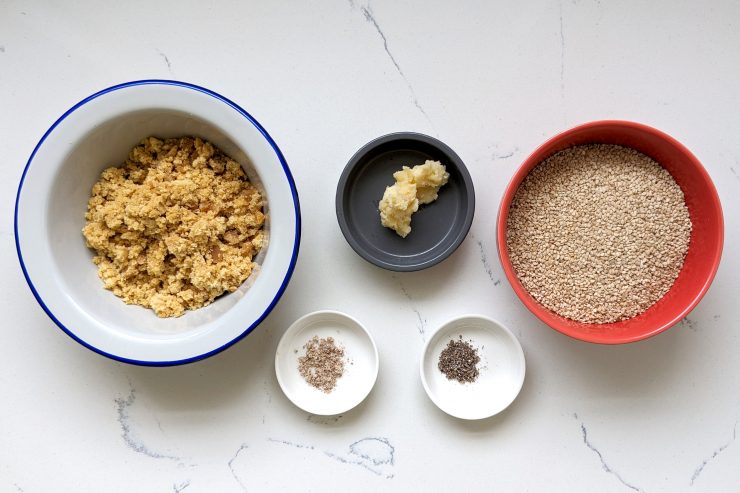 What is Jaggery?
Jaggery is the english name for what my family calls "gur" (pronounced "gor" with a long 'o'). Jaggery is a type of sugar that is not very common outside of India. It is made by boiling down sugar cane to remove the water and form a solid. Since the molasses is not refined out, jaggery is most similar to brown sugar or raw sugar, and is very similar to mexican panela.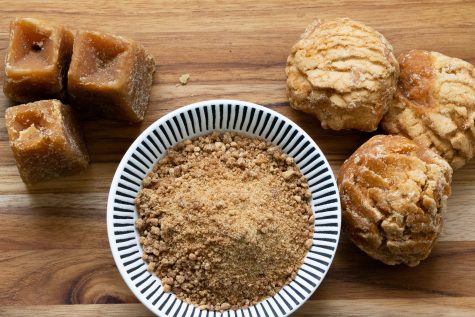 There are many types of jaggery available. If you have a choice between dark jaggery and light jaggery, for this recipe take the light jaggery. It will have the right look and you will have less of a chance of accidentally burning it.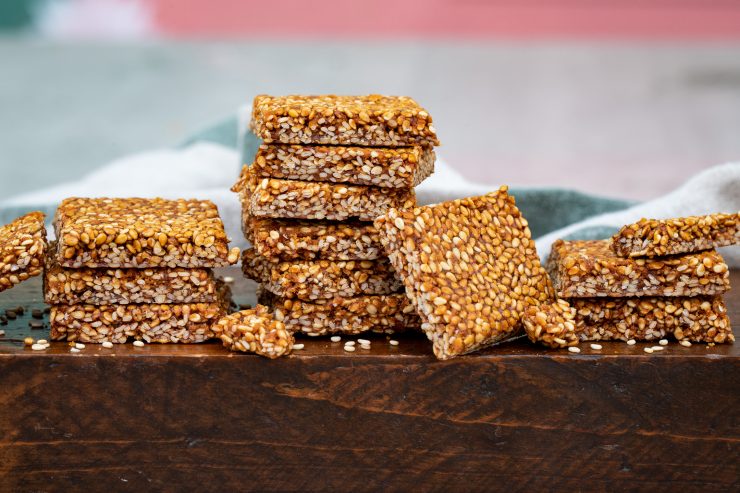 Recipe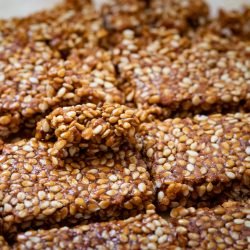 Sesame Chikki | Gajak | Til Chikki
Sesame Chikki is a brittle made with sesame seeds and jaggery
Ingredients
1

cup

sesame seeds

¾

cup

jaggery

light

1

Tbsp

ghee

⅛

tsp

cardamom

optional

⅛

tsp

nutmeg

optional
Instructions
Dry roast the sesame seeds in a warm pan until toasted. Remove from pan and set aside.

In the same pan, heat ghee and jaggery.

Heat the jaggery in the pan to hardball stage. It should foam up. If you place a drop in water to cool and remove it, it should maintain its shape and be firm. If you bend it, it should snap.

Add sesame seeds and mix well.

Transfer to a cutting board with parchment paper. Spread the bittle by patting it with the back of a greased measuring cup, or rolling it out with a rolling pin.

Cut into squares or diamonds. Allow to cool.
Notes
Optionally add a pinch of baking soda or eno.
Nutrition
Calories:
102
kcal
Carbohydrates:
12
g
Protein:
2
g
Fat:
6
g
Saturated Fat:
1
g
Polyunsaturated Fat:
2
g
Monounsaturated Fat:
2
g
Cholesterol:
2
mg
Sodium:
1
mg
Potassium:
44
mg
Fiber:
1
g
Sugar:
10
g
Vitamin A:
1
IU
Vitamin C:
0.004
mg
Calcium:
95
mg
Iron:
1
mg
Tips
Melt on medium heat, cut it as small as you can, grate it or slice it very small so that you don't end up with some pieces burning while the others haven't melted yet
Stir frequently to avoid burnt spots
Use a non-stick pan to prevent sticking and burning
Test to make sure jaggery is at hard ball stage before adding sesame. It should be foamy on top. To test, put a little in water. It should cool to a hard ball. If you drop it on a plate or glass it will make a clinky sound. It should break in your fingers rather than stretch.
Variations
Spices: the cardamom and nutmeg can be left out. You can also experiment with adding different spices like cinnamon or cayenne pepper.
It might be more common to use an equal ratio of jaggery and sesame seed, that's the way my grandmother did it.
I put it on parchment and cut out the edges, but you can use a parchment lined square pan to get firm edges.
Many people like a very thin brittle and use a rolling pin to spread it out before it sets.
Storing the Brittle
Store in an airtight container so it doesn't get soft and soggy. Like many candies, it will keep for a long time. There is no need to freeze or refrigerate, and to do so would probably lead to issues with moisture.