I think of picnics as a major part of Indian culture, so much so that school field trips were even known as "picnics." We would picnic to "National Park" in Bombay, or my family would often picnic at the beach.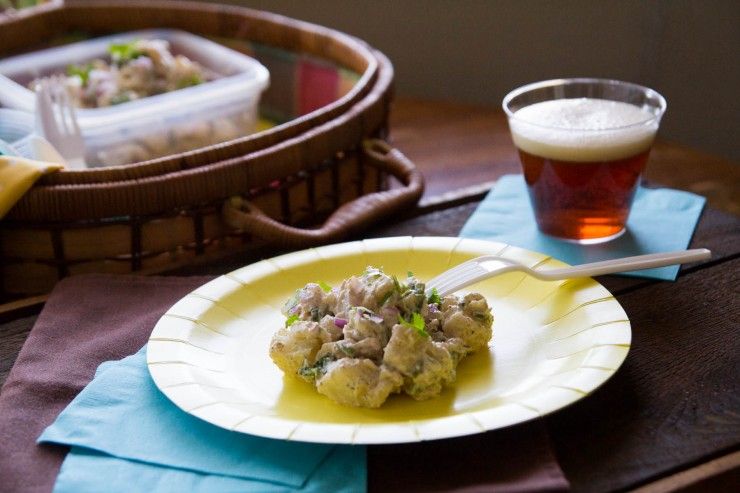 I used to talk about having picnics a lot in Virginia but it took a while for Steve and I to get around to it. But one year for his birthday I decided to take him to Shenandoah National Park, a beautiful spot in the Blue Ridge Mountains a few hours from where we lived.
It was a perfect opportunity to finally have our picnic. Steve requested some typical American picnic foods like potato salad. The only problem I have with potato salad is the mayonnaise.
I'm not a big fan of mayonnaise now, but for most of my life it really grossed me out. I don't know why, it just hits one of those nerves with me, like sour cream. So naturally, I avoid foods with a prominent mayo texture. After some thought, I decided to make one without mayonnaise.
I found a recipe online that was made with olive oil instead of mayo and thought it would be perfect. Something both of us could enjoy! I tasted it before I packed it and the flavor was good but it was a little oily. I brushed it off, deciding that it would be fine.
We set up our picnic in a beautiful meadow surrounded by mountains and trees. Unfortunately, the potato salad turned out to be a greasy mess that leaked all over our picnic basket. And worst of all Steve was incredibly disappointed. It didn't look, feel, or taste like the potato salad he grew up with.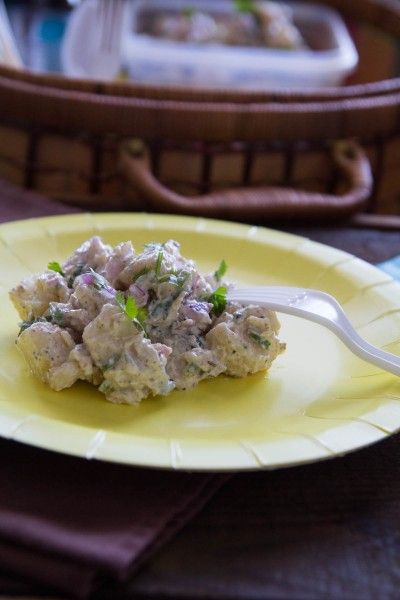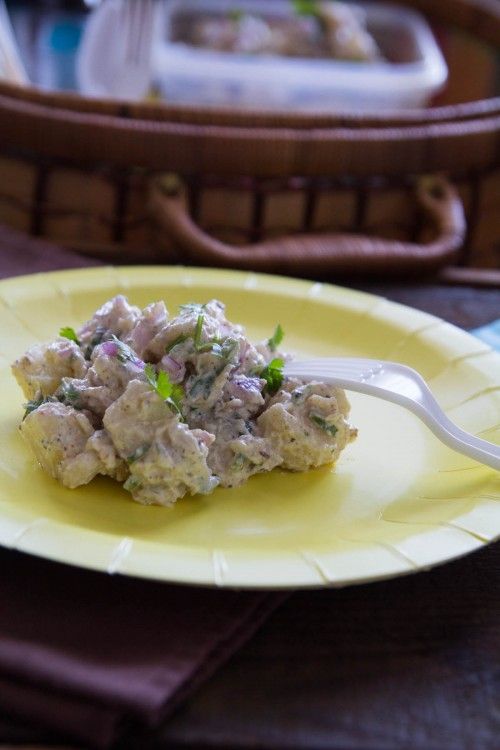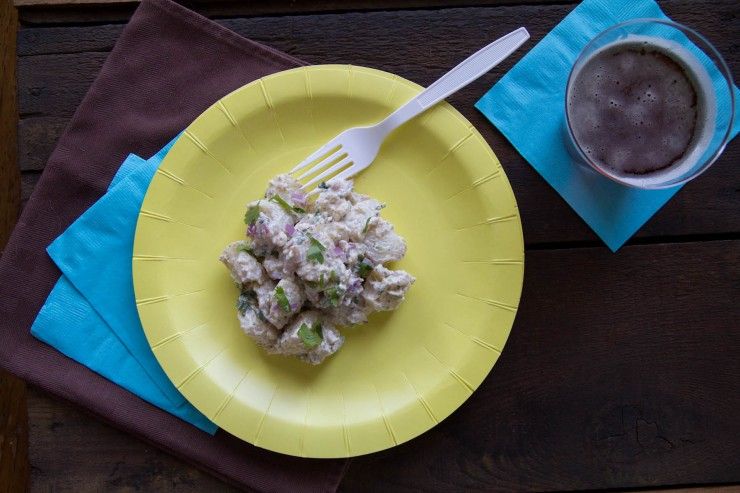 After that olive oil debacle, I tried making a potato salad that was more traditional but just substituted the mayo for Greek yogurt. It was a much more successful dish. Yogurt worked out so well that since then, I've made it my own and experimented with many versions by varying the herbs and spices.
I made this Indian spiced potato salad for the bluegrass barbecue potluck we went to last weekend.
Even though I can eat mayo in small amounts now, I still like to make my potato salad with yogurt. Not in the least because it's healthier but I also think it tastes better.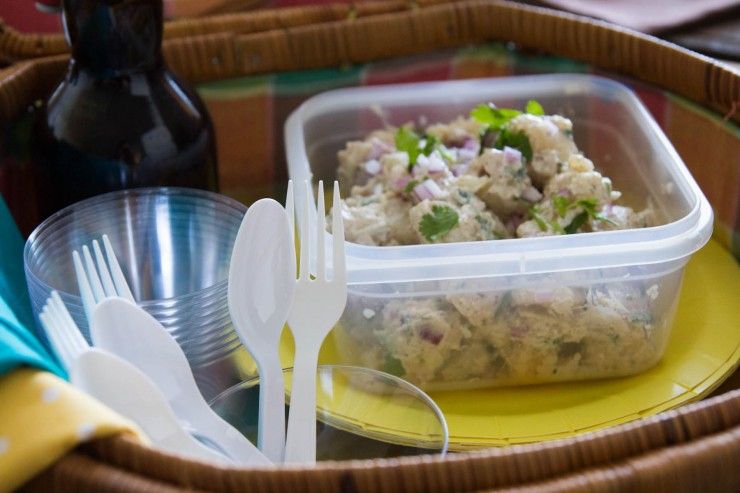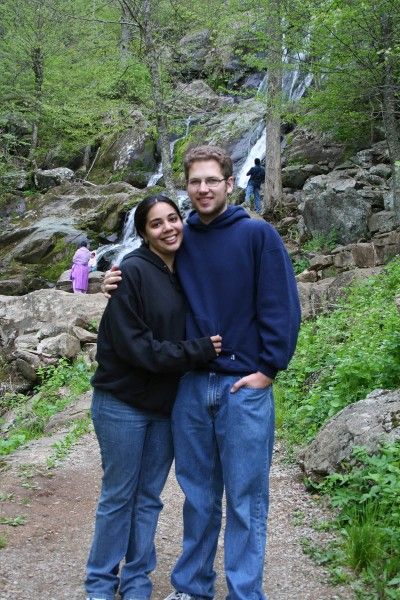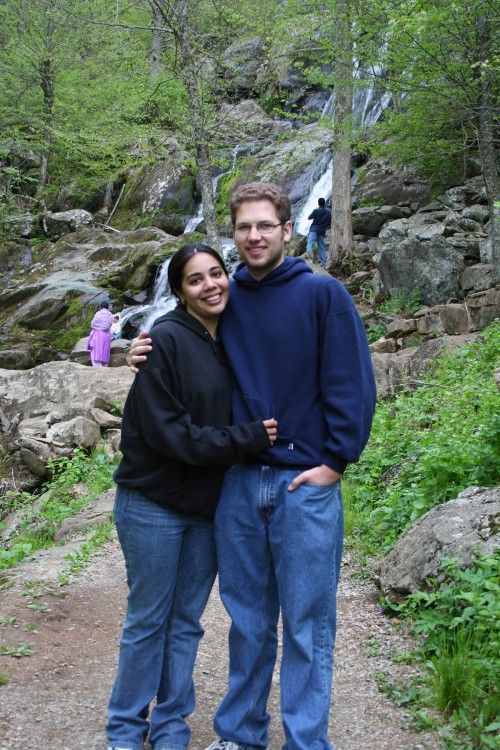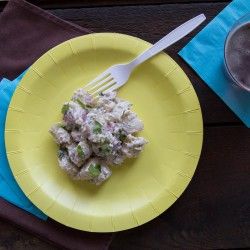 Potato Salad with Yogurt
An Indian twist on a traditional American potato salad
Ingredients
6

medium potatoes

about 2 pounds

1

cup

thick yogurt

1

small red onion

chopped (about 2/3 cup)

1

serrano chili

chopped

½

tsp

ginger

grated

½

tsp

red chili powder

use 1/4 tsp if using cayenne

2

tsp

cumin

dry roasted and roughly ground

2

tsp

salt

or to taste

¼

tsp

ground black pepper

big handful of chopped cilantro
Instructions
Peel the potatoes and toss them into a large pot. Fill the pot with enough water to cover the potatoes. Turn on the heat to high and let water come to a boil. When it boils, turn the heat down to medium and let cook for about 20 to 25 minutes until the potatoes are cooked through. Drain and let cool a few minutes.

While the potatoes are cooling, measure out the yogurt into a large bowl. Add the ginger and salt. Stir making sure the ginger is mixed well. Add the rest of the ingredients and mix well.

Once the potatoes have cooled, cut them into 1/2 inch cubes and mix into the yogurt mixture.
Notes
This makes a big batch that is good for parties and potlucks
Nutrition
Serving:
0.5
cup
Calories:
162
kcal
Carbohydrates:
33
g
Protein:
7
g
Fat:
1
g
Saturated Fat:
1
g
Polyunsaturated Fat:
1
g
Monounsaturated Fat:
1
g
Trans Fat:
1
g
Cholesterol:
2
mg
Sodium:
802
mg
Potassium:
810
mg
Fiber:
4
g
Sugar:
3
g
Vitamin A:
73
IU
Vitamin C:
35
mg
Calcium:
69
mg
Iron:
2
mg