Steve and I went to a bluegrass jam and barbecue last weekend at a friend's house. Steve's been playing bluegrass guitar for a few months now.He's always practicing around the house. And now it's as if we've always been surrounded by bluegrass music.
I've learned a whole bunch of songs and can sing them start to finish from memory (you probably wouldn't want to be around me while I'm doing it though, because I'm a terrible singer).
He goes to a lot of bluegrass jams, where a bunch of musicians get together and play music and I often tag along because I really enjoy the music.
I wanted to bring something that fit the theme of a barbecue. We had just bought a giant Costco bag of tortilla chips to satisfy a nacho craving and now we wanted to get rid of all of the extra chips. So I thought the perfect item to bring was chips and salsa.
I wanted to make it ingredients I had on hand so I thought of a mango and avocado salsa. I love mango and avocado together! But Steve ended up going to the produce market anyway so I asked him to pick up some fresh corn. I flame-grilled the corn my usual way.
I really liked the salsa but I wasn't sure how everyone else would feel about it. We got there and I set up my salsa and potato salad and realized that I'd forgotten the chips. The chips were the whole reason why I made the salsa in the first place! (So we've made nachos at home a couple of more times since then).
People ended up eating the salsa with crackers and potato chips. Salsa and potato chips is really delicious! I actually preferred the salsa with potato chips. I don't know why it's not more common. Of course, Steve thinks I'm crazy. He prefers the traditional tortilla chips.
I wasn't planning to make a blog post out of this salsa. But everyone at the barbecue kept asking me how to make it so I decided I'd share it here.
I also made a potato salad that I will share soon. We didn't have time to take any pictures so I'll have to make it again first!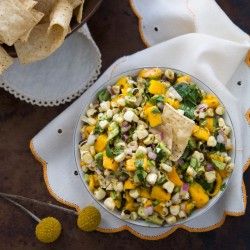 Mango Avocado Salsa with Flame Grilled Corn
An Indian-inspired salsa with flavors that are easily at home with a Mexican meal
Ingredients
1

small mango

diced (I used a Champagne mango)

1

avocado

diced

1

tsp

cumin

1

corn on the cob

1

serrano chili

seeded and diced

1

shallot or 1/4 red onion

finely diced

1

lemon

¼

tsp

ginger

grated

handful of chopped cilantro

½

tsp

salt

or to taste
Instructions
Flame grill the corn on the cob by setting it on the gas stove and rotating every few seconds until the corn is evenly charred on all sides. (Check out this post for more detailed instructions)

Heat a small pan (anything but nonstick) and dry roast the cumin seeds until fragrant. Roughly grind them in a mortar and pestle.

In a medium bowl, mix the ginger with the lemon juice. Add in the rest of the ingredients and stir.
Notes
If you like a spicier salsa, like me, add a 1/4 tsp of cayenne
If the mango is really tart and not quite ripe enough, just add a tablespoon of brown sugar to the salsa
If you think roasting the corn and cumin is too fussy, I'm sure it would taste fine with just regular canned or frozen corn and powdered cumin (the roasting really doesn't take long though and the flavor is amazing!)
This recipe is easily multiplied for larger parties
Nutrition
Calories:
97
kcal
Carbohydrates:
13
g
Protein:
2
g
Fat:
5
g
Saturated Fat:
1
g
Polyunsaturated Fat:
1
g
Monounsaturated Fat:
3
g
Trans Fat:
1
g
Sodium:
200
mg
Potassium:
309
mg
Fiber:
4
g
Sugar:
7
g
Vitamin A:
468
IU
Vitamin C:
27
mg
Calcium:
18
mg
Iron:
1
mg