I often think of eating warm corn on the cob or Bhutta as we call it in Hindi on cloudy, rainy days. I know it seems weird because here in America, we often associate corn on the cob with summer and barbecue. But in India, fresh corn becomes available in the rainy season.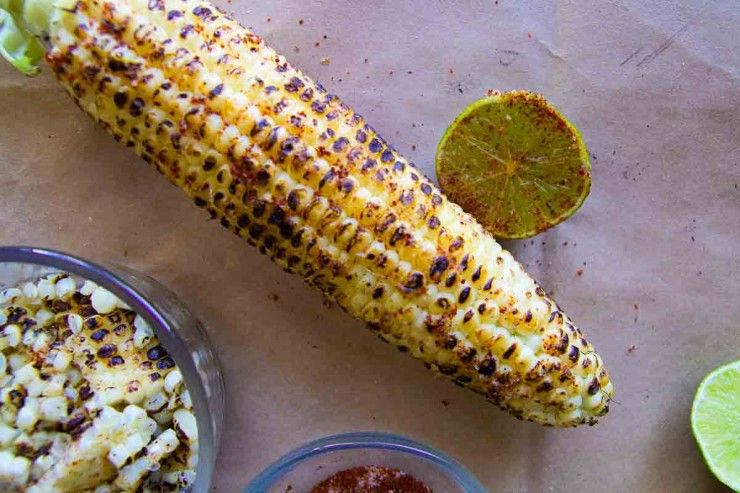 When the corn season starts, the streets are suddenly flooded with makeshift corn vendors, with their push carts piled high with freshly picked, succulent corn cobs.

When we were kids, my friends and I would stop at the corn cart to buy fire roasted corn while on break from boarding school in Panchgani (a hill station in India). We'd walk up to the vendor, select the cob we wanted to eat, watch him peel the husks away and throw it onto his tava (an iron wok like contraption) lined with sand and charcoal with a healthy flame going.
He would fan the flame with either a makeshift piece of cardboard or a palm frond fan. Then rotate the cob every few seconds until the whole thing was nicely cooked with a little char on it. It took only a couple minutes. Then he's slather the cob with a half lemon dipped in a salt and chili powder spice mixture. We'd walk around gossiping about boys and eating the salty, spicy flame grilled corn. It was delicious!
This flame grilled corn is easy to replicate either on a grill or even on a gas burner in the kitchen. It takes just a few minutes and you can eat it right off the cob or slice off the kernels and add them to a salad.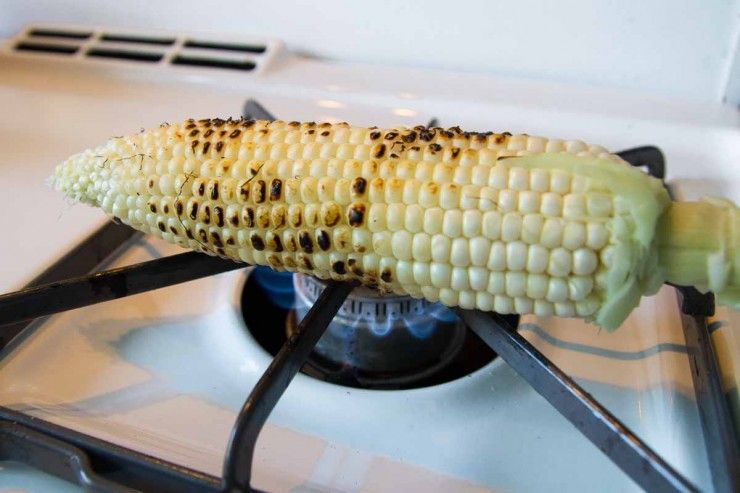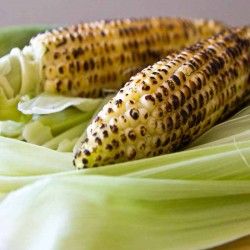 Indian Flame Grilled Corn (Bhutta)
This flame-grilled corn street food is easy to replicate either on a grill or even on a gas burner in the kitchen
Ingredients
2

whole cobs of corn

1

lemon or lime cut into half

1

tsp

salt

1

tsp

red Kashmiri chili powder

reduce quantity to 1/2 tsp if using cayenne because it tends to be spicier
Instructions
Peel off corn husk and fibers

Roast the corn on a medium gas flame or a medium hot grill (if you only have an electric stove, you can still roast the corn by covering the electric coil with a cooling rack used for baking. Then just place the corn on the rack and follow the rest of the instructions). Keep in one position for about 15 to 20 seconds and rotate. It should take about two to three minutes for the whole cob to cook.

Mix the salt and chili powder in small bowl.

Dip the cut side of the lemon/lime into the spice mixture and smear onto the roasted corn.

Squeeze some lemon on as you rotate as well to make sure that you get some tart flavors too.
Nutrition
Calories:
83
kcal
Carbohydrates:
18
g
Protein:
3
g
Fat:
1
g
Saturated Fat:
1
g
Polyunsaturated Fat:
1
g
Monounsaturated Fat:
1
g
Trans Fat:
1
g
Sodium:
1193
mg
Potassium:
272
mg
Fiber:
2
g
Sugar:
6
g
Vitamin A:
469
IU
Vitamin C:
9
mg
Calcium:
9
mg
Iron:
1
mg