How many times have you been to a barbecue and been severely disappointed by the selection of store bought burgers and hot dogs with a bare minimum of condiments? It happens to me all the time.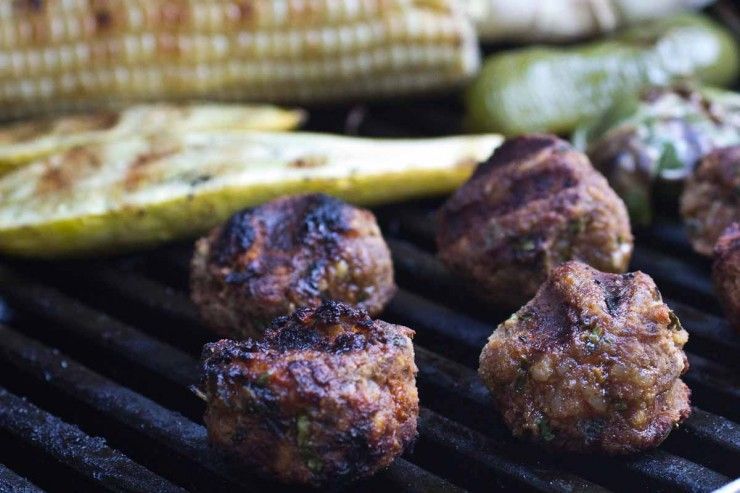 Since it's 4th of July week, I've been thinking about barbecuing all week. Even though I love grilled vegetables, I wanted to grill something with protein. Store bought veggie burgers and soy hot dogs were not an option. They always taste bland to me.
Vegan meatballs sounded good. I looked up several recipes on the internet. I didn't find anything with the ingredients I had on hand and the flavors I was craving. So, I decided to stick to what I know, lentils and rice, and make up my own recipe in the style of a kofta.
I think they came out great. Let me know what you think!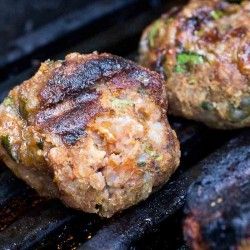 Grilled Vegan "Meatballs" (Kofta)
Vegan meatballs inspired by Indian kofta
Ingredients
½

cup

red lentils

masoor dal

¼

cup

mung dal – Just use 3/4 cup red lentils if you don't have any mung dal

¼

cup

rice

½

cup

bread crumbs

3

garlic cloves

grated on a microplane or finely minced

1

inch

piece of fresh ginger

grated

¼

medium sized onion

grated or finely minced

½

jalapeno

chopped

1

cup

cauliflower

steamed or boiled

2

small carrots

steamed or boiled

1

tsp

garam masala

¼

tsp

cayenne pepper

¼

cup

roughly ground nuts – walnuts

cashews, peanuts…anything goes

2

tbsp

nutritional yeast

optional

2

tbsp

tomato paste

½

cup

chopped cilantro

½

tsp

salt
Instructions
Bring 2 1/4 cups of water to boil and add the lentils and rice. Return to boil. Cover and cook for 15 minutes on low heat.

Squeeze as much water out of the cooked cauliflower and carrots as possible and toss into a large mixing bowl.

Add all the other ingredients and the rice and lentil mix.

Mix well.

Form into little "meatballs". I used a 1/8 cup measure so that they would all be the same size, you can eyeball it if you prefer.

Refrigerate until ready to cook.

These can be grilled, sauteed or baked.

Serve lined into a hot dog bun with cilantro chutney and pickled onions. Or just plain with ketchup.
To Grill:
Preheat grill. Brush with oil to prevent sticking.

Cook "meatballs" with the top closed on medium heat for 10-15 minutes turning mid way.
To Bake:
Preheat oven to 400 degrees.

Bake on a greased baking sheet for about 20 minutes.  Until golden brown.
To Sautee:
Heat a tablespoon of oil on a nonstick pan.

Sautee meatballs on medium high heat for about 10-12 minutes, until evenly golden brown on the out
Nutrition
Calories:
317
kcal
Carbohydrates:
50
g
Protein:
16
g
Fat:
6
g
Saturated Fat:
1
g
Polyunsaturated Fat:
4
g
Monounsaturated Fat:
1
g
Sodium:
489
mg
Potassium:
652
mg
Fiber:
13
g
Sugar:
5
g
Vitamin A:
5459
IU
Vitamin C:
21
mg
Calcium:
79
mg
Iron:
4
mg