Cut Mirchi is a crispy chili fritter stuffed with a tangy filling and served with onions and chaat masala. It is a very popular Andhra street food that is double-fried. Even though Andhra food is known to be very spicy, cut mirchi is most often made with a milder chili.
About this Recipe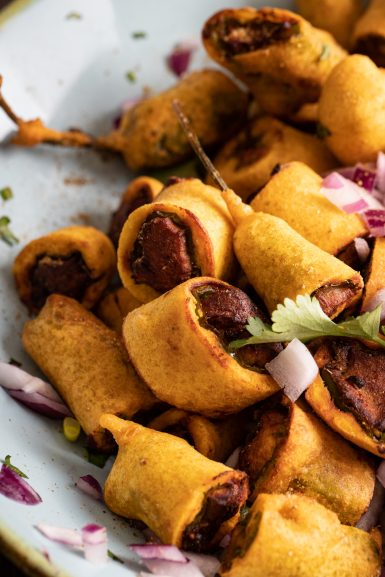 This was a dish I had a few years ago when I visited Hyderabad. Finding the right chili to use in the US proved to be a little tricky. I tried a few different chiles. Many of the thicker fleshed chilies didn't provide the right texture. They either didn't cook all the way or were just too fleshy to balance well in the recipe.
Jalapenos are the easiest chili to find in the US, but they can be too spicy for this dish, and the shape and texture weren't quite right. It was really important for the chili not to have too large of a cavity in the center because the chili-to-batter ratio got thrown off if there was too much space to put the filling. The jalapeno also didn't hold onto the batter after I fried it.
Shishito peppers turned out to be the perfect pepper. The shishito pepper is thin-skinned and has a narrow cavity. It also held onto the stuffing with no problem. Shishitos were also perfect for the mild flavor they provided, which didn't compete with the tangy filling.
Ingredients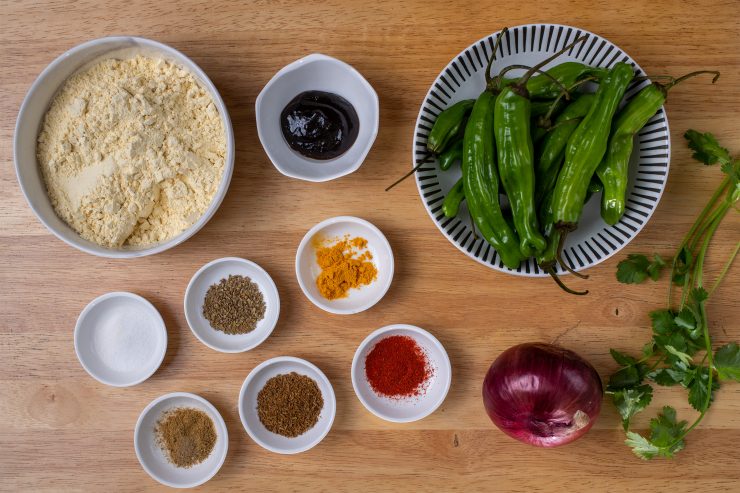 Besan – Besan is the main ingredient of most pakoras. This recipe uses it in the stuffing as well as the batter. I found it necessary to include it in the stuffing in order for the stuffing to be sticky enough to stay in place. Some people toast the besan before including it in the stuffing. You do not have to do that because it will cook during the process of double frying.
Shishito Peppers – narrow, mild chili that is widely available in the US.
Tamarind paste / Tamarind concentrate
Cumin
Ajmo – an ingredient commonly found alongside besan. Ajmo helps with digestion.
Chili powder
Turmeric
Onion
Cilantro
Chaat masala
Salt
Cooking Tips
For the Stuffing:
It's important for the stuffing to be thick enough, and sticky enough, to not only be able to be stuffed in the chili but for it to stay in the chili when you cut the chili after frying.
This recipe is similar to stuffed mirchi bajji. For stuffed mirchi bajji, you don't have a thick, gooey batter stuffing because you just want to coat the inside with the tanginess, then add the onions later. So it is very different, has to be thick and gooey.
A lot of people toast the besan before using it in the stuffing. But because you are cutting them and then frying them, the besan gets cooked along with the chili, so this is not necessary.
The Batter
The batter must be very thick. You want a thick coating of batter on the outside of your chili that will stick to it.
Cutting the Chilies
Take care to cut the chili cleanly. You do not want to remove the outer layer or squeeze the batter out. The trick is to use a slow, careful sawing motion (and a sharp knife). A serrated blade can work well for this.
The Frying Oil
The oil needs to be hot, about 350-375°F. You can test it by dropping a bit of batter in. It should come up about a second after dropping, instead of immediately. If it comes up too quickly, your oil is too hot.
It's important that the oil is not too hot to completely cook your stuffing, but hot enough that the oil doesn't soak into the batter.
Recipe
Cut Mirchi | Mirapakaya Bajji
A crispy chili fritter stuffed with a tangy filling and served with onions and chaat masala.
Ingredients
3

oz

shishito peppers

a mild chili pepper
Filling
½

cup

besan

(chickpea flour)

1

Tbsp

tamarind paste

1

tsp

cumin powder

¼

tsp

salt

2

Tbsp

water
Batter
1

cup

besan

½

tsp

ajmo

(carom seeds)

½

tsp

turmeric powder

¼

tsp

salt

⅓

cup

water
Garnish
¼

cup

onion

chopped

½

tsp

chaat masala

2

Tbsp

cilantro
Instructions
Slit the chilies lengthwise. Using a small spoon, remove the veins and seeds.

Make a paste with tamarind, cumin powder, salt, besan, and water.

Stuff the chilies with the paste.

Make a batter with 1/3 cup water and 1 cup besan.

Dip the chilies into the batter. Fry until lightly golden. Remove and let cool.

Cut the fried chilies into 1-2 inch pieces. Fry the pieces until crisp.

Sprinkle with chaat masala, onion, and cilantro.
Nutrition
Calories:
203
kcal
Carbohydrates:
32
g
Protein:
11
g
Fat:
3
g
Saturated Fat:
0.4
g
Polyunsaturated Fat:
1
g
Monounsaturated Fat:
1
g
Sodium:
326
mg
Potassium:
505
mg
Fiber:
6
g
Sugar:
8
g
Vitamin A:
242
IU
Vitamin C:
32
mg
Calcium:
35
mg
Iron:
3
mg
Variations and Substitutions
Swap tamarind for amchoor or lemon juice. If using lemon juice, you might not need any water at all. The juice should be enough to form the paste.
Add anything you want to either the filling: garam masala, extra red chili powder to make it spicier,
Type of chilies: you can try it with a fatter chili, but I had a strong preference for thinner.