With this recipe, you can make a crisp, flavorful zucchini and squash dish in your air fryer. It is inspired by one of my very favorite eggplant dishes, a Maharastrian dish called "vangyache kaap." It uses panko breadcrumbs to crisp up in the air fryer, as well as paprika and cilantro for flavor.
About the Recipe
This recipe is based on a pan-fried crispy eggplant dish that my boarding school chef used to make for us. The original recipe is made with a spiced semolina and besan mixture. I took that idea and simplified it to make these zucchini and squash chips in the air fryer. My version keeps the besan (chickpea flour), but you can easily replace the besan for more panko if you don't have it.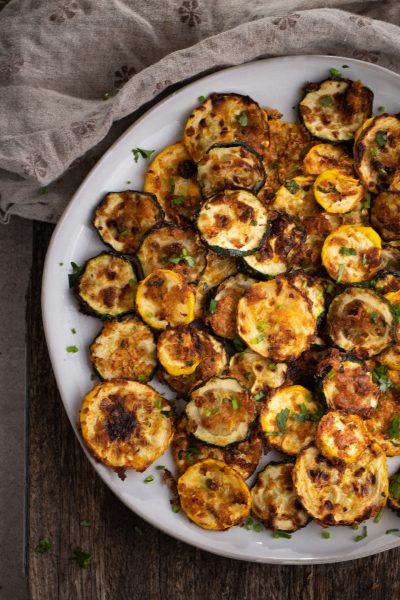 One other major difference is that vangyache kaap is eaten with roti, but I wanted something more snackable that could be eaten on its own. For that, I swapped panko bread crumbs for the original semolina and only added light spices.
Ingredients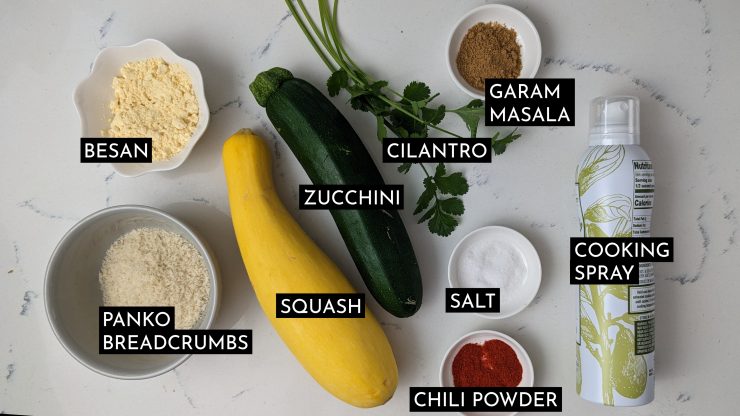 Squash & Zucchini – Yellow squash and zucchini are not traditional Indian ingredients. My parents adopted zucchini into their recipes when they first came to the US in the 1970s and it fit right in. I wasn't born until much later, so zucchini was always a natural ingredient to me.
In this dish, they simply look good together and create a variation that is appealing on a plate. You could easily just make it entirely with one or the other if that's what you have.
Panko breadcrumbs – Use panko breadcrumbs for the crispness. You can use regular breadcrumbs, but the panko style makes them flakier.
Besan (chickpea flour) – helps the spices stick together and has a subtle nutty flavor and smooth texture that really enhances the overall dish. If you don't have besan, use more panko in its place.
Garam masala – gives it an Indian flavor profile. I'll offer some substitutions later if you are looking for a more western dish.
Chili powder – adds some heat, completely optional.
Salt
Serving Suggestions
This dish is great as an appetizer or as a side dish. If you want to serve it as a vegetable side, cut the squash into thicker pieces. It will go great alongside any kind of meat dish like Saffron Tandoori Chicken, or even non-Indian dishes like steak.
As an appetizer or snack, you should serve it with a dipping sauce, like green chutney, ranch dressing, or ketchup.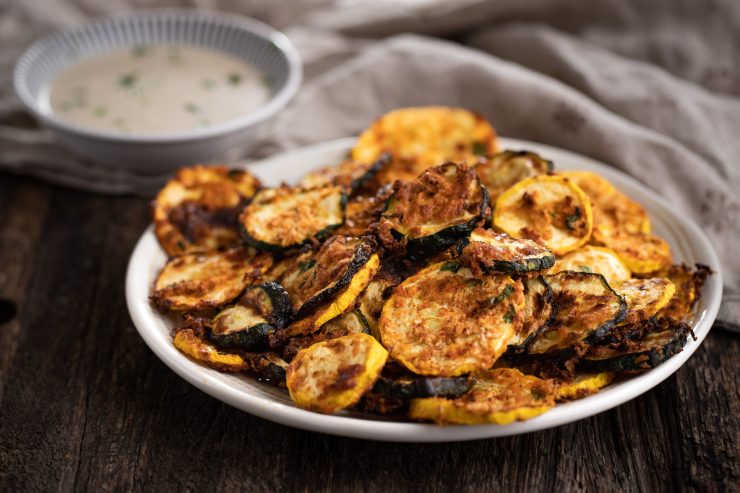 Tips
Everything in this dish depends on how thinly you slice your zucchini. You can cut it thin for a crispy, chip-like dish. These will cook faster and burn more easily so be diligent about taking them out on time. If you cut them very thin you will need to reduce the cook time. A thicker cut will give you more of a "side-dish" texture and you may need to cook it longer.
Air fryer cook times vary depending on which brand of air fryer you are using, we use Instant Pot brand of air fryer
The way I have cut them, about 1/4" gives a very crispy exterior texture with a soft interior. But the squash should be eaten right away because they will quickly start to soften.
By the end of this recipe, the batter might start to look a little soggy as it picks up water from the squash. It's okay. Your squash will still crisp up in the air fryer.
Variations and Substitutions
Add granulated garlic powder or fresh minced garlic to make it garlicy
Leave out the chili powder or adjust the quantity to adjust spiciness
For a different flavor profile, leave out the garam masala and add thyme or an Italian herb blend
You can leave out the besan and just add a little more breadcrumbs. The breadcrumbs will still give you the crispiness.
Storage Tips
Store them in the refrigerator for up to three days and reheat in a pre-heated air fryer at 380 degrees for 2-3 minutes. Be sure to keep an eye on them so they don't burn.
Recipe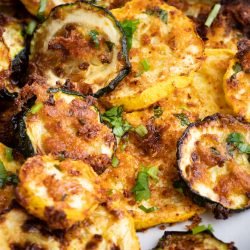 Air Fryer Zucchini and Squash
Make a crisp, flavorful zucchini and squash dish in your air fryer
Ingredients
1

large zucchini

1

large yellow squash

2

Tbsp

besan

chickpea flour

¼

cup

Panko breadcrumbs

1

tsp

garam masala

½

tsp

salt

or to taste

2

Tbsp

cilantro

finely chopped (optional)

Cooking spray
Instructions
Slice the zucchini and squash to form 1/4" thick circles. You can cut them thinner for a crunchier "chip" or thicker for more of a side-dish squash.

Salt the squash and zucchini, and let them sit in the salt for at least 5 minutes, so they start to release their water.

Mix spices, besan, panko, and cilantro in a bowl.

Add the zucchini and squash to the mixing bowl. Toss to coat with the mixture.

Preheat the air fryer to 400°F. Cook for 7-9 minutes, flipping about halfway through.
Notes
If left to sit, or refrigerated, you can re-crisp the squash by adding it back to the air fryer at 400°F for 1-2 minutes.
Nutrition
Calories:
48
kcal
Carbohydrates:
8
g
Protein:
3
g
Fat:
1
g
Saturated Fat:
0.1
g
Polyunsaturated Fat:
0.3
g
Monounsaturated Fat:
0.1
g
Sodium:
326
mg
Potassium:
296
mg
Fiber:
2
g
Sugar:
3
g
Vitamin A:
211
IU
Vitamin C:
17
mg
Calcium:
24
mg
Iron:
1
mg