This is a recipe for Gujarai Dangela, which are savory zucchini pancakes, with sesame seeds. This recipe tastes a little like the traditional handvo, a famous Gujarati dish but only takes a fraction of the time to cook.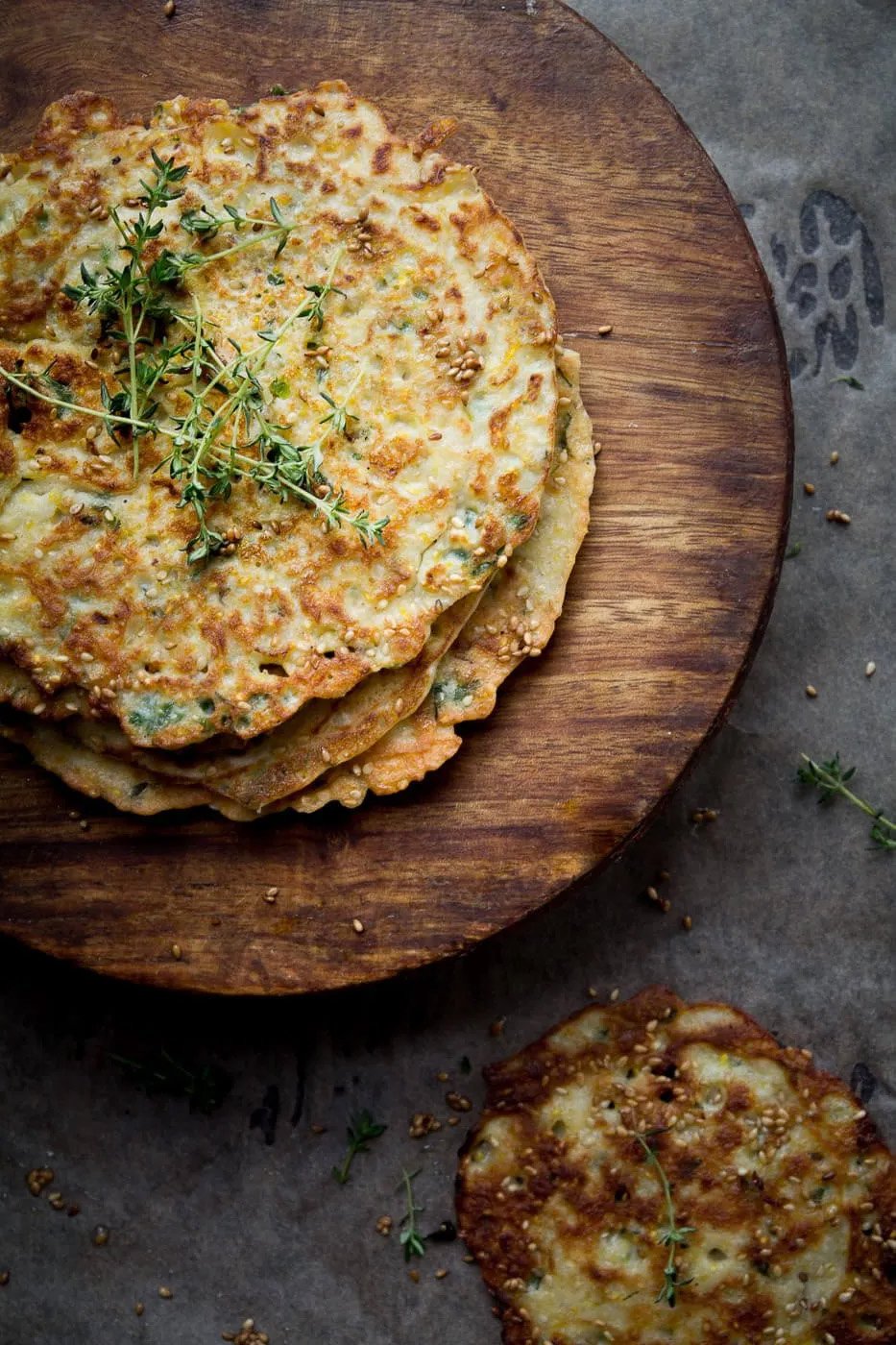 Gujarati dangelu are great to make when you want to use up items in your pantry, and they also make great a great kid food. If your kid is anything like mine, you can sneak in just about any vegetable into them and they will love it because it's bread. Even better, you can call it a pancake.
The Ingredients
The most traditional version of this dish would be made from regular handvo batter. That would be a mix of half rice and half dal. You can add whatever vegetables you have on hand. I am using zucchini which isn't very common in India. If I were in Gujarat, I would be using dudhi (bottle gourd). 
I often use zucchini in place of dudhi because I can find it so easily at the regular store. They have a similar taste and texture.
To mix things up, you can add peas, carrots, spinach, cabbage, mashed edamame, or just about anything you might think up.
I didn't use a traditional handvo batter, I used flour in place of dal. That way I didn't have to soak the dal overnight. I used wheat flour, but pretty much any flour would work here.
This is a pancake recipe, preparing it is very similar to pancakes. You want to make sure to cook it all the way through, while also getting a crispy outer layer. That means getting the moisture of the batter right. It should be fairly thick so it stays together and hold all of the vegetables.
It also means finding the heat level that is just right for your batter so it cooks in the middle and gets slightly toasted on the outside.
Dangela are packed with flavor, so I keep the accompaniments simple. I serve these with a side of yogurt with some cumin sprinkled on top, and with some basic green chutney.
Zucchini Dangela (Savory Zucchini Pancakes) with Sesame Seeds
Savory Pancakes made from handvo batter with zucchini and sesame seeds
Ingredients
1

cup

grated zucchini

1

tsp

ginger

grated

1

green chili

chopped (or to taste if you like your food less spicy)

2

tsp

fresh thyme

roughly chopped

½

tsp

cumin seeds

½

cup

corn meal

¾

cup

atta flour

(or sub All-purpose flour)

¼

cup

brown rice flour

1

egg

beaten

salt

to taste

3

tbsp

oil

1

tbsp

sesame seeds
Instructions
Combine the first nine (all except the oil and ingredients in a medium sized bowl. Add water a little at a time until the mixture forms the consistency of pancake batter (usually about 1/2 to 1 cup of water).

Heat a cast iron pan with a splash of oil over medium heat. When the oil shimmers, add a couple pinches of sesame seeds and pour about a quarter cup of the batter over the oil and sesame seeds. Spread out the batter a little to form a pancake.

Let cook until the first side is golden brown. Flip the pancake and cook the other side for a little bit.
Notes
A more traditional version of this would be made with Dudhi (bottle gourd). For the dudhi version, just use dudhi in place of zucchini (equal amount).
Nutrition
Calories:
333
kcal
Carbohydrates:
44
g
Protein:
8
g
Fat:
14
g
Saturated Fat:
2
g
Polyunsaturated Fat:
4
g
Monounsaturated Fat:
8
g
Trans Fat:
1
g
Cholesterol:
41
mg
Sodium:
61
mg
Potassium:
309
mg
Fiber:
4
g
Sugar:
2
g
Vitamin A:
229
IU
Vitamin C:
14
mg
Calcium:
47
mg
Iron:
3
mg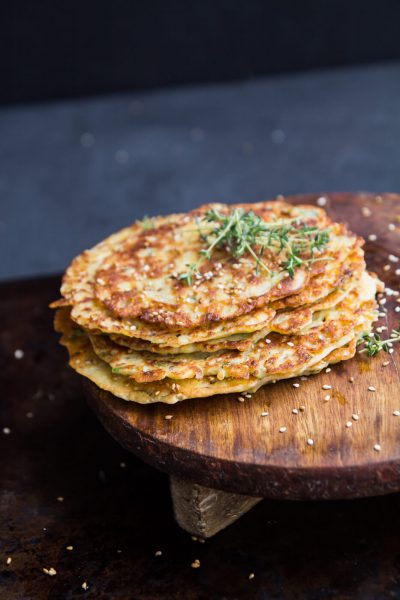 (Originally published August 1, 2015; republished August 4, 2022)