I did some research and came up with what I hoped would be a very traditional, restaurant-style tandoori chicken. What's special about this meal is that we actually planned it out ahead of time, and started making it the night before since the chicken has to marinate for at least a few hours. We usually don't start to make food until we're already hungry! Also, we rarely have meat in the house.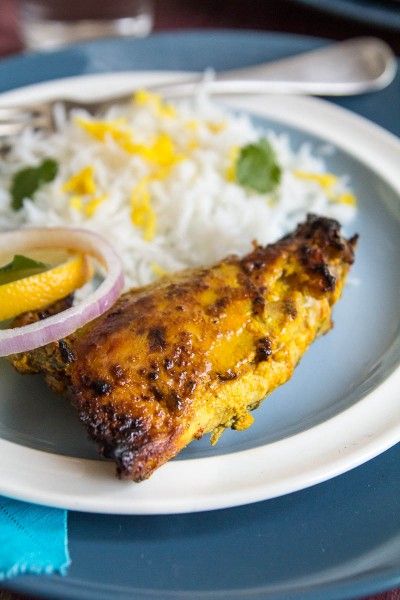 The results were not what I was hoping for. Think of it as a happy accident, if you like saffron. I was most focused on getting the right level of sourness, from yogurt and lemon, and I missed something really obvious.
My recipe was a little light on Indian spices, noticeably missing the garam masala. And the color isn't right for tandoori chicken. I knew it wasn't going to be bright red, because I didn't want to add red food coloring like restaurants and Indian street vendors do.
I was hoping the chili powder would give it some red color. Instead it came out yellow.
The real accident was with the saffron. I don't really like saffron, but many tandoori recipes call for it, so I thought I would put in a pinch. Just enough so it was there, but not enough to bother me. Then after I put the pinch in, I decided that was just not quite enough.
I quickly grabbed another small pinch from the bag and threw it in the bowl. Only I wasn't paying enough attention and a huge clump flew into the bowl with it! Fortunately most of the clump landed on the clean part of a whisk I had resting in the bowl, otherwise the marinade would have been ruined as well as a lot of this highly prized saffron that my mom brought for us from India a few months ago.
Ultimately the dish worked out. But saffron was the dominant flavor and even though the chicken came out great the saffron flavor ruined it for me.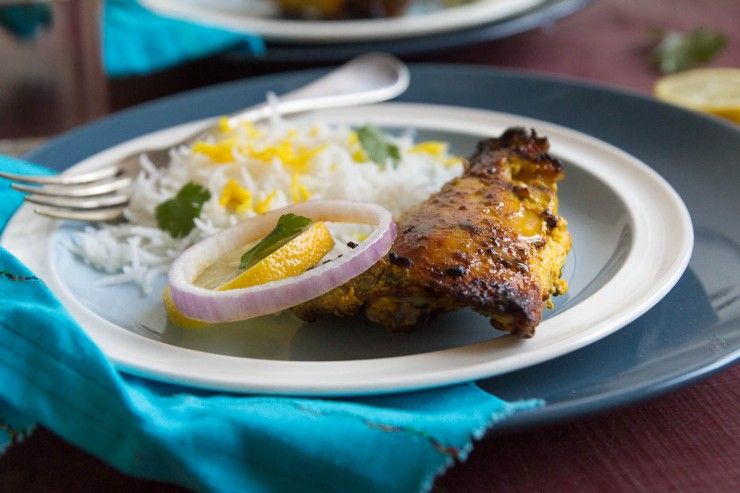 I used the broiler because in my opinion that is the most similar cooking technique to the Tandoor that we have in a typical American kitchen. It allows for very high heat cooking while letting the butter and juices drip off as the chicken cooks. In the end the texture of the chicken came out just as I had wanted.
I plan to do a more a proper tandoori chicken post in the future, until then you can also try Baked Tandoori Chicken Wings with Cumin Yogurt Dip. I probably should have thought to use that recipe as a starting place for my marinade.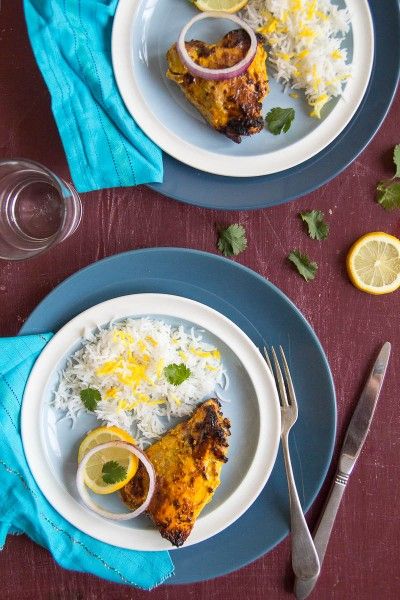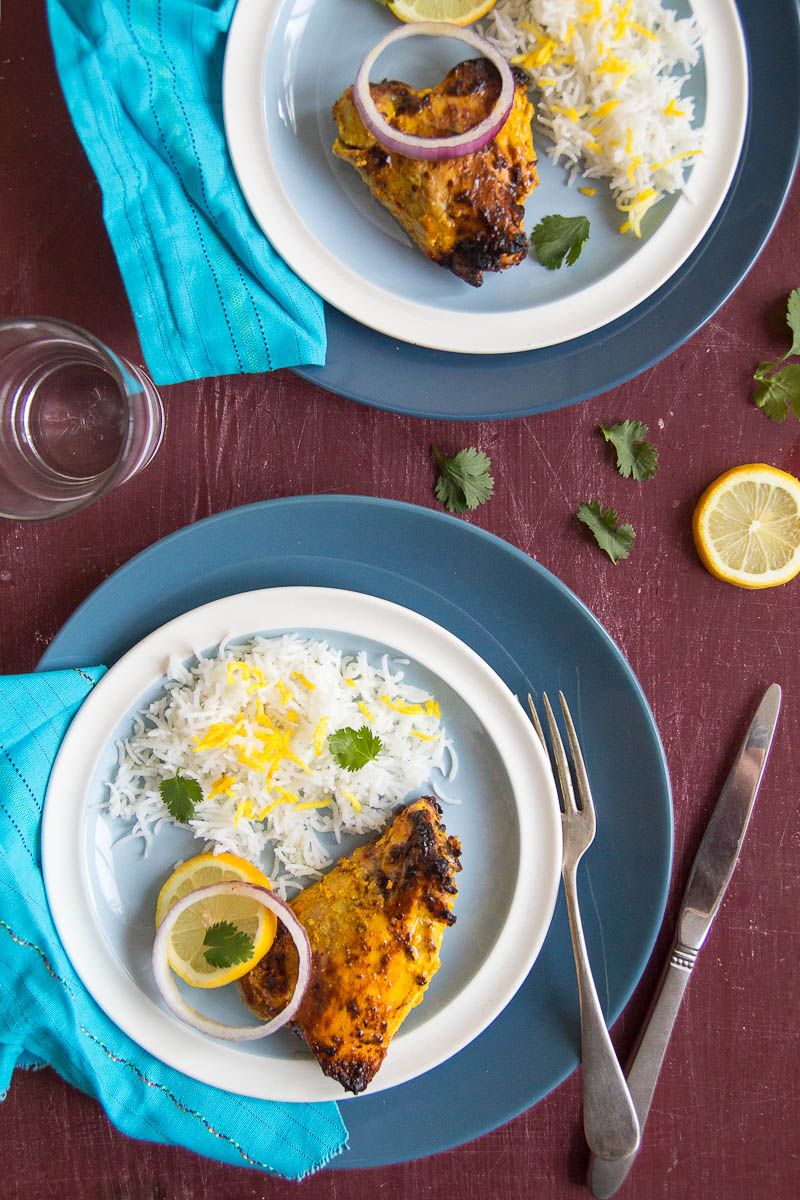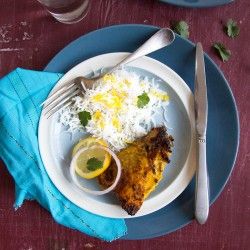 Saffron Tandoori Chicken
A luxurious saffron spiced chicken with tandoori style marinade. Made in the broiler.
Ingredients
8

chicken leg and/or thigh pieces

2

cups

yogurt

2

tbsp

lemon juice

1 lemon

2

tbsp

fresh grated ginger

can sub 1 tbsp powdered ginger

4

cloves

of garlic

minced

1

tsp

salt

1

tsp

ground turmeric

1

tsp

saffron

1

tsp

ground cumin

1

tsp

black pepper

1

tsp

cayenne pepper

2

tbsp

melted butter
Instructions
Mix 1 cup yogurt with the lemon juice, ginger, garlic, salt, turmeric, saffron, cumin, black pepper and cayenne. When well mixed, stir in the other cup of yogurt.

Prepare the chicken by removing any skin and fat. Poke many holes in the chicken with a fork or the tip of a knife.

Cover each piece of chicken with the marinade and massage it in.

Put the chicken and marinade in an airtight container, or a ziplock bag removing as much air from the bag as possible. Store in the refrigerator for 4 hours to two days until ready to cook.

Preheat your oven's broiler for 10-20 minutes. If you would rather bake it, you can bake it in the oven on a baking sheet at 450 degrees, but the texture might not come out as well.

Take the chicken out of the marinade, wipe off excess marinade. Some is okay but the chicken shouldn't be thick with marinade. Distribute the chicken across the broiler pan. Leave some space around each piece. Baste each piece with melted butter.

Broil for about 15 minutes on each side. Baste again after flipping the chicken. Use tongs rather than a fork to flip so you don't pierce the chicken and release the juices.
Nutrition
Serving:
1
piece
Calories:
344
kcal
Carbohydrates:
4
g
Protein:
23
g
Fat:
26
g
Saturated Fat:
9
g
Polyunsaturated Fat:
5
g
Monounsaturated Fat:
10
g
Trans Fat:
1
g
Cholesterol:
135
mg
Sodium:
453
mg
Potassium:
388
mg
Fiber:
1
g
Sugar:
3
g
Vitamin A:
375
IU
Vitamin C:
2
mg
Calcium:
92
mg
Iron:
1
mg