Whole roasted tandoori cauliflower, slathered in a tandoori spiced yogurt marinade, makes for a unique combination of taste and presentation. This is a go-to dish for a vegetarian Thanksgiving or any feast where you want to make a bold statement with Indian flavors.
About the Recipe
A whole cauliflower, coated in a spiced yogurt blend, is baked to perfection until soft and caramelized around the edges. The result is a moist and flavorful cauliflower, boasting a delicious contrast between the creamy interior and the crispy exterior.
Bringing the whole cauliflower to the table on a pretty platter is a fantastic centerpiece to a vegetarian meal. I especially love to slice into the cauliflower and see the creamy white inside in contrast to the crispy yellow exterior.
Whether you're aiming for a non-traditional addition to your Thanksgiving feast or an Indian-Western fusion gathering, the roasted tandoori cauliflower will leave a lasting impression. This creative dish is visually appealing and a nutritious addition to the table.
Ingredients
Cauliflower – the main ingredient in this dish. In Hindi it is called "phool gobi" – a popular Indian ingredient, an everyday Indian vegetable. Cauliflower is a vegetable that only exists through cultivation, introduced from England in 1822 by Dr. Jemson, In-charge of Company Bagh, Saharanpur, U.P.
Yogurt – this is a tandoori spiced marinade, and yogurt is the traditional carrier for the marinade. A cashew yogurt can easily be substituted to make it vegan; be sure to add a squeeze of lemon to add some acidity.
Garam Masala – the garam masala and other spices form a traditional tandoori spice mix. Alternatively, you can use a tandoori spice mix from a box.
Ginger and Garlic – add them separately, or use ginger-garlic paste
Turmeric
Red chili powder
Salt
Equipment
Basting brush
Oven-safe pan – large enough to hold the cauliflower
Pairings
Recommended pairings include Thanksgiving sides like Brussels sprouts salad, green chutney, and Indian spiced sweet potato. The dish complements flatbread, rice, naan, or kulcha.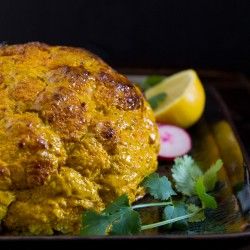 Whole Roasted Tandoori Cauliflower with Cilantro Onion Chutney
This tandoori-style whole roasted cauliflower makes a flavorful and visually stunning centerpiece to a vegetarian meal
Ingredients
For the Cauliflower
1

medium cauliflower

½

cup

thick whole-milk yogurt

(Greek or Indian yogurt)

3

garlic cloves

grated

1

tsp

grated ginger

2

tsp

garam masala

1

tsp

turmeric

½

tsp

chili powder

or to taste

1

Tbsp

grated beet

optional, for color

½

tsp

salt

or to taste
For the Cilantro Onion Chutney
1

cup

loosely packed cilantro

roughly chopped

⅓

cup

mint leaves

or substute 1 tsp dried mint leaves

½

small red onion

roughly chopped

½

cup

yogurt

½

Serrano chili

or to taste, roughly chopped

½

tsp

salt

or to taste
Instructions
Rinse and dry the cauliflower and cut off the leaves and core.

In a small bowl, mix together all the ingredients except the cauliflower.

Brush the yogurt mixture all over the cauliflower. Make sure to get into all the crevices and don't neglect the underside.

Set the cauliflower in a casserole dish or cookie sheet and then in the fridge to marinate for an hour or two. You can leave it in the fridge for up to eight hours if you want to prep earlier.

Preheat oven to 425 degrees Fahrenheit.

Transfer the cauliflower to the oven and bake for 45 to 60 minutes until a knife inserted into the middle goes in easily.

Let cool for about 10 minutes before serving.
For the Chutney
Add all the ingredients into a blender and puree until smooth. Taste and adjust seasoning.
Notes
If you want to get the traditional red color that's associated with tandoori, you can add a few drops of red food coloring.
If you're short on time, it's okay to skip the marinating. It'll still taste good.
Nutrition
Calories:
94
kcal
Carbohydrates:
14
g
Protein:
6
g
Fat:
3
g
Saturated Fat:
2
g
Polyunsaturated Fat:
0.2
g
Monounsaturated Fat:
1
g
Cholesterol:
8
mg
Sodium:
659
mg
Potassium:
597
mg
Fiber:
4
g
Sugar:
6
g
Vitamin A:
302
IU
Vitamin C:
73
mg
Calcium:
124
mg
Iron:
1
mg
(Originally published 2/4/2014 with major updates 11/15/2023)