This is the way I almost always make my Brussels sprouts. Sometimes I'll change it up and add a few ingredients to them but the cooking method I use is usually the same. It's simply the best way to get a good caramelization on sprout and just the right amount of softness.
I picked up an old yellowed copy of the Joy of Cooking
at a library book sale in Arlington years ago. It was such an old copy that it even has a section on how to prepare game. I remember jumping past the part where it teaches you to skin a hare. Steve eventually bought me a new copy for my birthday that is much more up to date and reflects more modern cooking. It even has a recipe for naan in it that Steve used for a while.
I learned a lot of basics Western cooking from The Joy of Cooking, like how to make a bechamel sauce and how to bake muffins and quick breads. But the most important thing I learned from the book was how to cook Brussels sprouts. I had never made Brussels sprouts until I tried their Becker Brussels sprouts recipe and completely fell in love. The Brussels sprouts were buttery and crispy and oh so delicious!
This year, I wanted to make some traditional Thanksgiving sides with an Indian twist. I had to make the Brussels sprouts first. I love this delicious salad with pan roasted Brussels sprouts, pomegranate, cashews and a cumin vinaigrette.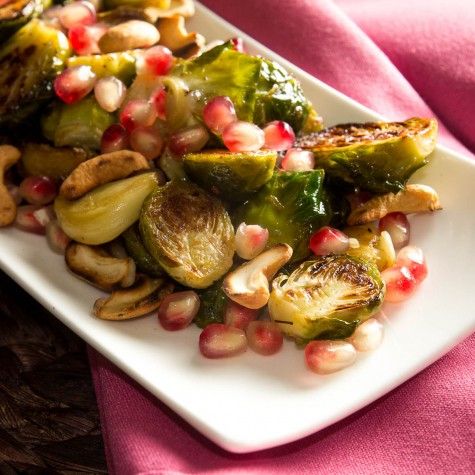 Pan Roasted Brussels Sprouts with Pomegranate
A simple side of Brussels sprouts with a burst of pomegranate sweetness
Ingredients
1

tbsp

ghee

butter or oil work too

4

garlic cloves

smashed

18 to 22

Brussels sprouts

cut into half lengthwise (If your Brussels sprouts are average sized 18 will be enough, but use about 22 if the sprouts are tiny)

½

tsp

ground cumin seeds

½

tsp

lemon zest

½

tbsp

lemon juice

1

tbsp

olive oil

¼

tsp

salt

pinch

of garam masala

½

cup

pomegranate arils

12

roasted cashews

halved
Instructions
Heat the ghee in a 12 inch skillet over medium low heat. Add the garlic cloves and stir.

Add the Brussels sprouts to the pan making sure they are all placed with the cut side down. Cover and cook for 10 minutes. After 10 minutes are up, take off the lid and let cook for 5 to 8 more minutes uncovered. Do not stir the Brussels sprouts. Turn off the heat when Brussels sprouts are soft and the cut sides are golden brown.

In a small bowl, whisk together the lemon juice, olive oil, lemon zest, salt and garam masala. Toss this mixture into the pan with the Brussels sprouts and stir. Add the pomegranate and cashews. Serve warm or at room temperature.
Notes
The original recipe calls for cooking the garlic for a minute or two and removing the garlic cloves before adding the Brussels sprout. I prefer the let the garlic cook with the Brussels sprouts. I like the crispy garlic cloves that you end up with.
The original recipe also calls for a lot more butter or oil. I've cut it way down because I don't think it's needed.
Nutrition
Calories:
140
kcal
Carbohydrates:
14
g
Protein:
4
g
Fat:
9
g
Saturated Fat:
3
g
Polyunsaturated Fat:
1
g
Monounsaturated Fat:
4
g
Cholesterol:
10
mg
Sodium:
169
mg
Potassium:
412
mg
Fiber:
4
g
Sugar:
5
g
Vitamin A:
645
IU
Vitamin C:
77
mg
Calcium:
45
mg
Iron:
2
mg