Here is a hearty, flavorful vegan-friendly salad you can prep ahead of time and take with you to work or social gathering. It's made with quinoa in a spiced tomato sauce with spinach, cilantro, and avocado added for freshness and flavor.
I often make a large batch, or double batch, of this quinoa and will meal prep just the quinoa and then add in the greens and avocado later when I am ready to eat.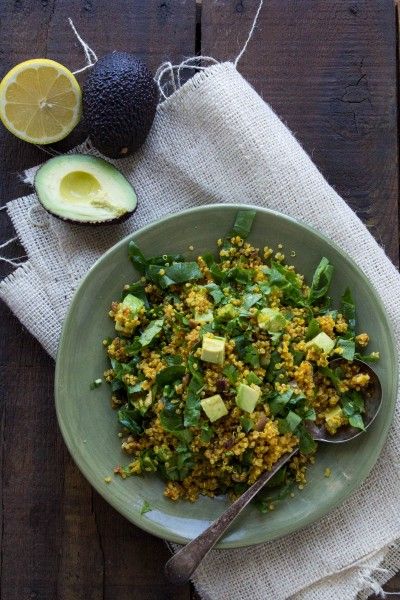 I came up with this recipe years ago when I had been making a lot of quinoa recipes. At the time I was making a lot of version of curried quinoa and mixing vegetables in with the quinoa. This time, I just happened to try it without the vegetables, and I loved the flavor.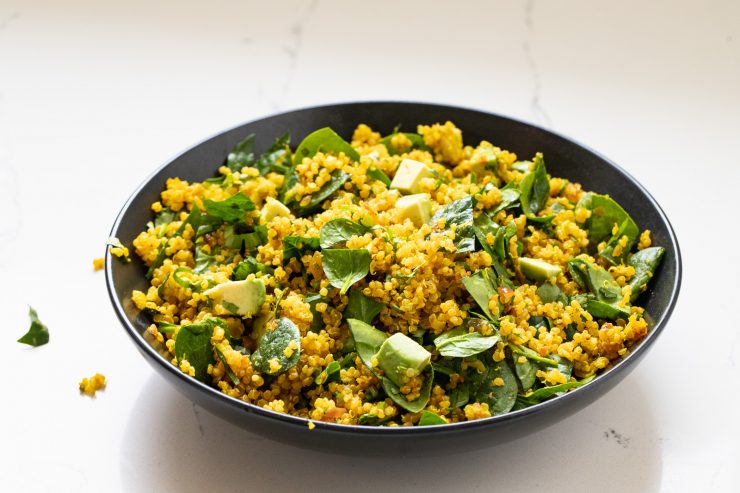 This is a recipe that I've taken to a lot of potlucks and made for family members and it is always a hit.
As A Food Prep Salad
In an effort to plan my lunches better I made this quinoa dish. The great thing about it is that you can make the quinoa in a large batch ahead of time and keep it in the fridge.
Start off by making the quinoa the same way I make it for this Cauliflower Curry. Then chop up some baby spinach and avocado to add to the bowl.
The flavor of the tomato and cumin in the quinoa goes really well with the fresh spinach and creamy avocado. You will love the concept of mixing in fresh veggies to a precooked batch of grains or seeds.
The simple addition instantly freshens up the dish.
It means that now you can make a batch of quinoa or any whole grain at the beginning of the week and add in fresh veggies to it when you are ready to eat.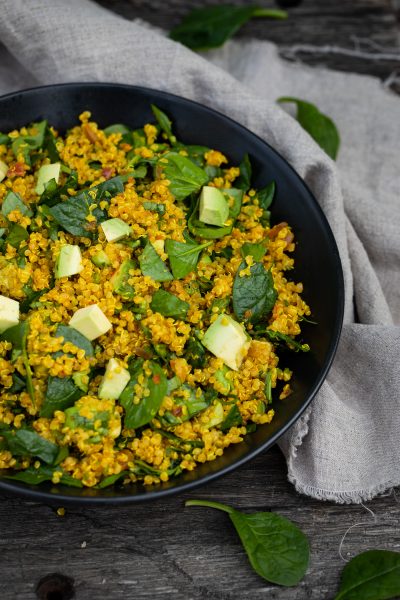 Tips
Rinse the quinoa very well. Quinoa is bitter if not washed well.
Reduce the tomatoes enough. Evaporate the liquids until it turns jammy.
Roasting the cumin makes a huge difference in flavor.
Variations
Add other spices: add garlic, ginger, garam masala
I often add thyme to this recipe
If you prefer to not use fresh tomatoes, you can use canned. Then you don't even have to use the blender, just add the cumin and green chilies directly.
Swap spinach for kale or any other kind of green. If using kale, make sure to add some lime juice and olive oil and massage it in before you mix it in with the quinoa.
Cilantro is optional, leave it out if you are not a cilantro person
Recipe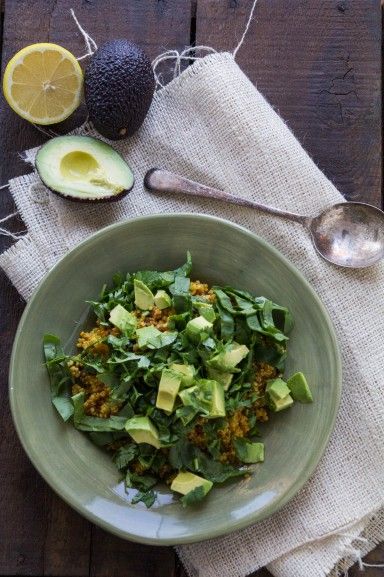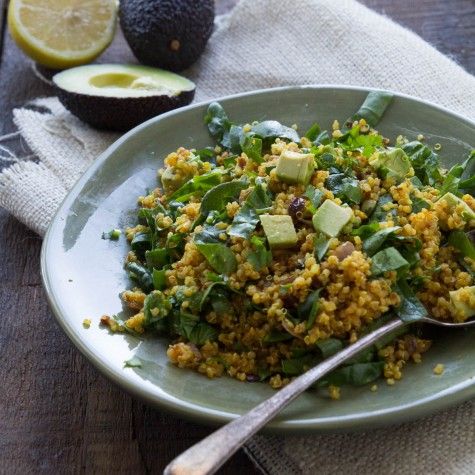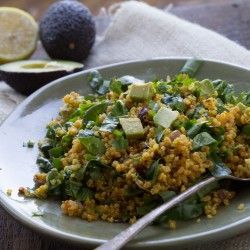 Curried Quinoa with Spinach and Avocado
A quinoa salad with flavors of tomato, cumin, spinach and avocado
Ingredients
2

cups

cooked quinoa

1

tbsp

oil

½

cup

onion

finely chopped

2

medium tomatoes

1

green chili

2

tsp

cumin seeds

¼

tsp

turmeric

½

tsp

salt

or to taste

2

cups

chopped baby spinach

I like a lot of spinach!

½

cup

chopped cilantro leaves

2

avocados

2

limes or lemons
Instructions
Heat oil in a medium to large skillet. Add onions and saute until soft and translucent.

While the onions cook, toss the cumin seeds onto a cast iron or pan (or any other kind of pan that is not non-stick will work) and heat over medium high heat until you can smell the fragrance of the seeds. Keep a eye on it and stir often so that the seeds don't burn. **Don't add oil. The point is to dry roast the cumin.

Toss the dry roasted cumin seeds into a blender with the tomatoes and the green chili. Puree and set aside.

When the onions are soft and translucent, add in turmeric, salt, and the tomato puree. Stir and cook until the puree begins to look more like a paste. About 3 to 5 minutes.

Add in the cooked quinoa. Stir until the quinoa is evenly coated in the spicy tomato mixture and then cook for about 2 minutes.

At this point, you can let the quinoa cool and refrigerate until you're ready to eat.

Add in the chopped spinach, cilantro, and avocado when ready to serve. Top with a squeeze of lemon or lime to finish.
Notes
If you're like me and want to eat this for lunch in small portions, this is what I do:
I portion out 1/2 cup of quinoa. Toss a big handful of chopped baby spinach leaves (you don't really have to chop them, I like to because I prefer to eat quinoa with a spoon and not a fork).
Liberally sprinkle lemon juice over half a small avocado (I also add salt) and toss into the salad.
Top with cilantro leaves.
Nutrition
Calories:
341
kcal
Carbohydrates:
38
g
Protein:
8
g
Fat:
21
g
Saturated Fat:
3
g
Polyunsaturated Fat:
4
g
Monounsaturated Fat:
13
g
Trans Fat:
0.01
g
Sodium:
355
mg
Potassium:
929
mg
Fiber:
12
g
Sugar:
5
g
Vitamin A:
1532
IU
Vitamin C:
34
mg
Calcium:
68
mg
Iron:
3
mg
Originally published June 14, 2013, with major updates January 9, 2023.