I am a total podcast junkie! I listen to them all day long. Most of my podcasts are NPR programs and one of my favorites is the Splendid Table podcast by Lynn Rosetto Kasper. I always learn a lot about food from her. A couple of weeks ago they had Indian cookbook author Raghavan Iyer on the show.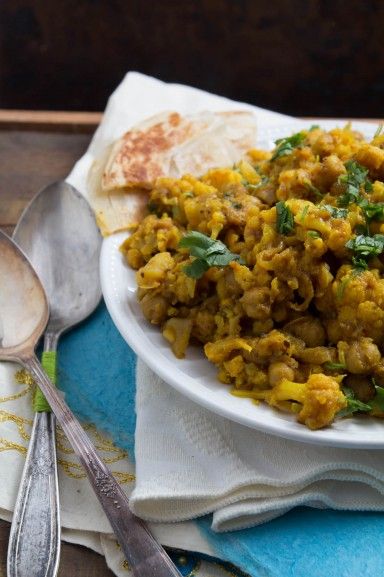 Even though I've been cooking Indian food all my life, this episode is going to change my life. I learned to cook the way most people learn, from my mom, who is a wonderful experimental cook but not a professional. I learned a lot from her just by watching. My mom taught me vaghar (also known as tadka in Hindi where whole spices are roasted in hot oil) and how to dry roast spices to bring out the flavor, but Raghavan Iyer described 8 different ways to draw flavors from each spice. I was completely blown away by this!
Here are the 8 ways he described to extract flavor from whole spices:
Raw whole spice, straight out of the package.
Raw whole spice ground into a powder
Dry roasted whole spice
Dry roasted and ground
Roasted in hot oil (vaghar)
Oil roasted and ground
Whole spice soaked in liquid
Soaked in liquid and ground
At first glance, most of these techniques sounded brand new to me. But then I started thinking about it and it made a whole lot of sense. Although I had done most of this before, I had never thought about it in these terms.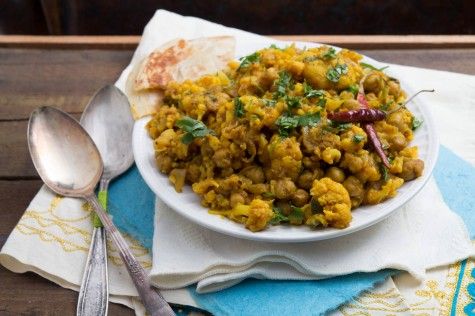 Each method brings out the flavors in different way. The most obvious example is cumin seed, which he talked about, and I have a lot of first hand experience with. There is a big difference in taste between raw cumin seeds, dry roasted cumin and cumin toasted in oil (vaghar). I prepare cumin in these ways often. After I thought about cumin seeds, I started to think about mustard seeds and how different they taste in Indian food and in regular spreading mustard, which is soaked in vinegar.
So I decided I had to experiment with this new knowledge. I went ahead and used the dry roasted technique Raghavan Iyer used for his dal and made a cauliflower and garbanzo bean shaak out of it. It is very different from the way I normally cook because I normally start most of my recipes with a vaghar, by heating oil and tossing in the spices when it's hot.
I really enjoyed the delicious complexity of flavor this method brought out. The cumin is pronounced and delicious but in a different way than in most of my other food. I am super excited to start experimenting with these 8 techniques. I'd love to hear about your thoughts on this too!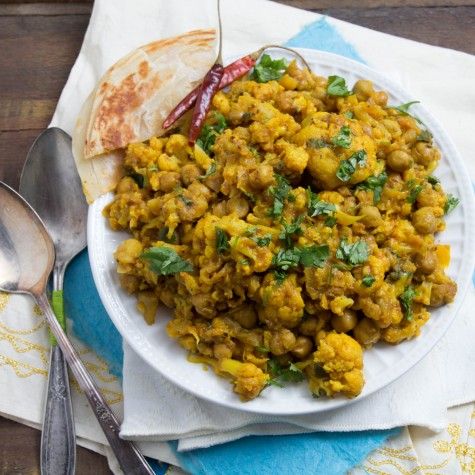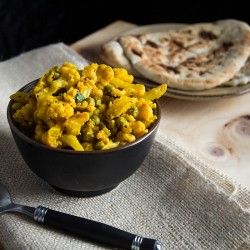 Flower Chana nu Shaak (Cauliflower and Garbanzo Bean Curry)
A simple sauté of cauliflower, garbanzo beans and Indian spices
Ingredients
2 to 3 to

matoes

1

dried red chili

1

tbsp

cumin seeds

2

tbsp

oil

1

large onion

sliced pole to pole

1

tsp

turmeric

1

tsp

salt

or to taste

1

small potato

cut into 1/2 inch cubes

1

cauliflower

cut into florets

1 15

oz

can garbanzo beans or chickpeas

1

bay leaf

handful of chopped cilantro to garnish
Instructions
Toss the cumin seeds onto a cast iron pan (or any other kind of pan that is not non-stick will work) and heat over medium high heat until you can smell the fragrance of the seeds. Keep a eye on it and stir often so that the seeds don't burn.

Toss the dry roasted cumin seeds into a blender with the tomatoes and dried red chili. Puree and set aside.

In a large pot, toss in the oil and sliced onions with a pinch of salt. Saute until translucent.

Add in the turmeric. Stir and cook for about a minute.

Add in the tomato puree. Stir and cook until the puree begins to look more like a paste. About 5 minutes.

Toss in the cauliflower, potato, garbanzo beans, bay leaf and salt.

Add in 1.5 cups water and stir.

Cover and cook for about 15 minutes.

Take off lid and continue to cook uncovered until liquid thickens and the cauliflower is soft. About 10 minutes.
Nutrition
Calories:
177
kcal
Carbohydrates:
27
g
Protein:
8
g
Fat:
5
g
Saturated Fat:
1
g
Polyunsaturated Fat:
2
g
Monounsaturated Fat:
3
g
Trans Fat:
0.01
g
Sodium:
321
mg
Potassium:
605
mg
Fiber:
7
g
Sugar:
6
g
Vitamin A:
286
IU
Vitamin C:
46
mg
Calcium:
61
mg
Iron:
3
mg