My dad recently bought 38 pounds of honey tangerines. Yep, that's right, 38 pounds! What does one do with that many tangerines? Give them away to family of course! So when we went to visit my parents, we came home with several pounds of the most deliciously sweet tangerines.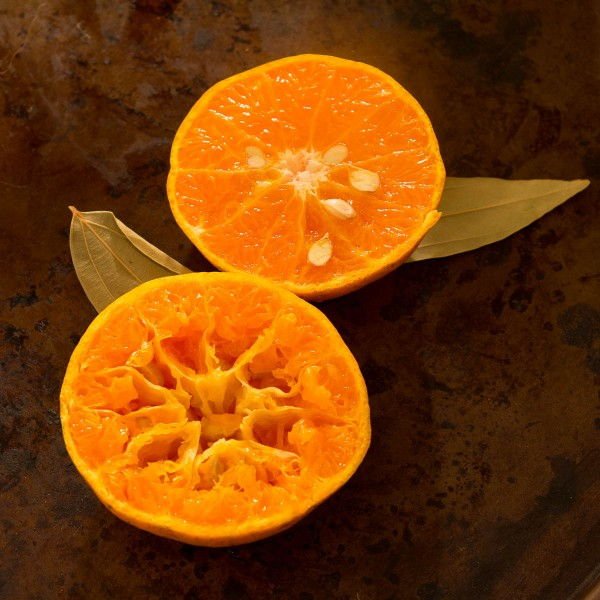 I love to eat tangerines on their own, but these have tons of seeds making it annoying to eat them fresh. That's why I've been juicing them, adding them to smoothies and cooking with them to use them up.
A few days ago, I came across this bay cumin salt recipe and fell in love with the flavor combinations. I love both bay leaf and cumin.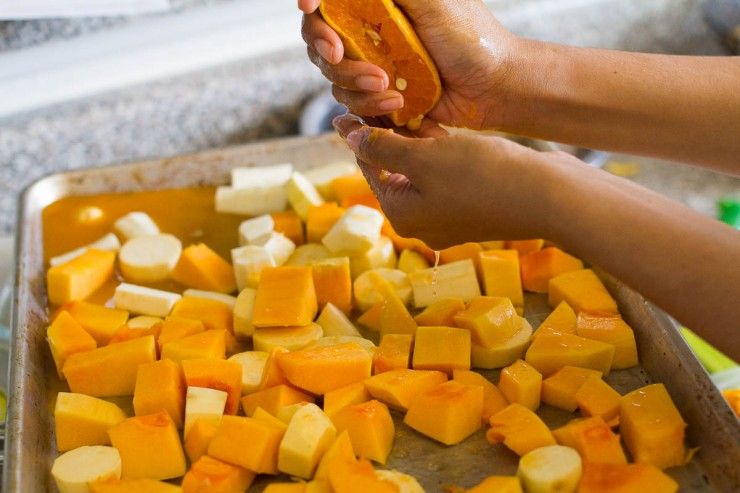 I made my version of the salt right away. Then I chopped up some sweet potato, butternut squash, parsnip and carrots (all the roasting vegetables I had on hand) and tossed them onto a sheet pan with some olive oil and bay cumin salt.
At the last second before putting it in the oven I saw the honey tangerines on the counter. I remembered hearing about this Passover recipe for roasted carrot and sweet potato tzimmes with orange juice and prunes on KCRW's Good Food podcast. So I cut up 3 tangerines and added in the juice along with a handful or dried cranberries from the pantry.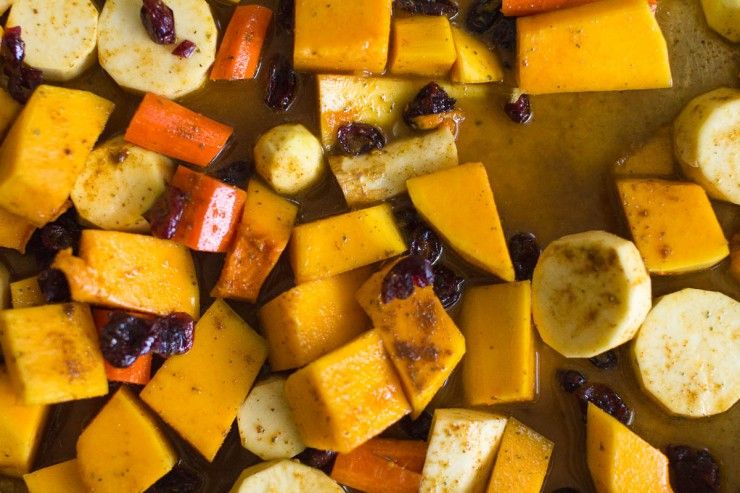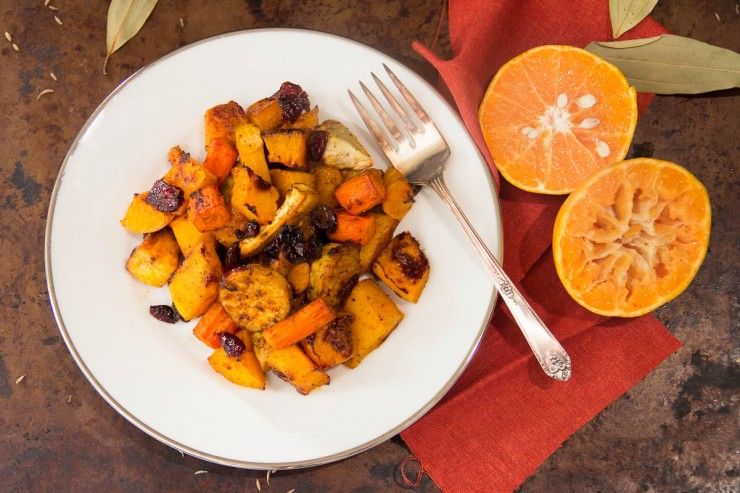 When I pulled out the vegetables, some of the cranberries around the edges had crisped up. The tangerine juice had mixed with the bay cumin salt to create a glaze. And best of all, our apartment was filled with a wonderful citrus caramel aroma. Both Steve and I loved it, it made a yummy and healthy dinner.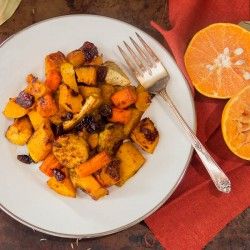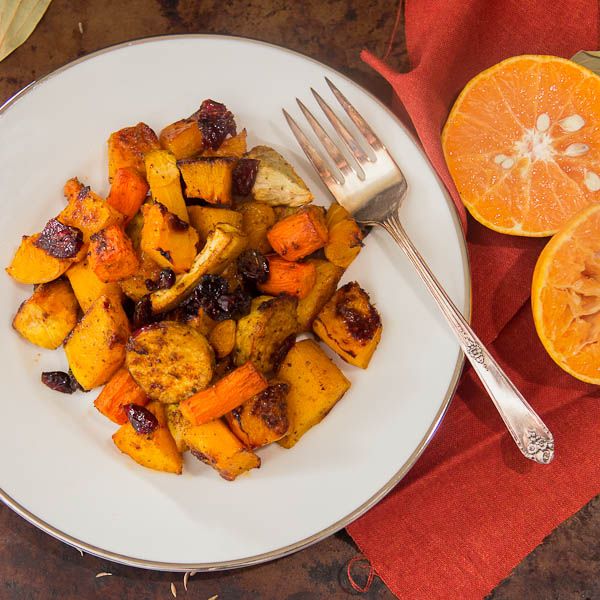 Roasted Squash and Root Vegetables with Bay, Cumin and Tangerine
A simple roasted squash dish packed with flavors of bay, cumin and tangerine
Ingredients
½

butternut squash

cut into 1/2 inch chunks

2

sweet potatoes

cut into 1/2 inch slices

2

medium carrots

chopped into 1/2 inch pieces

2

medium parsnips

chopped into 1/2 inch pieces

1

cup

tangerine or orange juice

freshly squeezed or store bought

¼

cup

dried cranberries

2

tbsp

olive oil

1

tbsp

bay cumin salt (recipe below)
Instructions
Preheat oven to 425 degrees

Toss the vegetables, cranberries, tangerine juice, olive oil and bay cumin salt together on large cookie sheet or roasting pan.

Roast for 35 to 45 minutes. Stir halfway through cooking.
Nutrition
Calories:
323
kcal
Carbohydrates:
63
g
Protein:
4
g
Fat:
8
g
Saturated Fat:
1
g
Polyunsaturated Fat:
1
g
Monounsaturated Fat:
5
g
Sodium:
96
mg
Potassium:
1226
mg
Fiber:
10
g
Sugar:
22
g
Vitamin A:
31216
IU
Vitamin C:
68
mg
Calcium:
125
mg
Iron:
2
mg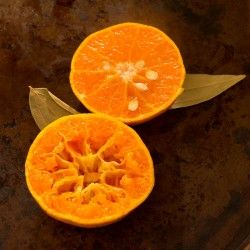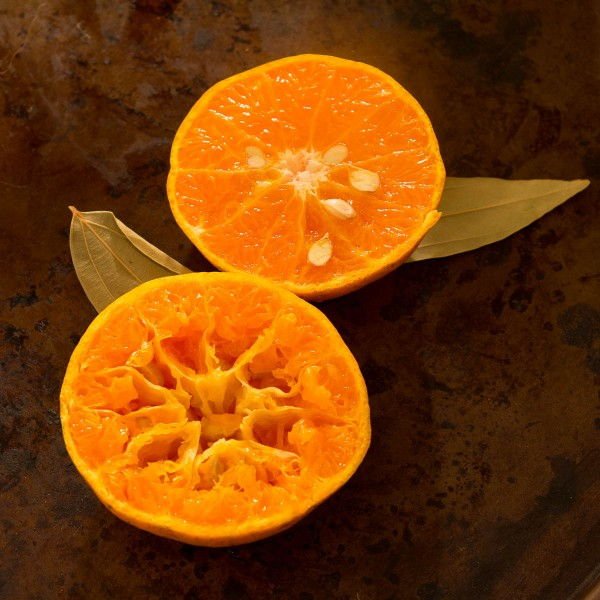 Bay Cumin Salt
A salt made with the fragrance of toasted bay leaf
Ingredients
4

Indian Bay Leaves

substitute regular Bay Leaves if you can't find the Indian Bay Leaf

1

tbsp

cumin seeds

2

tsp

brown sugar

½

tsp

red chili powder

or to taste

salt

to taste (about 1/2 tsp)
Instructions
Roast the cumin seeds in a dry pan until fragrant. About 3 to 5 minutes.

Toss the cumin and the rest of the ingredients into a spice grinder and grind until powdered.
Nutrition
Calories:
14
kcal
Carbohydrates:
3
g
Protein:
1
g
Fat:
1
g
Saturated Fat:
1
g
Polyunsaturated Fat:
1
g
Monounsaturated Fat:
1
g
Sodium:
7
mg
Potassium:
34
mg
Fiber:
1
g
Sugar:
2
g
Vitamin A:
93
IU
Vitamin C:
1
mg
Calcium:
16
mg
Iron:
1
mg