You've gone through all of the work of preparing a batch of a rotis, but didn't eat them all in one sitting. Now you are faced with a problem: what do you do with the leftovers? Make one of my favorite Indian dishes, vaghareli roti. You don't have to use old rotis, and you can even sub in flour tortillas, to make the unique, delicious snack.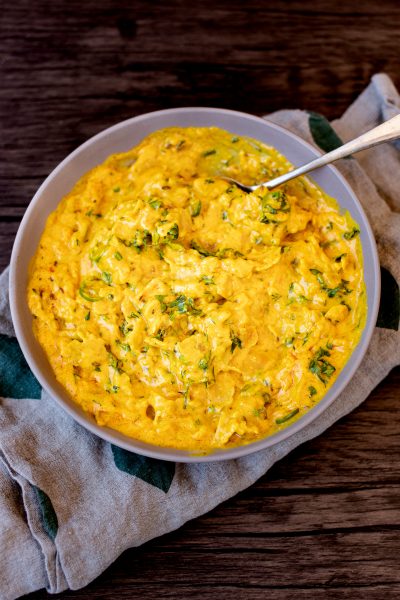 There is a long tradition of day-old rice and day-old bread recipes. Think of fried rice or french toast. Vagherali roti is what I've always done with old rotis.
This also fits into a food philosophy that I really believe in, which is fighting food waste. By using stale rotis for this dish, less food ends up in the trash. Another example of this is the watermelon rind curry recipe I posted recently.
It is a simple, throw-it-together dish that uses some of the most common Indian ingredients: yogurt, besan, chilies, and a mix of common spices. By the way, if you don't have curry leaves, it is ok to leave them out.
In concept, this dish is best made with old rotis. The idea is that as rotis become stale, they become a sponge for the flavors of the wet gravy. Since they are allowed to cook in the gravy for a couple of minutes, even fresh rotis or tortillas will easy absorb the flavors.
Ingredients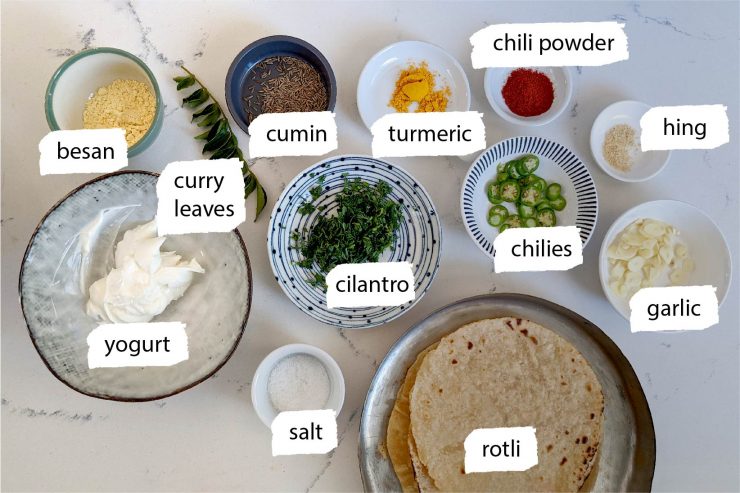 Recipe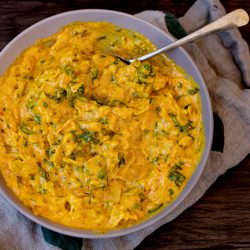 Vaghareli Rotli, or What To Do With Leftover Roti
Vaghareli Rotli is a Gujarati dish that gives new life to day-old rotis. It's so good, it's worth making fresh rotis for, or you can substitute tortillas if you don't have rotis.
Ingredients
1

cup

torn roti

about 3-4 rotis

¼

cup

yogurt

1 ½

Tbsp

besan

garbanzo bean flour

1 ½

cup

water

up to 2 1/2 cups

1

Tbsp

oil

10

curry leaves

½

tsp

turmeric powder

½

tsp

red chili powder

1

tsp

cumin seeds

¼

tsp

hing

4

garlic cloves

1

green chili

sliced (serrano or jalapeno)

Garnish with cilantro
Instructions
Tear up the rotli into roughly 1-2 inch pieces

In a bowl, whisk together yogurt and besan. Remove any lumps. Add water a little at a time and whisk to get a buttermilk consistency.

Heat oil in a pan over medium heat. Add cumin seeds and toast. Then add hing, garlic, and curry leaves. Add turmeric, chili powder and green chilies.

Add the rotli. Stir.

Add yogurt mix and salt. Allow it to boil. Add water to adjust to a gravy-like consistency. Add more if you prefer a soupy consistency.

Remove from heat and garnish with cilantro.
Notes
Add more water near the end if you like a soupier broth.
Curry leaves play a big part in the flavor profile. If you can't find them, it's okay to leave them out, but the dish won't be as good.
Nutrition
Calories:
219
kcal
Carbohydrates:
38
g
Protein:
7
g
Fat:
5
g
Saturated Fat:
1
g
Polyunsaturated Fat:
2
g
Monounsaturated Fat:
3
g
Trans Fat:
0.01
g
Cholesterol:
2
mg
Sodium:
305
mg
Potassium:
181
mg
Fiber:
5
g
Sugar:
3
g
Vitamin A:
192
IU
Vitamin C:
52
mg
Calcium:
54
mg
Iron:
3
mg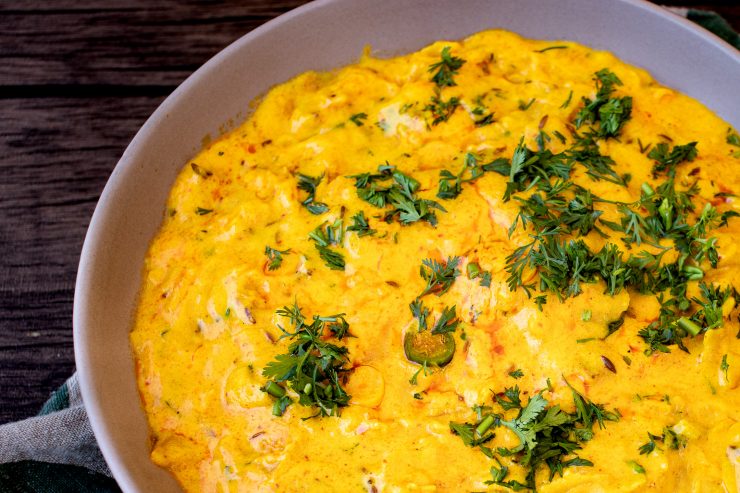 Tips
Since it uses up leftover foods, its really easy, use what you have: cumin seeds in place of mustard. Skip fenugreek seeds or use leaves if that's what you have. Changes it but will still work.
Make sure to whisk your besan into your yogurt completely. You do not want lumps of besan in your sauce.
My family often adds onion to this, depending on how much we want to stretch it. Onions help add bulk to add enough for another person
I also like to use a lot of garlic. Some people put ginger in it. My family never puts ginger in.
You can modify the spice level to your taste by adding or removing chilis
Curry leaves are a key flavor component, if you don't have fresh curry leaves, try to find dry. If you don't have them, it can still work without them but it will change the flavor a lot