Ragi dosa is a type of dosa (savory pancake) made with finger millet. This recipe is for an "instant dosa" that has no fermentation. It also uses the pouring method of spreading the dosa on the pan, making it super easy, even if you have never made dosa before.
About this Recipe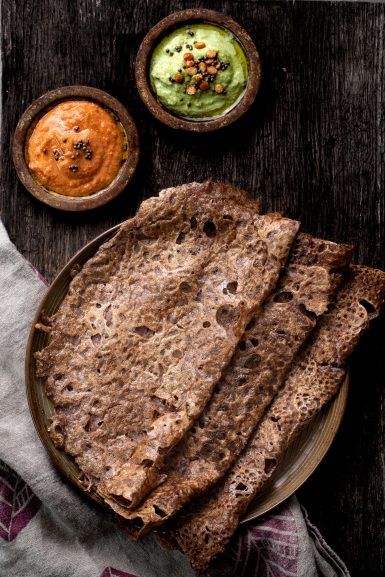 Traditional dosa is made from a rice and lentil batter that is soaked and fermented overnight. Instant dosa, such as this one, requires no fermentation and is easy to make. To get the tanginess and softer texture similar to traditional dosa, we use yogurt and can let it sit for only 10 minutes.
I tested this recipe with several different flours to augment the ragi. I feel a second flour is needed to balance the earthy flavors of the ragi, and to add a little crispness since ragi is naturally very soft.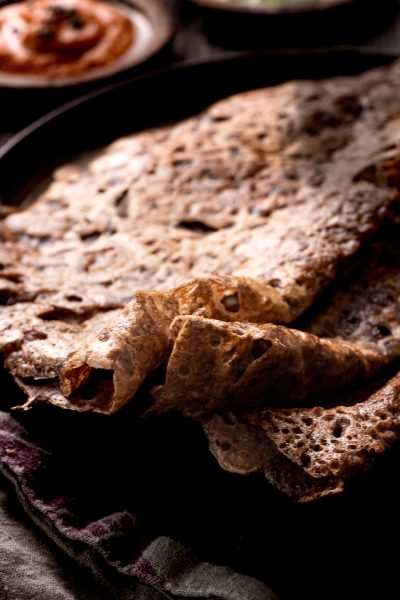 I tried brown rice flour and regular (white) rice flour. I wanted them to work so that this recipe could be completely gluten-free. And they did work. They produce a nice, crisp dosa. However, the version made with rava tasted much better. In other words, if you are looking for a gluten-free dosa, you can substitute the rava in this recipe for rice flour; it just won't taste as good.
Serve with a dosa chutney, such as tomato or coconut chutney.
Ingredients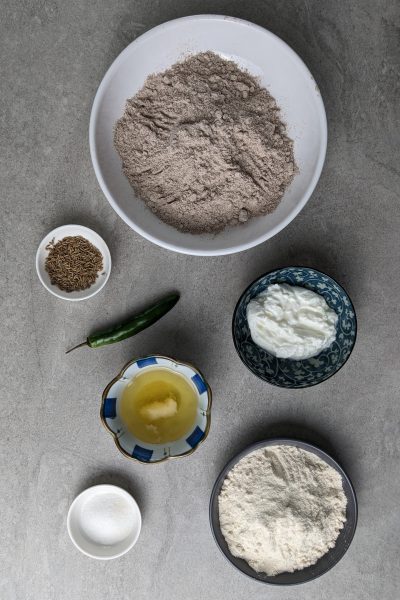 Ragi flour – finger millet. Commonly used for roti. It has become very popular lately as a healthy food since millets are gluten-free and high in fiber and nutrients.
Rava – semolina, to balance the earthy flavors of the ragi. For a gluten-free version of this recipe, use rice flour instead.
Yogurt – because this is an instant dosa
Salt
Cumin seeds – add a nice savory, smoky flavor. I always use it in rava dosa.
Green chilies
Water
Cooking Tips
The most important thing is the get the right thickness for the batter. The method of pouring that I use uses a very thin batter and makes it much easier for a novice to make.
The trick to the recipe is having a very hot pan. A nonstick pan works well for this type of dosa. You can also make it on a well-seasoned cast iron pan.
If using a non-stick pan, add 1 full tablespoon of oil and heat on high heat for 2 minutes. Then remove the oil and add the dosa batter.
It is really important to vigorously stir the dosa batter before pouring – since it is so wet, it will separate quickly.
Pouring into the pan – if you don't see a lot of little bubbles forming on the pan, your batter is too thick. Add more water.
Allow the dosa to cook on the first side for 2 minutes before flipping. It's best to time this because you don't want to lift your dosa too soon to check if it is ready.
Variations
Use rice flour in place of rava for a gluten-free version
Add onion, cilantro, chopped cashews, or pureed tomato to your batter. I prefer to keep it simple.
You can use a sprinkle of lemon juice in place of yogurt.
Storage
Dosa does not refrigerate or freeze well. Eat it quickly. Fermented dosa batters are often refrigerated to be used over several days. I wouldn't try that with this one.
Recipe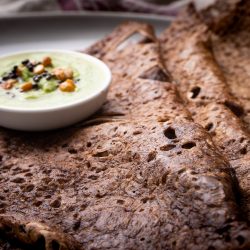 Ragi Dosa
Ragi dosa is a type of dosa made with finger millet. This recipe is for an "instant dosa" that has no fermentation.
Ingredients
1

cup

ragi flour

½

cup

semolina

rava

1

tsp

cumin seeds

1

green chili

sliced

3

Tbsp

yogurt

milk or non-dairy, whisked

2 ¼

cups

water

½

tsp

salt

or to taste

Ghee or oil for cooking
Instructions
In a medium-sized mixing bowl, whisk together the dry ingredients. Add yogurt and water. Whisk to combine.

Cover the bowl with a tea towel and let it rest for 10-15 minutes.

Heat a non-stick pan with 1 tablespoon of oil, on high for two minutes. When the pan is very hot, remove the oil and wipe it dry with a paper towel.

With a ladle, stir the batter vigorously for 5 seconds (it tends to separate quickly). Then pour the batter evenly across the pan. It should form a lacy pattern as it makes contact with the pan. Fill in the larger gaps with some batter. Drizzle with 1/2 teaspoon of ghee around the edges and larger holes.

Let cook for 2 minutes on high heat until the edges lift by themselves. Run a spatula around the edges to lift. Then use the spatula to flip the dosa.

Cook for 30 seconds, then remove to a plate.
Nutrition
Calories:
245
kcal
Carbohydrates:
39
g
Protein:
6
g
Fat:
7
g
Saturated Fat:
4
g
Polyunsaturated Fat:
1
g
Monounsaturated Fat:
2
g
Cholesterol:
15
mg
Sodium:
344
mg
Potassium:
138
mg
Fiber:
2
g
Sugar:
2
g
Vitamin A:
21
IU
Vitamin C:
1
mg
Calcium:
35
mg
Iron:
2
mg