Onion kulcha are a soft, pillowy, leavened white flour bread typically cooked in a tandoor, with a mouthwatering onion-masala mix layered on top. Sometimes they are stuffed with the onion mixture, but the most common ones I grew up with at restaurants put the onion on the outside as I have made them here.
It is really easy to make these at home. To get results similar to what you would get from a tandoor, you can make it either on the stovetop or in the broiler. Making onion kulcha is the same as making plain kulcha, but with the added step in the middle of mixing the onion-masala mixture and adding it to the top of your rolled out kulcha.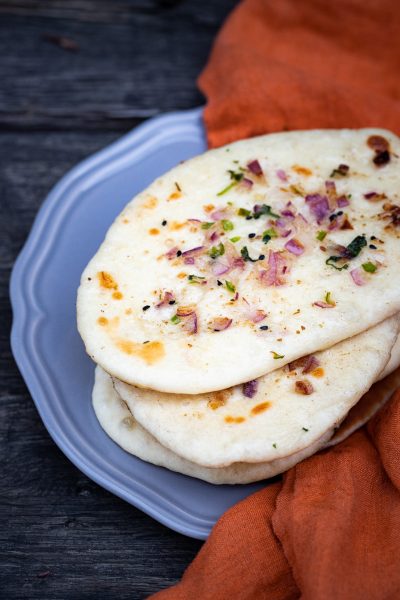 Many people make kulcha with a mixture of baking soda and baking powder. I personally prefer the yeast version. Take a look at the video on plain kulcha if you would like to see a demonstration of both versions.
How to Eat Kulcha
Much like naan, kulcha is mainly a restaurant food that people don't commonly cook at home. Unleavened flatbreads like roti and paratha are much more common, everyday breads.
If you make yourself a pile of onion kulcha, you may find it hard to resists munching down on them on their own. Served warm with a little butter, they are so irresistible.
As part of a meal, they go well with other restaurant-style foods like palak paneer, baingan bharta, and dal makhani.
Ingredients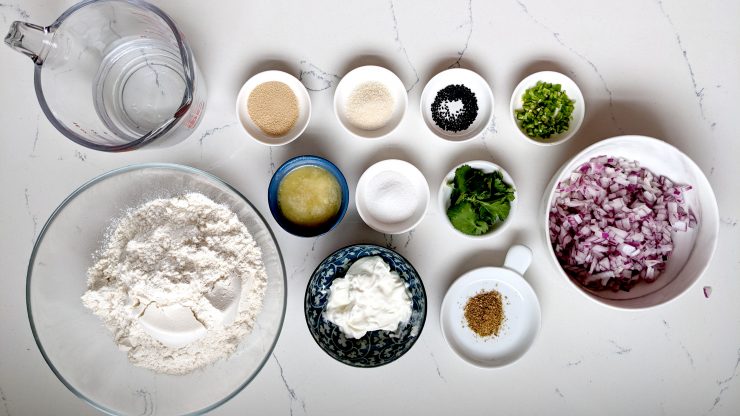 All Purpose Flour – you can use half all-purpose flour and half whole wheat flour
Yeast, or use baking soda and baking powder
Yogurt – Gives it a softness and a nice tang. You can use milk and add a little squeeze of lemon to add back the tang. I would definitely do this if using baking soda to activate the soda.
Water
Ghee or oil
Green chili – any green chili like jalapeno or serrano, use a milder chili if you don't like spice
Onion – red onions are traditional in Indian cooking, but use what you have.
Nigella seeds – I always think of nigella seeds when I think of kulcha, but they are optional, and you can sub in cumin or coarsely ground coriander seeds if you like.
Coriander Powder – traditional
Cilantro – for garnish
Tips
You have to add water and push the onion into the kulcha. Or else when you flip it while frying it can fall off. Less of a risk for oven but you still don't want it falling off easily.
A lot of people like to reheat kulcha with butter. I recommend reheating with ghee or oil then adding some butter at the end. That way you do not get a burned butter taste.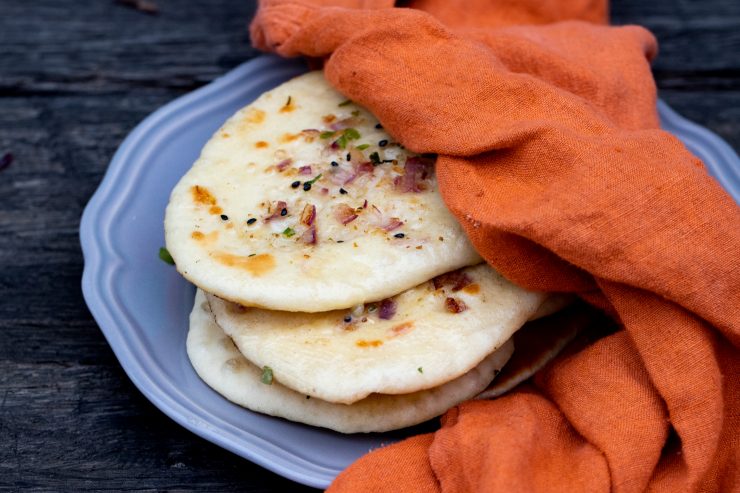 Variations
Make stuffed onion kulcha:

Roll out your kulcha dough a little bit. Then take about a tablespoon of onion mixture. Wrap the dough around the mixture and seal tightly. Seal by pinching the edges together then twist them. You can use a little bit of water to make the dough stick back together. Then push down to form a puck. Then roll with dry flour and you have your stuffed kulcha, ready to cook.

Nigella seeds are optional. They can easily be subbed for cumin seeds, coriander seeds, just about any other herb or spice, or left out completely.
Freezing Instructions
Kulcha freeze well and will last up to 5 months in your freezer. To keep them separate, either place layers of parchment paper between the kulcha, or freeze them separately first, then wrapping them up together once they are frozen.
Reheat them in your oven on toaster oven. A 400°F oven for 1-2 minutes should do the trick.
Recipe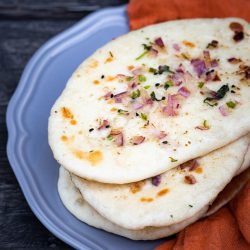 Onion Kulcha
Onion kulcha are a soft, pillowy, leavened white flour bread typically cooked in a tandoor, with a mouthwatering onion-masala mix layered on top.
Ingredients
Kulcha
2

cups

All Purpose Flour + extra for rolling

1

tsp

salt

or to taste

1

Tbsp

ghee or oil

separated into half

¼

cup

Greek yogurt

1

tsp

active dry yeast

(or use ½ tsp baking soda + ½ tsp baking powder)

½ to ¾

cup

water

3

Tbsp

ghee or oil for brushing the pan and kulcha
Onion Mix
1

medium onion

finely chopped

1

green chili

finely chopped

2

Tbsp

cilantro

½

tsp

ground coriander

½

tsp

nigella

salt
Instructions
Dissolve 1 tsp of sugar into ¼ cup of warm water. The hottest setting on my tap water is perfect for this but you can heat water on the stove or in the microwave too. It should be slightly hot to the touch, about 110°F to 115° F or (43°C – 46°C)

Sprinkle the yeast over the sugar water and let the yeast activate for 10 minutes. The yeast should double in size.

In a large bowl, combine the flour and salt. Then add ½ tbsp of ghee, yogurt, and the yeast mixture. Mix into the flour. Then form a soft and sticky dough, adding a little bit of water at a time. You should knead between ¼ to ½ cup more water. Once the dough is formed, add the remaining ½ tbsp of ghee and knead for 5 minutes.

Once the dough is kneaded, form a ball by tucking the edges under. Place the dough ball back into the bowl. Cover and set in a warm place to proof for 1 hour or until doubled (you may need more time if you work in a very cold place).

Divide the dough into eight equal sections and fold each into a ball by tucking the edges under. Keep the sections covered as you work.

Take one section and roll it into a ¼ inch thick oval (or a circle if you prefer), using as much dry flour as needed to avoid sticking.

Make the onion mixture by combining chopped onion, chili, cilantro, ground coriander, nigella, and salt in a bowl. Mix well.

Brush the kulcha with water and cover with about 1 tablespoon of onion mixture. Firmly press the mixture into the dough so it stays in place.

Heat a cast iron skillet on medium/low heat. Brush the skillet with ghee or oil and add the kulcha, topping side up.

Add 1 Tbsp of water to the skillet next to (not on top) the kulcha. Cover with a lid and let cook for 5 to 6 minutes.

Brush the top of the kulcha with ghee or oil and flip. Cook for 30 to 60 seconds until golden.
Nutrition
Calories:
313
kcal
Carbohydrates:
42
g
Protein:
7
g
Fat:
13
g
Saturated Fat:
8
g
Polyunsaturated Fat:
1
g
Monounsaturated Fat:
4
g
Cholesterol:
31
mg
Sodium:
503
mg
Potassium:
126
mg
Fiber:
3
g
Sugar:
2
g
Vitamin A:
12
IU
Vitamin C:
3
mg
Calcium:
27
mg
Iron:
2
mg