When I was in my late teens, I worked for a bakery in downtown Disney. The bakery sold a caramelized onion and feta tart that was simply divine. That job did not work out for me and I quit within a month, but I never forgot the taste of that tart.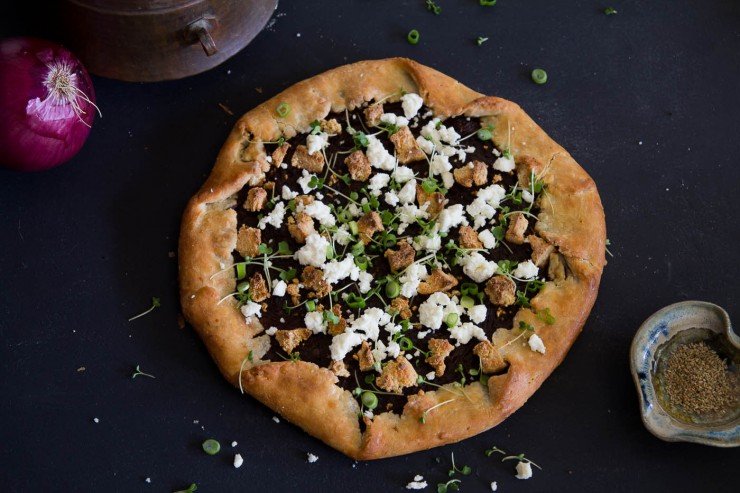 I tried to look up recipes for a similar tart but most of the online versions didn't taste the same. I made some with egg and that wasn't right. I knew that what I wanted was a lot simpler than that.
One day while watching a Food Network show in my early twenties, I saw someone making French Onion Soup. I don't remember whose show it was but I do remember thinking that those caramelized onions just might be perfect for my tart. I made the onions that day. Then I went out and bought a pie crust and feta cheese. I just threw the feta into the onions and baked little tarts in my muffin pan. It wasn't pretty but it was good!
Since then, I've made that tart my own. I started using paneer instead of the feta and adding carom seeds for a little spice.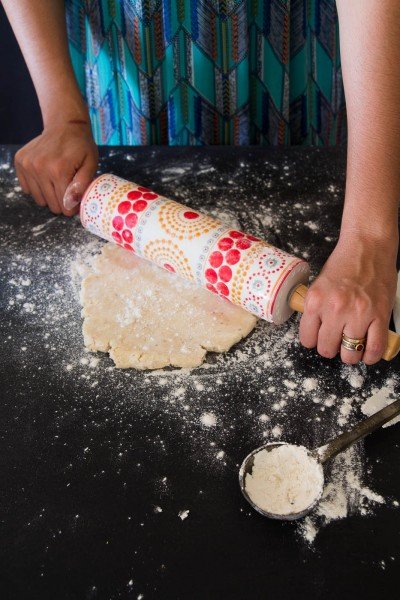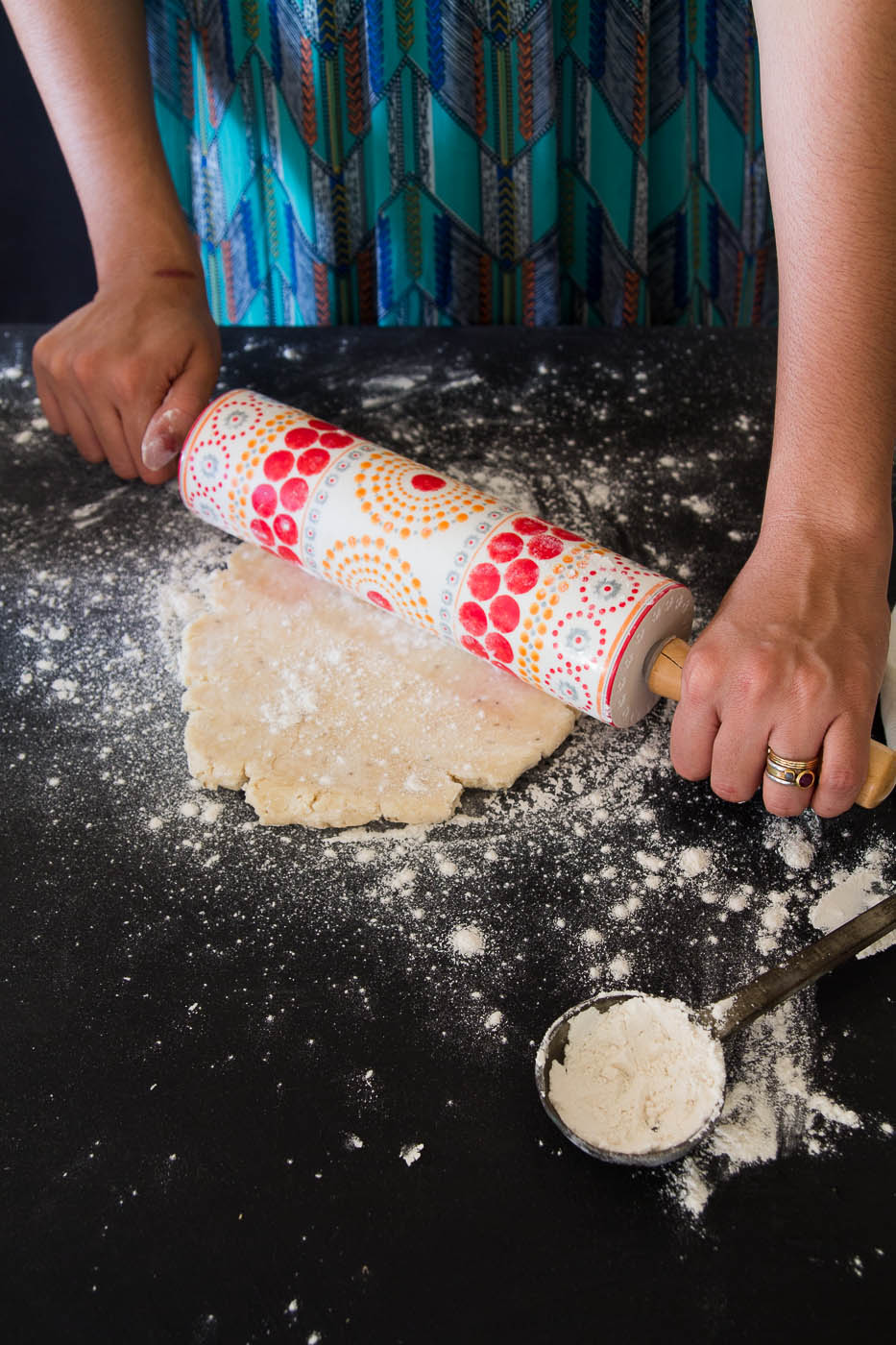 In celebration of Pi Day, I made this pie yesterday. Pi Day celebrates the number pi, which starts 3.14, so we celebrate it on 3/14. Yesterday's Pi Day was extra special because at 9:26 AM and PM, the date and time were exactly pi: 3.1415926.
Pi in India
Pi is one of the most important constants in mathematics. Did you know it was first calculated exactly in India?
Pi is the ratio of the circumference of a circle to its diameter. For such a simple definition, it may be surprising that it could not be exactly calculated until the 15th Century. In the West we think of Leibniz as the co-discoverer of Calculus (in competition with Isaac Newton), as the first person to calculate the exact value of Pi. He did it using a technique that was invented for calculus, the Infinite Series.
More recently it has become accepted that an Indian mathematician calculated pi in a similar way roughly 100 years before Leibniz. That Indian mathematician was Madhava of Sangamagrama, from Kerala, he also laid the foundations for many other techniques of calculus.
Madhava and I probably don't have much in common, because I could never really get my head around calculus. But I'm always happy to celebrate Pi Day with a slice of pie!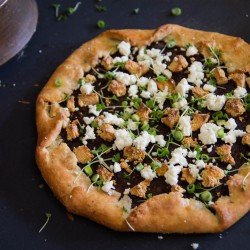 Paneer and Caramelized Onion Rustic Pie
A rustic pizza made with paneer and caramelized onions
Ingredients
For the Topping
3

tbsp

butter

½

tsp

carom seeds

ajwain

4

onions

sliced pole to pole

½

tsp

salt

2

oz

paneer

Either store bought or homemade will work great
For the Crust
1 ¼

cup

All Purpose Flour

½

tsp

salt

1

stick refrigerator temperature butter

¼

cup

yogurt

Up to 3 tbsp ice water

¼

tsp

carom seeds

1

egg

for the egg wash
Instructions
For the Topping
Heat the butter in a large pot until browned.

Add carom seeds to the butter, allow to toast for about 10 seconds.

Add the onion slices and salt.

Stir to incorporate the butter, then let cook for about 15 minutes at medium heat without stirring anymore. The onions will start to brown and some will stick to the pan.

Add 1/2 cup water to the onions. Stir and scrape up the browned bits at the bottom of the pan. They will add great flavor to your onions, but should not be allowed to burn.

As the onions begin to dry out, repeat the last step at least two more times.

Chop the paneer into 1/2 inch cubes or rough crumbles. Mix half into the onions or place on top later.
For the Crust
Chop the butter up into small cubes (about 1/4 inch).

In a large bowl, mix the flour, salt and carom seeds. Add butter. Using your fingers, incorporate the butter into the flour. To do this, you pinch the flour into the butter to create flakes for your pastry dough.

Add the yogurt and mix.

Add as little ice water as possible to form a ball from the dough. Mix as little as possible, you do not want to kneed the dough any more than you have to!

Wrap the dough in plastic and refrigerate for at least one hour (overnight is good too).
Making the Pie
Preheat the oven to 400 degrees Fahrenheit.

Line a cutting board with a sheet of parchment. Sprinkle with flour. Roll out your dough onto the parchment, to form a roughly 12 inch circle.

Spread your onion mixture over the center, leave about 2 inches on all of the edges. If you didn't add the paneer to your onion mixture, sprinkle about 1 oz (half) over the onions now.

Fold in the edges of the pie crust, the crust should have onion filling all the way to the fold.

Brush the edges with a beaten egg.

Put your parchment and pie onto a baking sheet, and bake in the oven for 30-40 minutes.

When the crust is golden brown your pie is just about done. Take it out of the oven and sprinkle the rest of your paneer over the pie. I also like to garnish with microgreens and scallions. Enjoy!
Nutrition
Calories:
334
kcal
Carbohydrates:
42
g
Protein:
9
g
Fat:
15
g
Saturated Fat:
8
g
Polyunsaturated Fat:
1
g
Monounsaturated Fat:
3
g
Trans Fat:
0.3
g
Cholesterol:
75
mg
Sodium:
683
mg
Potassium:
244
mg
Fiber:
3
g
Sugar:
6
g
Vitamin A:
348
IU
Vitamin C:
8
mg
Calcium:
127
mg
Iron:
2
mg