In the last three weeks, I've made 4 pizzas from scratch, eaten countless frozen Trader Joe's pizzas, been to Oggi's twice for pizza and beer, had Round Table at my in-law's and had Little Caesars for a lazy dinner. Wow! I'm a little shocked at my pizza consumption after seeing it all together in one sentence. This is what happens when I try to avoid cheese for a while!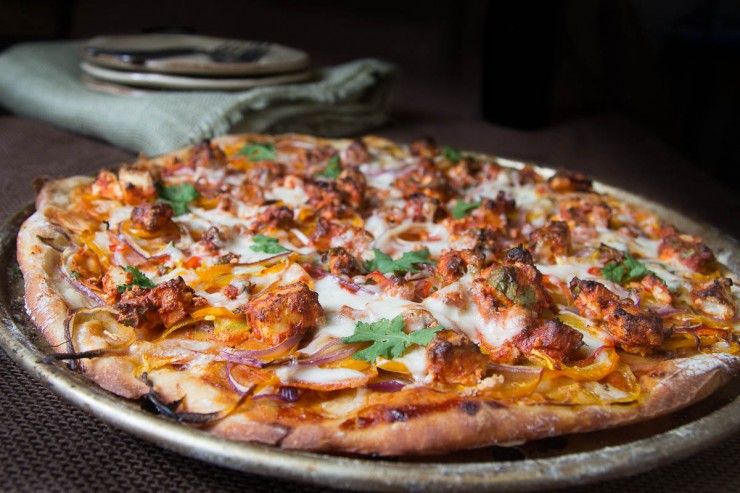 The reason why I've made so many pizzas from scratch is that I am obsessed with Jim Lahey's no-knead pizza dough. Steve and I got his book, My Bread The Revolutionary No-Work, No-Knead Method as a wedding present last year and I've been making the breads and pizza's from it all year. A couple weeks ago, we had tons of CSA produce that we weren't really eating. It was starting to rot and I really needed to use it up. So I ended up whipping up a batch of this pizza dough and throwing everything from our CSA box onto it. Steve wasn't so sure about a pizza with green beans on it. But it turned out fantastic!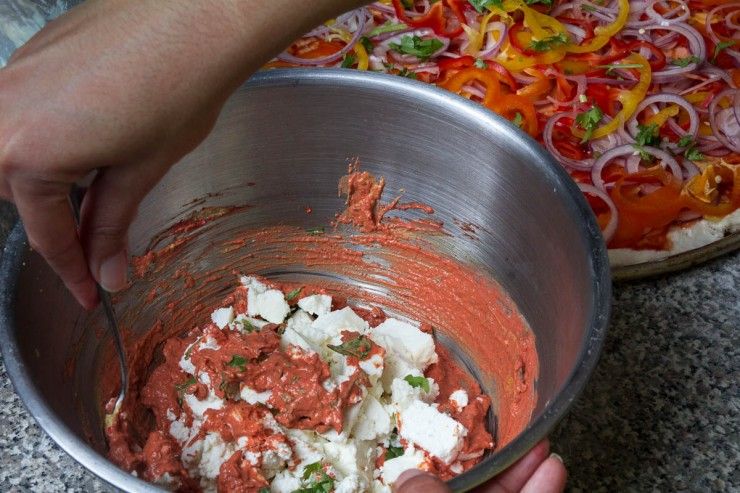 That success inspired me to come up with more pizza toppings. My first instinct was tandoori. We were having a friend over for dinner, and since he's a vegetarian, I decided to create a pizza around tandoori paneer pizza.

Bell peppers and onions were the obvious choice and I decided to add a thinly sliced potato for a smooth texture too. I have to say, my mandolin is my new best friend!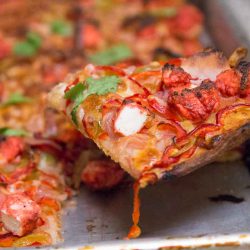 Tandoori Paneer Pizza
A no-knead dough with tandoori flavors
Ingredients
For the Pizza Dough
3

cups

All Purpose Flour

¾

cups

Whole Wheat Flour

2½

tsp

instant yeast

¾

tsp

salt

¾

tsp

sugar

1½

cups

water
For the Marinade
¼

cup

yogurt

1

tbsp

garam masala

1

tbsp

dried fenugreek leaves

powdered (optional)

2

tsp

ginger

finely grated or paste

2

tsp

garlic

finely grated or paste

½

tsp

turmeric

½

tsp

chili powder

or less if you don't like spicy food

¼

tsp

salt

2

tbsp

cilantro leaves

2

drops red food coloring

optional

½

cup

paneer cheese

cubed
For the Pizza
2

tbsp

tomato paste

1

tsp

honey

1

tbsp

chili sauce

I used Malaysian Sambal

1

onion

thinly sliced

3

bell peppers

thinly sliced (a combination of colors looks beautiful but anything works)

1

medium potato

thinly sliced

¾

tsp

salt

½

cup

shredded mozzarella

2

tbsp

cilantro leaves

for garnish
Instructions
For the Dough
In a medium sized bowl, toss in all the dry ingredients and mix.

Add water, and mix it in (I use my hands but a wooded spoon works too) until a soft dough forms. Mix for at least 30 seconds.

Cover the bowl and set aside at room temperature for at least 2 hours. The dough should be more than double in volume.
For the Marinade
Mix all the ingredients together. Reserve 1 tablespoon of the marinade.

To the remaining marinade, add the paneer cubes.

Mix and let marinade for 15 to 30 minutes.
For the Pizza
Preheat oven to 450 degrees.

Slice the potatoes, onions, and peppers, I use a mandolin. Keep the potatoes separate from the onions and peppers.

When you're ready to start the pizza: Pull out half the dough and spread onto a well oiled 13×18 inch rimmed baking sheet. (You can either freeze the other half of the dough or make 2 pizzas) I like to tear the dough into 4 pieces and put on all four corners of the sheet. Then I press it out and have them meet in the middle. The dough should make a thin layer covering the entire sheet tray.

Spread out the dough on a sheet pan or round pizza pan.

Mix the tomato paste, honey and chili sauce. Spread onto the pizza dough in a thin layer.

Slice the potato. In a bowl, mix the slices of potato with 1 tbsp of the paneer marinade and coat evenly. Spread the slices onto the pizza.

Spread the onion and pepper mixture on top of the potatoes.

Pick out the paneer cubes from the marinade, place evenly over the pizza.

Place the pizza in the oven for 20 minutes.

Pull out and sprinkle the mozzarella over the pizza.

Put back in the oven for 5-10 minutes. Until the edges are golden brown and crisp.

Garnish with cilantro leaves and serve.
Notes
The dough was Adapted from My Bread: The Revolutionary No Work, No Knead Method by Jim Lahey and Rick Flaste
Nutrition
Calories:
227
kcal
Carbohydrates:
39
g
Protein:
9
g
Fat:
5
g
Saturated Fat:
2
g
Polyunsaturated Fat:
0.3
g
Monounsaturated Fat:
1
g
Cholesterol:
11
mg
Sodium:
419
mg
Potassium:
287
mg
Fiber:
4
g
Sugar:
3
g
Vitamin A:
1052
IU
Vitamin C:
43
mg
Calcium:
93
mg
Iron:
2
mg